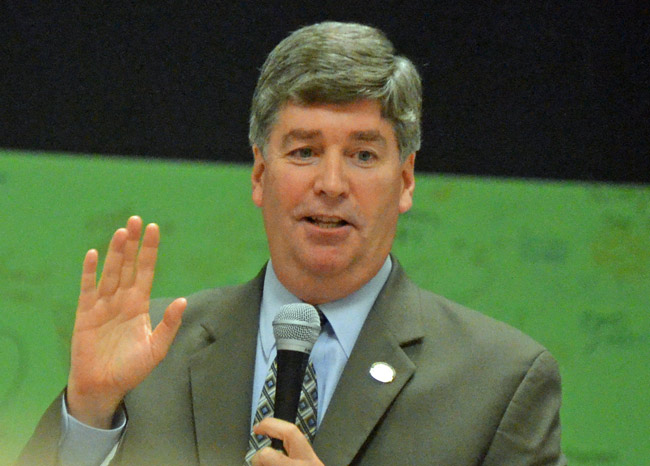 The Florida Commission on Ethics Friday dismissed complaints against Palm Coast City Manager Jim Landon and Palm Coast Human Resources Director Wendy Cullen that either had misused their position for personal gain in light of a series of issues—including favoritism, bullying and a hostile work environment.
The commission has yet to rule on a third and related complaint, that one filed against Palm Coast Public Works Superintendent Tony Capela, whose management style is alleged to have triggered the issues detailed in the two other complaints.
All three complaints were filed in February by Terry Geigert, a Palm Coast employee fired from public works in 2010. She has since sought by various means—including a complaint filed with the Florida Commission on Human Relations, contact with news media and the ethics complaint—to take the city to task over her firing and what, in her view, led to it. She claims her whistle-blowing led to her mistreatment and eventual firing.
The city has disputed some, but by no means all, of Geigert's accounts. The accounts focus on three issues: that Capela ran a hostile workplace, humiliating and intimidating employees; that he favored Road Tek, a contractor with the city, allowing it to use city property and city employee labor; and that Landon and Cullen protected Capela and failed to investigate complaints against him. It's not in dispute that Capela has a close friendship with the Road Tek owner, to whom Capela sold his house. Geigert cited her own observations, employee exit interviews—numerous city employees left or were fired after Capela took over—and media reports to buttress her arguments.
The ethics commission, however, dismissed the complaints without investigating them because the complaints involved issue outside the commission's jurisdiction, which is limited to corrupt practices where public officials or employees misuse their position to personally benefit from the abuse. Geigert's complaints did not meet that requirement in either case, the commission ruled.
"While the allegation may indicate that [Landon] engaged in conduct detrimental to [Geigert] or others," the commission ruled, "it does not indicate that [Landon] or anyone connected to [him] in a private capacity would have benefited from the alleged conduct, as required under the statute. Similarly, the allegation that [Landon] facilitated and defended a hostile work environment lacks specificity and does not contain facts alleging who would benefit from the hostile work environment; rather, it makes the vague, conclusory assertion that the purpose of a hostile work environment was to justify large raises for [Landon]."
Landon, in fact, while better paid than any public employee or elected official in Flagler County, has not had a raise in four years. And Cullen did conduct an investigation that in many cases confirmed Geigert's allegations—that Capela, in Cullen's words, had "an inappropriate management style," that he created a stressful work environment, that he recurringly belittled, humiliated and intimidated employees—according to three public works supervisors Cullen interviewed—and that he had a habit of going on "rants."
"Capela would yell and swear at his subordinates," Cullen found, and do so publicly. "Mr. Capela must temper his temper and communicate calmly with his staff."
Capela himself, in a February interview with the News-Journal, defended his behavior, saying he'd been brought in to make changes in a department Landon had described as a "joke" (where employees had been poorly led and of whom too little had been expected). Capela made changes, but at a price several employees (and ex-employees) paid, and spoke of.
"I was vocal and questioned this behavior," Geigert wrote in her complaint. "One day in the Public Works yard Tony Capela approached me. He told me, 'I am like God, City Hall loves me, I can do no wrong. I am like God. I can do anything I want. I can make up a lie about you to get fired, and they would believe me.' A short time later I was transferred to the concrete crew where I have no experience. I felt that I was being set up for failure and that it wouldn't be long before I was terminated."
But that's not grounds for a state ethics investigation, the commission found, without making a judgment about the veracity of the complaint: "No factual investigation preceded the review, and therefore the commission's conclusions do not reflect on the accuracy of the allegations of the complaint."
"Assuming for the sake of argument," the commission findings read, that Landon's "alleged treatment of Road Tek was inconsistent with the proper performance of his public duties, the complaint does not also indicate any private capacity nexus between [Landon] and Road Tek, or any other person or entity perhaps benefited by the treatment, that would support the 'corruption' required by the statute."
The commission applied the same reasoning to the complaint against Cullen. Without judging whether Cullen did or did not fail to properly investigate workplace complaints, the commission ruled that either way, Geigert did not show that Cullen had anything personally to gain from her behavior.
"In sum, rather than indicating a possible corrupt use of public position for private gain" by Cullen, the commission concludes, "the complaint describes an alleged situation illustrative of the uncertainty surrounding possible instances of a hostile work environment and illustrative of the day-to-day handling of an office's paperwork."
Geigert was not aware of the commission's ruling on Wednesday, and was disappointed that the complaints against Cullen and Landon were dismissed. "I can't believe city council members have a blind eye to what's going on," Geigert said.