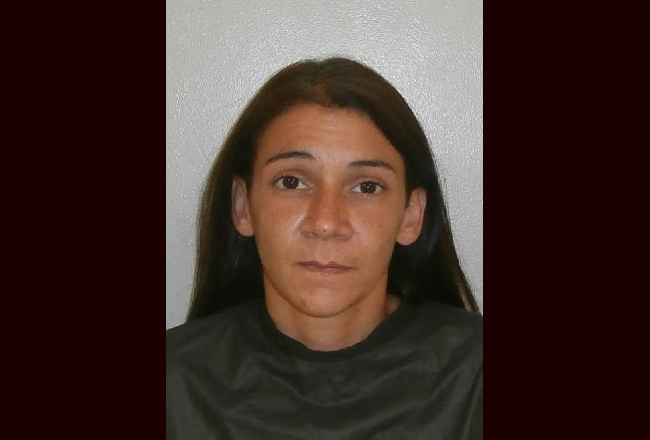 Jennie Ann McAfee is making a habit of allegedly targeting the weakest—and strongest—members of society. The habitual offender a few weeks ago allegedly broke into the home of a Flagler County Sheriff's employee. On Wednesday, she was arrested for first defrauding a 77-year-old woman who was convalescing in a nursing home. Last year, she was arrested for defrauding a 79-year-old man. She's been booked at the jail almost a dozen times since 2008 on burglary, robbery and probation violation charges, among others.
Her latest arrest on Wednesday is related to incidents that allegedly developed between early July and this week. While a 77-year-old victim was convalescing in a nursing home, McAfee and another person had access to the woman's checkbook. McAfee, a resident of 19 Wood Arbor Lane, was living across the street from the elderly woman. According to McAfee's arrest report,  she and another woman wrote six checks off of the elderly woman's bank account, totaling $700. They then approached a 75-year-old acquaintance of theirs and asked him to cash the checks for them. They said they had no proper ID to cash the checks themselves.
The acquaintance would later tell police that he didn't know the checks were stolen. He gave them the money.
That case resembled a previous fraud case, dating back to around this time last year, when a 79-year-old man had two checks stolen after McAfee had been to his house. Both checks were subsequently cashed for $200 each. They were cashed into the account of Donald Stover, 75, of Palm Coast, who also ended up being roped into the fraud: McAfee had approached him, said she didn't have proper ID to cash the checks and got the cash from him. Stover then deposited the checks in his account. He told cops that McAfee operated with another woman, and that the two were "inseparable."
The two checks were returned, unpaid, so he was out the $400, which he has not recovered.
McAfee is currently being held without bond at the Flagler County jail on the fraud charges, but also on charges dating back to an incident in May, in her neighborhood, but on Wood Aspen Road.
The afternoon of May 3, Flagler County Sheriff deputy Frank Gamarra was dispatched to that area in reference to a woman in a black jogging suit seen coming out of a house that, according to the caller to 911, belongs to a cop.
Gamarra located the woman, who was biking, and who had a fresh cut on her hand. She was bleeding. She refused medical attention. It was McAfee. She consented to having her backpack searched. Gamarra found a large brick and two gray metal butter knives. Asked if she had any more weapons on her, McAfee said no. But a pat-down revealed a folding knife in her right front jacket pocket. Meanwhile, the man who'd called 911 appeared at the scene and confirmed to the cop that McAfee was the woman he'd seen leaving the rear of the house in question, where "he believes that a member of the Flagler County Sheriff's Office lives."
The rear window on the north side of the residence had been smashed out, the screen taken off and bent in two. The rear slider screen had also been removed, according to the arrest report. The window and slider that were damaged were located underneath the overhanging roof. Damage amounted to around $200.
McAfee denied being anywhere near the house that had been burglarized, and went on to say that she'd merely been riding her bike, cutting in and out of backyards to get back to her own house. She said she'd gotten the brick from a friend to do some decorating in her yard.
The deputy didn't buy her explanations. "McAfee could not produce a valid reason for the possession of the brick or knives in her possession," the report states. "The window which was smashed had damage consistent with damage made from a large hard object like the brick Ms. McAfee had in her possession. The butter knives in Ms. McAfee's possession are often used to pry underneath windows and screens. Ms. McAfee could not explain why the knives were in her back pack."
No stolen objects were reported, however.
McAfee was arrested for burglary.