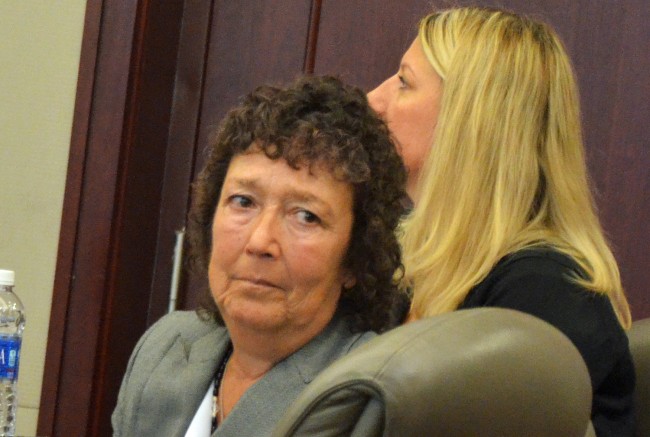 Last Updated: 5:57 p.m. (developing story)
Jamesine Fischer was sentenced to 25 months in prison, just four more than the minimum, Wednesday over the hit-and-run death of Francoise Pécqueur. The 76-year-old Palm Coast resident died in November 2011 after Fischer struck her with her PT Cruiser on Columbia Lane. The hearing began at 1:30 p.m. and is ongoing.
It has been punctuated by the testimonies of both Jamesine and her husband John Fischer, the Flagler County School Board member, and by that of Pecqueur's 82-year-old boyfriend, who movingly spoke of Pecqueur's vibrant love of life and dancing, and of the moment he squeezed her hand, looking for a response, when she was in a coma at Halifax hospital after the accident. "She did not respond," he said. "I was devastated."
The defense would later attempt to attenuate the sentence by painting a picture of Jamesine Fischer as a good Christian who attended church and volunteered her time there, but witnesses on behalf of Pecqueur, too, portrayed a pious Catholic who believed in God as much as she believed in living life to the fullest, who attended church every Sunday, and had even planned to attend a Dance at Mother Seton, the Catholic Church on Belle Terre, the week of the fatal accident. Witnesses spoke of her generosity of heart and purse, of her giving nature with sick friends, her energy and her compassion.
If the defense had hoped to make inroads in hearts and sympathies, more hearts were breaking on Pecqueur's behalf–still, 18 months after her untimely death. That was particularly evident even before Pecqueur's own daughter spoke, when Melany Billing did, describing how she'd met Francoise at Publix, where Francoise worked (and where many of her friends first met her), and how, not long after her last voyage to her native France, she'd returned and picked out the dress she would wear at her grandson's wedding. She did so the day before the wreck. When Billing described Francoise's friendship as "an elusive butterfly," she began to sob, and the courtroom was left to hear only those sobs.
At 5 p.m., Francoise's daughter, Catherine Vyvyan, took the stand. She did not speak first. She showed a picture of Francoise to the judge, a gesture the defense could not in any way counter.
Vyvyan asked for the maximum possible sentence, saying even that would be temporary, as Fischer would again walk free.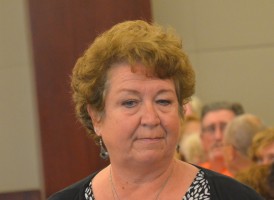 "There's no sentence to bring my mother back," Vyvyan said after the hearing, reading from a prepared statement. "Under the circumstances and the facts of this case"–at this point she broke into tears–"the sentence is a good resolution. This sentence brings at least some closure in my life. The only person who knows the truth, the whole truth, is Mrs. Fischer and the almighty above."
Fischer will be on probation for 10 years after serving her sentence. Her driving privileges will be revoked for three years from the day she is released from prison. She is also to give up alcohol in all circumstances. The prosecution agreed to dismiss the civil infraction and dispense with restitution.
John Fischer himself originated the first call to Flagler County Sheriff's dispatch. His wife, police reports showed, deceived authorities at the scene by claiming she had merely stopped her car because she thought she'd struck a dog, and that she believed Pécqueur had merely fallen by the roadside. Fischer did not inform authorities that she may have been responsible for hitting Pécqueur until almost 12 hours later. She was charged with leaving the scene of an accident with a death, a first-degree felony.
Jamesine Fischer took the stand this afternoon and described the experience as "a nightmare I will remember for the rest of my life." She said she heard a thud against her car and saw a dog with a retractable leash "looking confused." She then saw "a woman" in a swale who was bleeding from the mouth. Someone else called 911. "I was in denial when I got home," she said, describing how, at the time, she did not believe she'd hit Pecqueur. "I was wrong."
Catherine Vyvyan, Pécqueur's daughter, was in court with her husband and several friends, one of whom held an 8-by-11 color portrait of Francoise. She came to court with three items in hand: a folded sheet with the remarks she was about to deliver, a square box of tissue paper, which she began using before the judge walked in, and a tiny urn, held in her fist, containing some of her mother's ashes.
Before the hearing Fischer was with her husband John, who did his best to block his wife from the lenses of a half dozen reporters from all media. Jamesine sat only with her attorneys (Stephen Alexander and an assistant) during the hearing. Attorneys from both sides–the prosecution was led by Russ Bausch of the 18th Judicial District in Brevard County, who inherited the case when the 7th Circuit's R.J. Larizza asked the governor to shift it over a conflict-of-interest issue–one of the many issues that muddied the case for Fischer: it entailed the involvement of then-Sheriff Don Fleming in perceived the case, on behalf of John Fischer. (The 18th Circuit investigated that involvement and cleared Fleming of wrongdoing.)
The defense and the prosecution agreed to let the defense put its own witnesses on the stand first.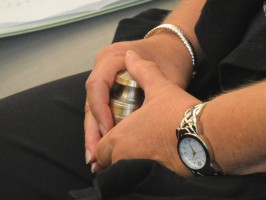 Jamesine Fischer's testimony took place almost two hours into the hearing. By then Bausch had established a tone of incredulity at various witnesses supporting Fischer, several of whom had pleaded ignorance at Fischer's drinking problem, or claimed never to have seen either Fischer drink on social occasions. Bausch was no less persistent with Fischer.
"You want us to believe that the victim's pet hairs were in the window cracks?" Bausch asked Fischer, referring to the cracked windshield of the Cruiser after the collision.
"My hair is falling out all the time!" Fischer replied. She also claimed ignorance at the damage on the car, saying she's not in the habit of inspecting it.
Finally, Bausch posed the question that has been posed since that evening, but never so officially or explicitly: "Do you know how ludicrous it was that you hit a dog that did this damage to the windshield?"
"I truly believed that I wasn't a part of what made this lady fall," Fischer said, displaying, even now, even on the stand, the same clinical distance from Francoise Pecqueur and her fate that Fischer has displayed on several occasions–in the call to dispatch, in her sworn audio testimony to a trooper–since the fatal wreck. "I was trying to sort it out in my brain. That's why I took so long to call law enforcement."
Unintentionally, today's testimony was illustrating to what extent Fischer might have damaged her own case had it gone to trial.
When Bausch asked her categorically whether she was drinking that night, Fischer said: "No."
"Isn't it true that the reason why you didn't call the police was you needed time to sober up?"
"No," Fischer replies. She went on to say that she "had a few slips with alcohol" in the past.
"You fell off the wagon, you mean?" Bausch asked her.
"I guess."
Bausch kept up the questioning, pressing the point that cops have to be called in all accidents. Why didn't she? "I did not have my cell with me, it was in my purse in the car," Fischer said, though the car was a few steps away. Bausch was circling around his central point: that Fischer did not want to call police because she may not have been sober. But Fischer was even now, having trouble admitting that she had struck Pecqueur that evening, reliving the way she'd handled it that November. "I was in denial, or whatever you call it," she said, again using the word her defense is erecting as justification for her crime that evening.
Stephen Alexander, the defense attorney, again asked her some of the same questions about drinking–and whether she had gone to a convenience store that day to pick up alcohol–to which Fischer offered up her denials again.
(Earlier, her husband John had said on the stand that the two of them had prayed all night, after the wreck, for the victim. See below.)
As if to cap Fischer's testimony, a member of her friends' group in the courtroom appeared to have fainted, and was helped outside by one of the several sheriff's deputies in the room.
Earlier, other character witnesses spoke on behalf of Fischer. It was, for example, the first time Betty Bifano, the woman Fischer visited the night of Nov. 10, immediately after the collision, spoke publicly, describing how Fischer had visited to tell her that she wasn't going to stay for dinner. "She was going to take me that night over to see my husband," the friend said. "Then I didn't get to go."
Bausch questioned her, too, at times making the questioning sound like an excerpt from a trial rather than a sentencing hearing. He stressed that Fischer "knew the roads" around Columbia Lane, where the collision took place–a contention Fischer's friend agreed with. Bausch also wanted to know why, if Fischer had planned on having dinner there, she didn't end up staying. "She didn't tell me why she didn't stay, she said I've got to go," Bifano said.
"Did she tell you she got into a crash?"
"Not in so many words," Bifano replied, only that "she thought she bumped into a dog."
The defense sought to reduce the maximum sentence by having Fischer friends, family members and church members speak to Jamesine's character. One of the letters the defense attorney read was from a psychologist who's been seeing Fischer since the accident, describing her as "clinically depressed" and continually expressing "remorse" over it. A priest and a friend described the Fischers as regular church-goers. The director of a religious-education program at the Fischers' church described her generous volunteering, and her involvement with children. (Bausch asked the director, Mary Olivette, if one of Fischers' duties at the church was "to tell the truth, and not to lie to people." "Yes it was," Olivette said.) Another friend described Fischer as "my angel," after Fischer helped her through a difficult transplant.
Bausch at one point interrupted one of the friends of the Fischers' because he was testifying more to John's than to Jamesine's character.
At about 3 p.m., John Fischer took the stand. Under questioning by Bausch, he said he got home at 8:30 p.m. the night of the wreck and did not see the damage on the PT Cruiser (its windshield was clearly cracked from bottom to top, on the passenger side.) After he noticed the damage, he said he rode to the accident scene himself, but saw no law enforcement there, and went back home, describing his wife as distraught.
Remarkably, Fischer said that he and his wife then spend the rest of the night praying "for the victim," yet did not call the police about it. Bausch stressed his question, clarifying again that the Fischers had prayed all night, yet not called police. "Yes, that's right," Fischer said.
It was a remarkable revelation.
The court took a recess.
After Jamesine's Fischer's testimony came the prosecution's turn to put Pecqueur's family and friends on the stand. They followed each other, including her boyfriend of eight years, who described how they'd met at a dance hall and had kept dancing since (it was in his neighborhood that she was struck by Fischer's car). "You couldn't stop her from dancing," the 82-year-old man said. "She was a vibrant woman. We took care of one another when each of us was sick."
The longer they were together, he said, the stronger the bond. "She was at my house the night of the accident cleaning up from dinner, and she insisted on walking the dog."
When Vyvyan spoke, she told the court, showing the small urn she'd held throughout the afternoon (the urn with her mom's ashes) that it was a matter of preserving her mother's dignity. "I don't know how someone could see a woman in a ditch and not call 911," she said. "With a timely call she would have had a chance to be airlifted to Halifax."
In fact, Flagler County Fire Flight was still on duty and would be until 8 p.m. that evening. It is called into airlift patients to Halifax–a trip that taxes a matter of minutes–whenever a head trauma is involved from a car wreck.
The court took a recess until 5:e30, to return with a sentencing verdict.
Fischer's accounts to authorities would prove contradictory and difficult to defend. Her State Farm insurer settled a $1.25 million wrongful death suit with Catherine Vyvyan, Pecqueur's daughter, within 10 weeks of the collision. Vyvyan's attorney minced no words at the time in describing the case. "I would say due to the egregious nature of Ms. Fischer's conduct that that prompted State Farm to settle the matter sooner rather than later," Allan Ziffra said. "Our position is that Fischer's conduct was beyond the boundaries of human decency and Catherine will pursue justice for the loss of her mother."
And the prosecution made clear in early February–in a tactical move that may have been key in causing the defense to opt for a plea–that whether or not Fischer had stayed at the scene of the accident the entire time that paramedics were there was irrelevant: the fact that she did not tell them that she was involved in the collision went to the heart of the matter, and to her guilt. That, in addition to Fischer's prevarications even when she called authorities–in a 911 call that was more matter-of-fact than urgent–appears to have changed the course of the year-and-a-half-old case.
The Fischers never spoke publicly about the case aside from a brief exchange John Fischer had with a reporter the morning after the collision, outside his house, when he acknowledged that his wife had been involved in an accident, and that he and his wife were praying for the victim and her family. At the time, Pécqueur, in a coma at Halifax hospital in Daytona Beach, was a few hours away from death. The Fischers' recorded call to authorities and recorded testimony, under oath, about the incident, would stand for their version of events.
John Fischer had initiated the call to the sheriff's office by asking the dispatcher how he might go about reporting an accident. "My wife had an accident last night, well she thinks she had an accident last evening," Fischer says at the beginning of the call, before passing the phone to his wife.
"Um, I was driving down, um, Columbia, how can I explain, anyway," Jamesine Fischer says. "Um, I was driving down and I heard a thud, and I thought I hit a dog, and then when I got out of the car, I pulled over, when I got out of the car there was a lady laying there, um, and I thought she had fallen and the dog was free, and I had hit the dog, and the Evac came, and you know, um—"
Pécqueur had been walking her dog when she was struck. Her dog was a tiny white poodle the size of a couple of fists.
"So did you stay on scene there?" the dispatcher asked Fischer.
"I did, and nobody came, I mean, Evac was there and they took the woman."
"Did you tell them that you thought you may have hit her?" the dispatcher asks.
"I didn't realize it until afterward because, um, I was going to a neighbor's house down the road and when I pulled into the driveway and got out of the car, that was the first time I noticed that my windshield had shattered."