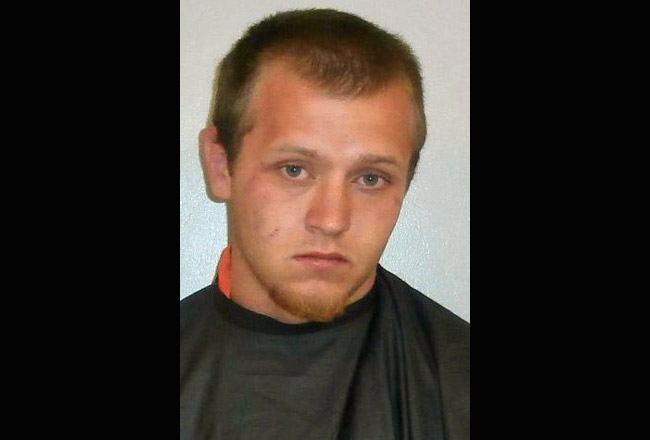 James McDevitt, 21, of 12 Portia Lane in Palm Coast, is at the Flagler County jail on $101,000 bond, facing an accusation of rape following a violent incident that unfolded in the early hours Friday in Flagler Beach, and that was interrupted by police.
The incident took place around 3 a.m., starting around South 14th Street and ending in an empty lot on South 12th, where police found the woman almost immediately after the alleged act.
According to the account the 38-year-old victim gave Flagler Beach police, she was walking back from the beach, on South 14th Street, crying, when she walked by McDevitt, who had been with two friends, Darius White and Sebastian Guttierez. McDevitt asked the woman what was wrong. She told him she had a fight with her boyfriend. McDevitt, according to a police report, offered to walk her to her friend's home.
"She then stated" according to the report, "that when they approached South 12th Street, he dragged her into an empty lot, forced her to the ground, strangled her and raped her."
When the reporting officer, Crista Rainey, had approached the victim, according to the report, "she kept repeating that 'he choked me,' and 'he raped me. He fucked the shit out of me.' As [the victim] made these statements, she constantly pointed at Mr. McDevitt. I saw that [the victim's] underwear (black with lace) were on the ground beside her feet, her purse approximately 2 feet from her left hip and her sandals approximately 15 feet above her head. She also had dirt inside her mouth and around her lips, as well as embedded in her nostrils."
The victim was first taken to Florida Hospital Flagler then to Flagler Hospital in St. Johns County for a rape examination, the report states. Authorities gathered evidence of her injuries, which included multiple bruising inside the legs and arms, a bruise under her jaw at the top of her neck, multiple horizontal abrasions inside the thighs "consistent with thighs being forced apart," according to the report. A detective told Rainey that while at Flagler Hospital, the victim said McDevitt allegedly "threatened to kill her and forced his penis into her mouth and down her throat and also into her vagina."
According to the report, Rainey, 20 minutes before the incident, had been in contact with White, who was unresponsive and "possibly intoxicated," on South 14th Street, and was with Guttierez, but not McDevitt. Guttierez told the cop that he and White had been with McDevitt. "I went down towards the end of the block to look for Mr. McDevitt," the officer writes in the report. "I saw a male walking northbound towards 12th Street with a female, but couldn't make contact or identification at that time."
The detail reveals that the cop was at the scene, but could not pursue or seek out McDevitt: Because of budget cuts, Flagler Beach police officers usually work alone on the night shift, with just one cop on duty in the entire city—a potentially serious problem that limits their ability to operate in dangerous situations and exposes them to potentially grave situations they must face alone, even though they can call for assistance from the sheriff's office (as was the case later that morning). (Cody in an interview on June 20 specified that the number of hours an officer will work alone at night would usually be limited to between 3 and 6 a.m., when crime is at its lowest. On the night of the alleged rape, one other officer was on duty. But Rainey was herself a trainee, not a full-fledged officer who could operate on her own.)
While Rainey was addressing the situation with White, a witness, Robert Tier, called 911 to report that he'd seen an individual "dragging" a woman into an empty lot, "throwing her onto the ground and moving his hips in a way that he appeared to be raping her," the police report states. Tier told police that he had seen the man and woman later identified as the victim and McDevitt walking north on the corner of Central Avenue and South 12th Street, that he then heard the woman scream but was unable to make out what she was saying, and that he then saw the man put his hand over her mouth, promoting Tier to go into his home for his cell phone and call 911.
Rainey got that dispatch call, as did Flagler County Sheriff's deputies, who converged on the scene rapidly enough that when they got there, McDevitt, who told cops that he decided to "take off" when he saw lights, still had a condom attached to his penis in initial contact with cops.
McDevitt, according to the police report, "had a small scrape on each knew (each approximately the size of a dime), what appeared to be a bite mark on his right cheekbone, a scrape on his left lower back and some scratch marks on the right side of his neck." McDevitt told the officer that as he was walking the woman to her friend's home, she allegedly bit him in the face. McDevitt said that "he continued to walk with her," according to his account in the police report, "when she led him to the empty lot and suggested they have intercourse. Mr. McDevitt stated he agreed, and as they began, he saw lights, and [the victim] stated that her friend was there. Mr. McDevitt said that frightened him, so he decided to take off. He then realized that the 'friend' was actually Flagler County deputies, and that they detained him at that point."
McDevitt turned over the condom into evidence, consented to two DNA samples by way of oral swabs, and said he would answer any questions from police. He was read his Miranda rights and sat for a recorded interview with police at the Flagler Beach Police Department before being taken to the county jail.
In other details McDevitt provided, he said that the woman had initially been crying because she had allegedly been beaten up. As the pair walked northbound on Central Avenue, the woman, according to McDevittt, picked out several places as "her home," and though she bit him, he kept walking with her because, he said, he has a "soft spot for women." Somewhere along the way, McDevitt told police, she pushed him to the ground. (McDevitt's weight is listed at 200 pounds at the Flagler County jail.) But that as they approached the corner of Central and South 12th, the empty lot was the place she was trying to get to, McDevitt said she told him. "She then suggested that they have intercourse there, and he agreed," according to McDevitt, as relayed in the police report.
McDevitt is a 2011 graduate of Flagler Palm Coast High School.
On April 1, he was charged with shoplifting, a second-degree misdemeanor. On May 1, he entered into a deferred prosecution agreement on the retail theft charge, which meant the charge would have been dismissed had he maintained lawful behavior for a set period of time (usually six months). In the interim—on April 16—he pleaded no contest to driving a car without a license and was fined.