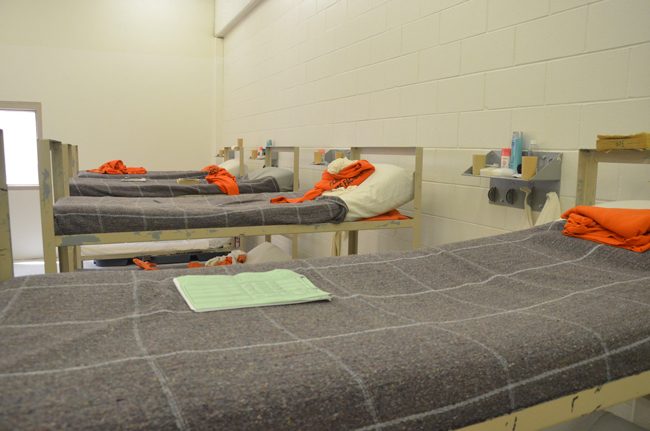 For the fourth time this year, a Flagler County Sheriff's Corrections deputy has resigned in the middle of an investigation into allegations of improper sexual conduct with an inmate during or after the inmate's release.
Danielle Basciano, 23, who joined the Flagler County Sheriff's Office last year, resigned in August as she was being investigated for improprieties with Salina Cox, 29, an inmate at the jail from January to May whose own wife was also incarcerated at the jail at the time.
Basciano denies having had an inappropriate relations with Cox while at the jail but said she knew her as a friend before her incarceration and carried on an intimate relationship with her upon her release, in violation of sheriff's office policy.
"Is it your statement that you two are still dating as of this point?" a sheriff's Internal Affairs investigator asked her.
"Yes Ma'am," Basciano replied. "I do know that what my relationship now is wrong, I know that our policy says you are not supposed to associate with felons, I admitted I knew this was against policy and I admitted I knew there could be an investigation, I had other thoughts of leaving prior to this coming up because I am not stable."
The investigation found against Basciano on several grounds, but she resigned on Aug. 8 before it was completed, saying she was doing so entirely of her own accord but that, she wrote, "I believe I am not fit for duty." By then, she had been on administrative leave for two weeks.
Former detention deputies Bradley Gilyard, Julio Vazquez and Jonathan Vitale all resigned between January and May as allegations were coming to light that they had engaged in sexual relations with an inmate or sharing contraband with inmates and providing false information to investigators. The issue led the sheriff's office to enact Prison Rape Elimination Act protocols on Jan. 20 at the jail, when services were also offered to potential victims and witnesses.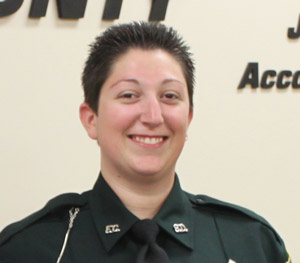 By then, Badciano had been employed at the jail eight months, and Cox, the inmate she was friendly with, had been at the jail three weeks.
Cox was a resident of Prosperity Lane in Palm Coast who has about half a dozen arrests in the past four years on charges ranging from robbery to grand theft, forgery and probation violations. She also had a past heroin addiction. She was last arrested the first of this year and released the morning on May 19—when Basciano picked her up at a Kangaroo gas station on State Road 100 and took her to her own home.
Basciano had spoken of her relationship with Cox to a deputy's wife, who had at one point been in a close friendship with Basciano. The wife, significantly troubled by the revelation, reported the conversation to her husband, telling him Basciano had spoken of having an "affair" with an inmate since that January. The deputy, who had gone to a law enforcement academy with Basciano, then reported the issue to Louis Miceli, the deputy commander at the jail.
An Internal Affairs investigation was launched and the wife of the depiuty interviewed as part of the investigation. Basciano reportedly told the wife of the deputy, according to the investigative report, that she had exchanged notes and phone numbers with Cox when Cox was incarcerated, and that "the hardest part of the relationship is having to keep everything a secret because she knows what she is doing with former inmate Salina Cox is wrong and could cause her to lose her job and her certification as a law enforcement officer. But, Basciano said, it was worth the risk.
In early July, one of several detention staff deputies reported what she referred to as "what all of the other deputies know," namely, that Basciano often spent "an unusual amount of time"—an hour at a time instead of the usual two to three minutes deputies usually spend with any one inmate—in Cox's cell block "and it was starting to raise concern." She was told that what she was doing "doesn't look good." She did not change her behavior, according to the investigative report. There was also word that Basciano was passing legal information to the inmate, a serious policy infraction.
Another guard, when informed of the reported allegation of an inappropriate relationship between a deputy and an inmate, reportedly said to Miceli, "now all of the puzzle pieces are fitting together"—only to deny to the investigator that that conversation had taken place.
At the time of the investigation. Basciano was still employed, but Miceli told the investigator he had never been informed of the allegations while Cox was still in jail. He was informed after her May 19 release.
Another individual interviewed during the internal investigation was another inmate, a 31-yuear-old woman who is legally married to Cox. There were issues in the marriage, she told the investigator, but "as far as she knew her marriage with Salina Cox was fine and she and Salina were working on mending their relationship and planned to be together upon her (the other inmate's) release from rehabilitation." Cox's wife was released from the county jail on July 25, after a six-month stint there. She told the investigator that "Basciano was overly friendly with Salina Cox during her incarceration at the Flagler County Detention Facility and she did not feel her friendly behavior was appropriate for a Detention Deputy toward an inmate."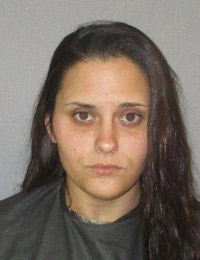 The investigator interviewed Cox on July 17 at a Kentucky Fried Chicken, but Cox declined to be under oath or to confirm if her statements were truthful. She said her friendship with the deputy pre-dated her January jailing, at a time when her own marriage was "rocky," that nothing inappropriate happened in jail and that Basciano had not picked her up after she was released from jail, though the two did meet later on. She denied living with the deputy, though she'd visited. By then, she said, she'd distanced herself from the deputy because of issues in her own life, but she insisted that the deputy had been professional throughout at the jail.
Several other inmates interviewed by the detective disputed that assessment, saying Basciano showed favoritism toward Cox, that her behavior was "flirtatious" including "winking" and "smiling," "a lot of secretive talk" and differential treatment. One inmate said Cox had confided to her that she was in an "intimate relationship" with the deputy. None of the inmates or deputies interviewed reported any physical contact between the inmate and the deputy.
"Salina Cox told Detective Nicole Thomas her relationship with Deputy Danielle Basciano during her incarceration was strictly professional because of the respect she (Salina Cox) had for Deputy Danielle Basciano's job," the investigative report states. "Salina Cox denied any special treatment from Deputy Danielle Basciano during her incarceration and also denied "passing notes" with Deputy Danielle Basciano other than receiving a piece of paper from Deputy Danielle Basciano providing her with what bands were playing in the County 500 concert." (Cox was to provide a written statement subsequently but never did.)
Basciano herself became ill when she was served notice that she was under investigation—what was also described in the report as an "emotional breakdown"–and had to be sent home. She submitted to an investigative interview in late July, saying she was "in a relationship" with Cox at that point. "Yes, I spoke to her more than I should have but I did not give her any special treatment, I have more of a heart than most," Basciano said of her interactions with Cox while Cox was incarcerated. "The time I spend with an inmate should not be taken as flirtatious."
She added: "I do know once she got out pursuing anything more is guilty on my part, I take full responsibility for what I did, we probably did have something there before I just didn't act on it, but nothing happened in the facility, nothing would have happened in the facility."