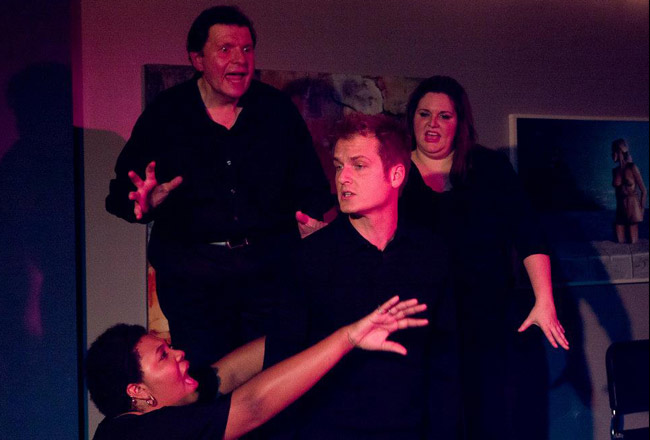 Palm Coast's City Repertory Theatre at Hollingsworth Gallery opens its 2012-13 season tonight, Friday, Sept. 14, at 7:30 p.m., with a revival of its most successful show of the previous season–"Jacques Brel Is Alive and Well and Living in Paris." A preview of the City Repertory Theatre's new season will be published soon. Here's the review of the Brel show as it first ran last January.


I've revered Jacques Brel since childhood as much for the power of his songs as for the memories they hold, like an urn in verse: he was my late father's favorite singer and something of an idol for a brother I idolized. Naturally, I don't like Brel adulterated. Few people can pull off singing Brel, fewer still can pull off translating him. Ray Charles and Nina Simone have given it a try among many others, but his songs don't travel well away from the rolling r's of his Flemish-flavored French. They're too rich in cadences that flow out of the topography of his lyrics, in puns and deserved slurs more uniquely French than a Parisian's scorn (though Brel was from Belgium, Europe's sunless Florida).
City Repertory Theatre will stage "Scapino!" at 7:30 p.m. Friday and Saturday March 17-18 and March 24-25, and at 3 p.m. Sunday March 19 and 26. Performances will be in CRT's black box theater at City Marketplace, 160 Cypress Point Parkway, Suite B207, Palm Coast. Tickets are $20 adults and $15 students, available online at crtpalmcoast.com or by calling 386-585-9415. Tickets also will be available at the venue just before curtain time.
Click On:
---
When Brel decided to quit touring in 1967 and stick to recording, sailing and making movies, Mort Shuman and Eric Blau cobbled together the two dozen songs that became known as "Jacques Brel Is Alive and Well and Living in Paris," a revue-like homage they staged on Broadway to four years' success and many revivals since. It was a great way to spread the Brel liturgy to American audiences even then inclined to mock anything French not in a wine glass.
But the translation job really was catastrophic. Lyrics are stripped of poetry, ideas are disemboweled. How does "with nothing but the power of love," the penultimate lines in Brel's great "When We Only Have Love," become "with nothing at all but the little we are"? For that matter how did the title become the conditional and past-tense "If We Only Had Love" in the clueless translators' hands? At times lines are offensively sanitized. Affection between two hoboes is turned into a heterosexual couple's broken love, as if American audiences couldn't comprehend male-male affection that isn't somehow politicized. "When We Only Have Love," a song Brel wrote to honor the Hungarian revolutionaries of 1956, becomes a mystical mist with allusions to Jerusalem and the stars. A demolition of bourgeois convention turns into a clunky farce called "Middle Class." It's what Camus would sound like in Jewel's hands.
So I was predisposed to dislike "Jacques Brel Is Alive and Well," which opened Friday at the City Repertory Theatre, even though it's the work of John Sbordone, the only director in these parts with a pair fit for one of Brel's suffering bulls.
I shouldn't have worried. Sbordone managed in a matter of a few months in his new theater to pull off a vaudevillian Shakespeare, put homophobia on trial and give Flaubert a run for his Bovary (maybe he is Jane Martin). He manages to do it again with Brel, whose hysterical compositions, send-ups and heartbreaks come alive in spite of the lousy translations. Sbordone's direction, which I can only compare to controlled mania, has a lot to do with it: he has a way of channeling his actors' energy with the efficiency of a nuclear reactor (which also explains his occasional meltdowns).
The result, from the roaring opening of "Marathon" to the concluding "If We Only Had Love," is this "Brel"'s gift: four singing performances of surprising power and intuition by Brett Cunningham, Manny DaMata, Kelly Nelson and Laniece Wilson. They do what Brel did on stage: they transcend their own songs, becoming the songs as much as singing them, and with what voices. There are 21 songs in all, giving each performer center stage in turn, when they're not performing as an ensemble. There are no duds here, only blasts and bigger blasts. And they each end up with at least one solo that'll leave you floored.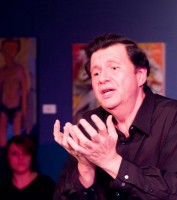 DaMata, the colossus of the bunch, becomes terrifically demoniacal in his rendition of "Mathilde," the hurtling plaint of a sucker for more punishment from a shrew. Watch his hands: they tell the story as much as his song. Nelson pulls off one of the most difficult pieces of the evening—"Marieke," a soaring love song, half of it in Flemish even in this version—as if she'd always been tri-lingual, her emotional body language being as fluent as her Flemish. She might bring you to tears with Wilson when the two sing "Old Folks," an elegy to what awaits us all, to the smirk of a ticking clock. Wilson is a born show-stopper (remember her in "Jesus Christ Superstar" and "Hairpsray"?) and lives up to the reputation here with "I Loved" and "Timid Frieda" (though "Frieda" is one of those songs adulterated beyond recognition by its translators. They couldn't resist  personalizing into a woman what Brel had more effectively left as a sexless abstraction that in one way or another has affected us all).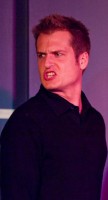 Then there's Cunningham. The program listed him as the soloist for "Amsterdam," one of Brel's most popular—and demanding—songs: it's just as likely that the epic momentum needed for "Amsterdam," not his cigarettes, gave Brel his fatal lung cancer (he died at 49 in 1978). When Cunningham sang "Alone," I thought maybe the dead-on lyricism was just a fluke. But then he belted "Jackie," another one of those classic Brel romps of rhythm and self-derision that feels like running the mile in a minefield. And there it was: the gesticulations, the eyes like daggers, even the mouth—what Brel did with his enormous mouth was among his trademarks, though Cunningham's isn't nearly as big—and of course the voice: Brel's act was first and most about Brel, and Cunningham gets it. By the time he sang "Amsterdam," he wasn't just the raunchy sailors drinking and pissing their way through the whores of Amsterdam and wiping their snot on the stars; he was Brel.
The quartet is backed-up by dancers (Lynne DiCianni, Diane Ellertsen) and musicians who complement the production very well (Marina Lapina on the accordion, Xavier Ryan on keyboard, David Pandich on bass guitar and Caitlin Eriser as a back-up singer.) JJ Graham, owner of Hollingsworth gallery, where the Repertory Theatre has its home for now, had a hand in the décor, hanging paintings by Richard Schreiner, Linda Solomon and Peter Cerreta along the back wall of what turns into the stage, a nice little demon touch that visually echoes a lot of the songs on the program. Schreiner's "Soldiers" could have been the album cover for Brel's "Next" (a fabulous indictment of all things regimented, again rendered with bayonet sharpness by Cunningham), just as Solomon's "Celebration" would have worked with a couple of pieces.
Less successful, I thought, was the use of poetry and a couple of extended quotes as transitions between songs. The excerpts are all well chosen and some of the transitions worked, but some did not, because while the songs have a continuity of personality and themes, the poems, read by Sbordone, did not: the variety of voices created more dissonance than unity despite the good fit of Sordone's sardonic tones. In one case the device spills into one of the songs to its detriment: reading the names of Holocaust victims during "The Desperate Ones" ("Les désespérés") is an unnecessary contrivance—an almost kitschy thing that might've been expected from Blau-Shuman but not Sbordone—that takes away from what the song does shatteringly enough on its own: a quiet, tragic march to desperation's end point. But that's a minor point that, kitsch being many theater-goers' Splenda these days, may be a plus to others.
It doesn't detract from this: The Repertory Theatre's "Jacques Brel Is Alive and Well and Living in Paris" is a moving experience, its production on the heels of Sbordone's other works in his young theater's debut season the kind of miracle one can believe in. It's a very expensive sort of miracle that doesn't happen by magic, let alone the useless faith of lip-service supporters who don't actually show up on performance evenings. It takes your support, and $15 isn't much to pay for theater worthy of any metropolis. Keep in mind that the new lighting system alone that you'll see in the theater cost $1,000, which would by itself require a sold-out evening and then some to pay for (the theater has no more than 50 seats). Opening night was, in fact, sold out. But with theater of this quality, every performance should be: miracles don't happen in a void, either, and loaves don't multiply when hungry people aren't there to devour them.
"Brel" is devour-worthy to the last note.
–Pierre Tristam

Jacques Brel Is Alive and Well and Living in Paris
Music by Jacques Brel
English lyrics and additional material by Eric Blau and Mort Shuman
Additional poetry by David Axelrod, Allen Ginsberg, Maya Angelou, Dan Roth, E.E. Cummings (his lower cases have gotten old), Louis McNeice, John Wheelock, the Yad Vashem, Robert frost and Dorothy Parker.
Directed by John Sbordone
Choreographed by Diane Ellertsen
Technical direction by James Lynam
Starring Brett Cunningham, Manny DaMata, Kelly Nelson and Laniece Wilson
Dancers: Lynne DiCianni, Diane Ellertsen
Musicians: Marina Lapina, Accordion, David Pandich, bass guitar, Xavier Ryan, keyboard, Caitlin Eriser, vocals.
Lighting: Chris Lynam.
At The City Repertory Theatre, Hollingsworth gallery, Palm Coast, Jan. 20, 21, 22, 26, 27 and 28, 2012.