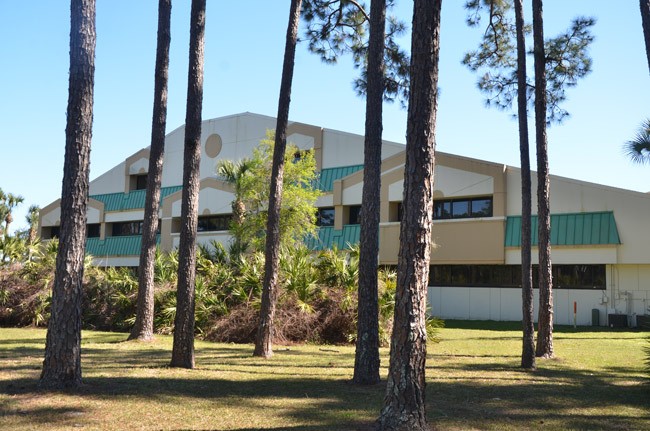 Say goodbye to Corporate Plaza, the hulking three-story building off Corporate Drive, near Palm Coast Parkway, that once was the face of the nascent city in its ITT headquarter days, that the school board bought in 2002 for $3.5 million, and that it will demolish later this year for $200,000.
The board is hoping it won't be as much of a loss as it now appears: according to the most recent appraisals, the 7.4-acres the 54,000 square foot building sits on is, at $1 million, more than twice as valuable as the building itself. The board condemned the building last year, as far as its own uses were concerned, when it proved out of compliance with basic safety issues, too expensive to bring into compliance, and at $70,000 a year, too expensive to just maintain in the board's ownership.
In February the board put the building up for sale, with an asking price of $2.3 million. Some board members wanted a lower value, starting at $1.8 million. But the board also didn't want to undervalue its asset. Either way, there were no bids.
"My recommendation would be to demolish that building," Superintendent Jacob Oliva said, "and hold that property as a future site or as a future investment that we probably wouldn't look at selling or doing anything with for at least 10 years." Oliva said the board hasn't yet approved demolishing the building, although Finance Director Tom Tant said that step was part of the February motion that put the building up for sale: if the building didn't sell, the board agreed at the time, it would then be demolished. So plans are in place to accomplish that late this year.
"I think it's our best option right now. I do," School Board member Andy Dance said. "At this point it's a valuable piece of property and we have a lot of different options for it, but I believe the building has run its course."
The school board still owes $770,000 on the building. It will be paying that off this year, as part of its capital budget.
Right now, the building contains only stacks of furniture in storage for the Flagler Technical Institute, the arm of the school board that includes adult education and the adults with disabilities program, among others. "We went from having a three-story building and X amount of employees to scattered all over the place," FTI Director Kevin McCarthy said.
Palm Coast is not interested in the land, Oliva said.
"It's a conversation we can have," the superintendent said. "That site is probably too small to build a school, but further down the road if FTI grows or if there's alternative programs, I think we're looking at educational buildings differently these days. It could be a good future site. But if the county or the city or if there's somebody else that has land that would be a better site for us to build a school, has an interest in that, there's always a possibility of trading. But those conversations haven't taken place."