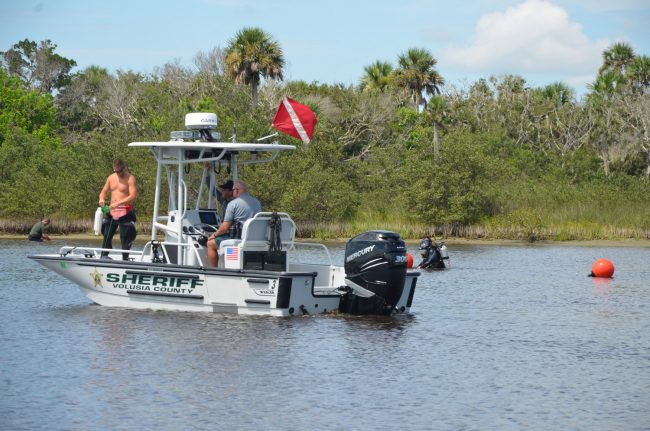 Last Updated: Monday, 4:15 p.m.
Update, 4:15 p.m.–Searchers who had been scouring the Intracoastal Waterway since Sunday evening found a body at 3 p.m. today, an official said. The body is presumed to be that of Matthew Otis, who had been boating with friends Sunday evening when he disappeared off the boat.
"He was found, and he is in a better place now. Thank you guys for the kind words and prayers," his sister, Akiko Otis, wrote on Facebook around 4 p.m.
Divers found him in the general area where the search had been conducted for the past 18 hours, just south of Gamble Rogers Recreation Area.
The Medical Examiner arrived at the scene, at 4 p.m. and was expected to claim the body, take it to St. Augustine and conduct an autopsy.
Earlier reports are below.

On Intracoastal, Rescue Turns to Recovery As Hopes of Finding Matthew Otis, 20, Fade
July 30, 2:11 p.m.–Rescue efforts in the search for Matthew Otis, 20, resumed this morning on the Intracoastal Waterway in Flagler Beach, but "there's going to be a big decision that needs to be made" later this morning, Flagler County Fire Chief Don Petito said. That decision was reached by midday–to abandon the search and rescue and switch to recovery efforts.
At 11:30, several divers were in the water, and five law enforcement boats were clustered in the same search area, with a sixth further north and a seventh further south.
Fire Flight had gone back to its base at the county airport, to refuel and await further orders as the decision had yet to be made, nearing noon, whether to continue with the rescue effort as opposed to searching for a body.
Just after noon, all indications pointed to a recovery effort: Fire Flight would not return, and teams from the Flagler Beach and Flagler County fire departments were to be demobilized from the scene.
At the same time, FlaglerLive learned, the Florida Fish and Wildlife Conservation Commission, which is leading the effort, had mobilized several diving teams from Titusville, expected to arrive in the area around 2 p.m. The team will have sonar and video equipment that will be able to detect anything of any size below the surface.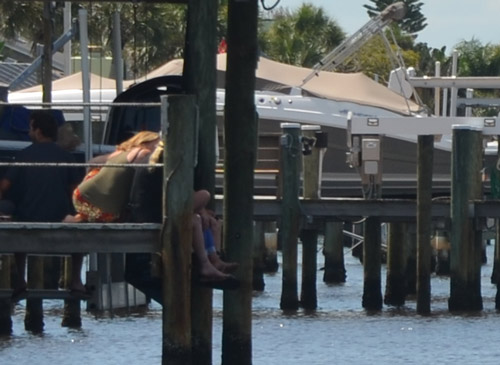 Meanwhile, teams on the water now, from the Flagler County Sheriff's Office, the Volusia County Sheriff's Office, FWC and the county's two fire departments, were being brought to shore around noon for debriefing and to regroup, in expectation of the FWC teams from Titusville. Only the Sheriff's Office units were to remain to assist FWC.
Otis has been missing since 6:30 p.m. Sunday . He was with friends, boating and tubing in the Intracoastal. The search for him extended to near midnight Sunday before it was suspended for the rest of the night.
There was more clarity today as to Otis's disappearance: according to one person familiar with the events that evening, Otis had not been tubing himself, nor had his five friends on the boat started tubing. Rather, they had led the boat to the area parallel to Ocean Palm Drive when several of them jumped in the water to moor the large tube. Otis had been at the front of the boat, and had no intention of tubing. But when his friends got back on the boat, he had disappeared. Speculation aside, it's not know how or why. One of his friends immediately called 911.
According to an FWC incident report, the five friends had jumped off the boat to swim, leaving Otis on the boat. Returning to the boat, "Otis was not on board and could not be located," the FWC report states.
FWC identified the individuals on board the vessel–a 1993, 19-foot Mako center console–as Caleb Hayes, 19, of St. Augustine, Isabella Tucci, 16, of Palm Coast, Hope Hosford, 20, of Flagler Beach, Colton York, 20, of Flagler Beach, and Brandon Swarts, 20, of Ormond Beach.
Authorities are not approaching the incident as anything other than an accident: The fwc-report released today rules out arrests or notification of the State Attorney's Office.
Fire Flight had been in the air in early morning.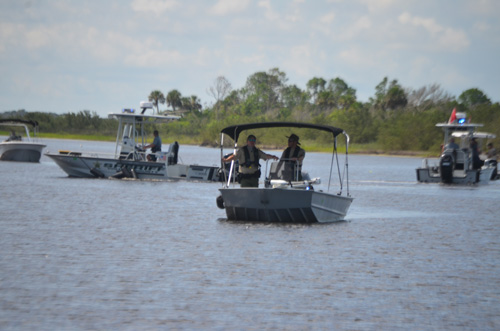 "We're out there again, we've got FireFlight in the air, we've got the jet skis out there and coordinating with all the other agencies that were out there last night," Petito said earlier today, around 10 a.m. But even then he was indicating that the objective of the search was about to change. "So we're still looking." But hopes were dimming enough that Petito said, "Now at this point I think it's going to be a recovery effort."
Petito said searchers are constantly evaluating the situation, but a decision would be coming in late morning as to whether to continue with a search or to switch to recovery.
Around noon, though no one was saying it explicitly, that had become the case.
Outside 234 Ocean Palm Drive–the property whose homeowners opened their doors and dock to first responders, family and friends of Otis–the chain of official vehicles had been replaced today by civilian cars, including those of Otis's parents and relatives. They sat and waited as boats continued their slow, searching passes in the Intracoastal.
Yesterday's story is below.

Rescuers Search Into the Night for 20-Year-Old Who Disappeared on Intracoastal in Flagler Beach
July 29–Rescuers from several local and state agencies and the Coast Guard were searching into the night for a 20-year-old Palm Coast man who had been tubing with friends on the Intracoastal Waterway, and was lost sometime around 6:30 p.m.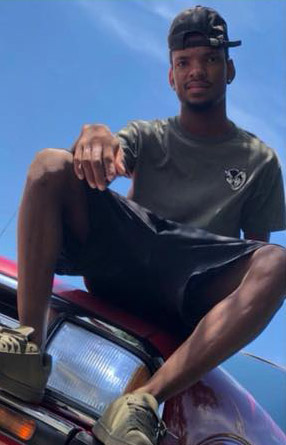 The victim's friends were in a small boat motoring south on the Intrascoastal. It's not yet exactly clear if the man was on a large tube behind the boat or in the boat itself–there are conflicting reports–but at some point the boat stopped and the man either jumped or had fallen off the tube. "He somehow jumped off the boat when it stopped and he couldn't swim,"  Flagler County Fire Chief Don Petito said, based on what he was being told at the time.
He does not know how to swim, his friends told authorities, and he was not wearing a life vest.
The Florida Fish and Wildlife Conservation Commission, which is also a law enforcement agency, is investigating the boating incident, and was interviewing the man's friends in early evening.
"We hope it doesn't turn into something really sad, we've got a lot of people out there trying to find this young man,"  said Flagler Beach Police Chief Matt Doughney this evening.
Authorities had gathered (or staged) at the property at 234 Ocean Palm Drive in Flagler Beach. The property fronts on the Intracoastal. That's where authorities had docked the small boat the friends were riding, with its large orange tube stashed at the back of the boat. Numerous Flagler Beach and Flagler County firefighter-paramedics, members of FWC and of Flagler Beach Police were in the back yard and on the dock at the property, and members of the man's family and his friends were split between the front and back yards. Neighbors on both sides were on their docks, either observing or doing what they could to search with binoculars as two helicopters flew in patterns overhead–Flagler County Fire Flight and Volusia County's Air One.
"We're just all out, watching, looking where we can go from here," one neighbor said shortly after sunset, binoculars around his neck, "that's about all we can do." Two boats were in the middle of the Intracoastal, one of them FWC's, another belonging to private boaters with sophisticated fishing equipment that was being used to help in the search. The helicopters flew wide ovals around the Intracoastal, at various points slowly swooping down only a few yards above tree level then rising again. But light was fading fast.
"Losing light makes it more difficult, Flagler County Sheriff's Chief Mark Strobridge said. The sheriff had a dive team at the scene, among other personnel. But he said even with night falling, Air One's infrared equipment would be used to spot heat signatures on the ground, in the woods. If the man was in the water, however, there would be no signature.
The man was described as black, 140 pounds, wearing black shorts.
"They're going to go for a little bit longer," Petito said a little before 9 p.m. "I know they had a dive team, the helicopters with the infrared, and the Coast Guard was going to come out. But I know they're going to call it in a little while" because of night conditions.