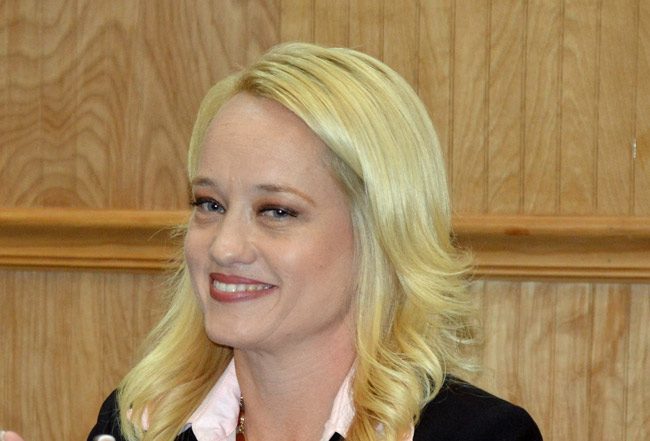 Abra Seay is a candidate for Flagler County Supervisor of Elections. Her opponents are incumbent Kaiti Lenhart and Kimble Medley. All three are Republicans.
300×250, created 9/30/10

In this race, the vote on Aug. 30 is not a primary: it is, in fact, the deciding election, because no Democrats or independents are running. Whoever wins on Aug. 30, even if by less than 50 percent, will be the Supervisor for the next four years.
Because it is the deciding election, all registered voters, regardless of affiliation, may cast a vote in this contest on Aug. 30 (or in early voting).
None of the three candidates have won an election before. Gov. Rick Scott appointed Lenhart to the position after Kimberle Weeks, who had been supervisor for six years, resigned in January 2015 in a swirl of controversies that preceded her indictment on 12–now reduced to nine–felony charges for allegedly illegally recording phone conversations. Weeks's tenure was roiled by her combative confrontations with local government agencies, including Palm Coast and, more bitterly, county government, culminating in the political-circus atmosphere of the canvassing board meetings in which she participated, and on the periphery of which some of the recordings were made on her cell phone.
That history has inevitably framed the current campaign as the candidates hoping to be the next elected supervisor each in her way seeks to project a new, non-partisan, non-controversial regime.
The supervisor of elections is paid just over $100,000 a year, following a raise approved by the Legislature in spring. The salary is set by state law, based on county population, but paid out of local dollars.
FlaglerLive submitted identical questions to all candidates, with the understanding that additional questions might be tailored to candidates individually and some follow-up questions may be asked, with all exchanges on the record. The Live Interview's aim is to elicit as much candor and transparency as possible. We have asked candidates to refrain from making campaign speeches or make lists of accomplishments. We have also asked candidates to reasonably document any claim or accusation. Undocumented claims are edited out. Answers are also edited for length, redundancy, relevance and, where possible, accuracy. If a candidate does not answer a question or appears to be evading a question, that's noted.
But it's ultimately up to the reader to judge the quality and sincerity of a candidate's answers.

The Questions in Summary: Quick Links

Place and Date of Birth: Flagler County, July 18, 1977
Current job: Coordinator, Flagler Schools Early Childhood Education
Party Affiliation: Republican
Net Worth: (See the financial disclosure): $466,122
Resume and Evaluations: 2012, 2013, 2014, 2015
Website: voteabraseay.com
1. What qualifies you to be supervisor of elections?
I am a life-long resident of Flagler County and a registered voter. I am a hardworking, compassionate and inspiring professional with a proven track record of outstanding leadership. I previously worked in the Flagler County elections office under the supervision of Peggy Rae Border and have gained my current leadership experience under the exemplary supervision of Flagler Schools Superintendent Jacob Oliva. I have a master's degree in Leadership and have experience in public budgeting, human resource management and community engagement.
What was your job title at the elections office, how long did you work there and why did you leave? Can you give us more details about your management experience–number of people under your supervision, size of budget you manage(d)?
My job title at the elections office was Office Assistant, I worked there for six months and then returned to school full time after the birth of my son.  Currently, I manage a $1.2 million dollar budget and supervise and evaluate 34 staff members at six different locations throughout the district.
Jump to other candidates' answer: Lenhart | Medley | Seay

2. Describe your character and temperament, and what people you've worked with—or customers you've interacted with—would say are your most serious personal flaws, in so far as how they affect your job. What do you do to address those flaws? (Please don't interpret the question as a way to veil qualities as flaws. In other words, please don't tell us you work too hard or are too honest or too much of a perfectionist, but rather, tell us honestly where you need most self-improvement, but only within the scope of your public job, not in your private life, which is not our business.)
My character is described as hardworking, detail-oriented, visionary, compassionate and dedicated. I have attached my last four evaluations (see above) as both a teacher and an administrator that I was scored Highly Effective on by three different supervisors. My supervisors have described me as "…one of the most dedicated and professional teachers I've ever worked with…She always goes above and beyond and is a true asset to BES." – Heidi Blanchard, Assistant Principal, Bunnell Elementary. "Abra has done a great job moving VPK to each elementary school by hiring staff, coordinating the facility with administrators, providing appropriately aligned curriculum and providing meaningful professional development. She is an excellent coordinator." – Denise Haymes, Director of Elementary Education (retired). One of my most serious personal flaws, though, is I tend to talk too much. I have to consciously remind myself to listen first, not interrupt and only say what is necessary.
Surely talking too much is not the most telling flaw that affects your work?
I referred to and included my last four evaluations by three different supervisors because that is measurable data.  No one is perfect, and I'm continuously striving to improve but the original question asked what people I've worked with would say are my most serious personal flaws.  I asked them and that was their answer.  They also said that I take on too many responsibilities myself instead of delegating to others but your question said not to veil qualities as flaws.
Jump to other candidates' answer: Lenhart | Medley | Seay 

3. Felony indictments aside, what, in your analysis, were the most serious flaws of the Kim Weeks administration of the SOE office? How do you propose to separate your administration from that previous one, and how will you avoid conflicts between the SOE and the county commission, which holds budgetary sway over the supervisor?
In my analysis of Kim Weeks' administration of the SOE office, the most serious flaw was her interpersonal relationships with other stakeholders in the community. From the time that she took office in 2009 and ceased the employment of the long-time SOE employees, her treatment of voters during early voting, to the various interactions she had with county and city personnel throughout her tenure, her administration was more of a dictatorship instead of a harmonious and collegial one. I would separate myself from her administration by being tactful in oral and written responses, provide an effective exchange of information between all stakeholders (the SOE office, the public and our county commission), and follow the statutes. I would also have an open-door policy, like I have had for the past 16 years as both a teacher and administrator, where anyone (voter, candidate, media, etc.) can come to me to discuss a question or concern they may have. This highly effective form of leadership will assist the Supervisor of Elections with having a positive relationship with all stakeholders.
Jump to other candidates' answer: Lenhart | Medley | Seay 

4. What are the office's most serious current needs, and how will you address them?
There are three serious current needs. First, the office's most serious current need is to move past the stigma of the previous administration. After work and on weekends, I spend my time engaging with citizens throughout the community. When I introduce myself, shake their hand, and tell them what position I am a candidate for, every person I have met has the same response, "Oh, you're going to replace Kim Weeks!" The look on their face shows their dissatisfaction and distrust with the office and the black eye that our elections office has from the previous supervisor is still fresh in the minds of our community members. I am the only candidate that has never worked for Kim Weeks nor was I trained by her, so I can finally end that chapter, close that door and provide a fresh start to the SOE's office.
Second, with the increase in residents and the projection of a steady increase of new residents to Flagler County, the precincts need to be analyzed to determine if we are serving all of our residents and providing them with a convenient polling location on Election Day. I have provided more details to this part in question 8.
Third, with the purchase of the new voting equipment, training for poll workers and office staff will need to begin right after the General Election in November. A well-trained staff will prevent mistakes and minimize errors when using the new equipment in the next election.
Is working for Weeks, as Kaiti Lenhart did, to be taken as such a fatal indictment? Do you see no change or improvement in the way the office is perceived since Weeks's resignation a year and a half ago?
Working for Weeks as Lenhart did for many years is a concern for many citizens.  The controversy over bonus money being accepted and suspicions of voter fraud are concerns that citizens have expressed to me.  The perception of the office hasn't changed much because the public knows Lenhart was Weeks' Deputy Supervisor and recommended her for the appointment in her resignation letter.
Jump to other candidates' answer: Lenhart | Medley | Seay

5. What specific procedures would you put in place or refine to minimize errors and increase efficiency in the elections process, including rapid and accurate results reporting from precincts on election nights?
One specific procedure I would refine to minimize errors and increase efficiency in the elections process is to have designated responsibilities for each poll worker as soon as the polls close. The Clerk should do the uploading of the results as soon as the polls close and the last voter has cast their ballot. If for some technical reason the results can't be uploaded, the clerk will proceed to the next closest polling location to upload the results instead of traveling all the way back to the elections office. Also, additional training for Poll Workers will be conducted beyond the statutorily required training. A well-trained staff is an efficient staff.
Jump to other candidates' answer: Lenhart | Medley | Seay

6. Should felons who have completed their sentences have their voting rights restored in an expedited way? Provide your critique of the procedure currently in place.
Yes, a United States citizen should have their voting rights restored in an expedited way when they have satisfied all of their sentencing requirements (supervision periods, restitution owed, and there are no pending criminal charges or warrants). Currently in Florida it can take up to seven years to have voting rights restored and then the ultimate decision is made by the Governor, even if the Clemency Board votes to restore a person's civil rights, the Governor can deny the restoration. In my opinion, the 5-7 year waiting period is too long, especially since we want previous felons to acclimate back into society and become productive citizens. I would be in favor of the 2007 policy that automatically restored voting rights to non-violent offenders upon completion of their sentence.
[Explanatory note: In 2007, Gov. Charlie Crist won approval from the Florida Cabinet to allow most felons to regain their voting and other civil rights without a hearing before the Clemency Board, leading to the restoration of rights for 150,000 people. Gov. Rick Scott and Attorney General Pam Bondi reversed the process and imposed a minimum waiting period of five years before individuals could apply to have their rights restored. The number of restorations fell to a few hundred per year.–FL] 
Jump to other candidates' answer: Lenhart | Medley | Seay

7. If you're asked by the Secretary State or the Legislature whether the early voting period is too long or not, what would be your response and why? As a Supervisor of Elections, it would be within your discretion to add early voting days beyond the minimum mandatory period of eight days, up to and including the last Sunday before Election Day. To what extent if any would you take advantage of that allowance?
If the Secretary of State or the Legislature asked me whether the early voting period is too long or not my response would be "No." Early voting is one avenue that many people use to cast their ballot and gives voters a chance to vote at their convenience, which promotes voter turnout. I support the two-week early voting period that we currently have, with the Sunday before Election Day not being one of the days. That Sunday is needed to prepare for the upcoming Election Day and to give the poll workers and staff that worked during early voting a chance to rest before Election Day. When elected, I would explore the possibility of adding an early voting site for our beachside voters.
Jump to other candidates' answer: Lenhart | Medley | Seay

8. Between early voting and voting by mail, far fewer people are voting in person on Election Day. Assess the effectiveness and geographical fairness of the current number of precincts, explaining where, if any, some might be closed and others opened. If you favor expanding the total number of precincts, how would you justify that in light of the falling numbers of in-person voters, and how would you finance the expansion?
Disaggregating the data from this election year will give a clear picture of how the SOE's office needs to move forward with the precincts, which will need to be done after the November election. Voter turnout has to be analyzed by each precinct because previous data from the Presidential Preference Primary and the 2014 and 2016 General Elections shows that some precincts have a higher turnout on Election Day but others have a higher turnout when combining early voting and absentee voting (now known as Vote by Mail). I have two concerns that I would address when planning for future precincts. First, the geographical fairness of three outlying areas of our county, Rima Ridge, Haw Creek and Espanola, which do not have a precinct. These voters don't get a discount on their taxes because they live in the most rural parts of our county, therefore they should have a polling place that is in close proximity to their residence and not 20 miles away. Their polling locations need to be restored. Second, I would address the issue of having polling places at our public schools. In today's society, allowing hundreds of visitors on our school campuses that are not cleared volunteers poses an unnecessary security risk. These precincts, 11, 15, 16 and 21 may possibly be combined with neighboring precincts or have their polling location changed to a nearby church or other location to alleviate this risk. If the polling locations are combined, this savings can be redistributed to polling locations I would restore so there wouldn't be a change in the budget.
If the net result of providing polling places for outlying areas, how would you justify the added expense, which all taxpayers must bear, when alternatives to voting in person are now so readily available?
If there is a net increase in voting precincts after disaggregating the data from this election cycle and making adjustments to the precincts, I would analyze the budget to see where changes could be made so there wasn't a budget increase.  If there was a budget increase, I would justify it by it being the cost of providing all voters with a precinct that is in close proximity to their residence which according to a study published by the University of Chicago on behalf of the Southern Political Science Association has a positive impact on voter turnout. Even though there are alternatives to voting in person, many voters still want to exercise their civic duty in person.
Jump to other candidates' answer: Lenhart | Medley | Seay

9. Should Supervisors of election be held accountable for the turnout numbers at elections? How so? And what are your specific strategies to improve turnout?
Yes, I would hold myself accountable for voter turnout and will work diligently to improve it. I have a detailed planned called "Be A Voter" that implements two key elements to improve voter turnout, Education and Relationships.
EDUCATION – Flagler County has a diverse population therefore a voter education program has to be multi-faceted. As Supervisor of Elections, I will work closely with Flagler Schools to implement the following:
• High Schools: I will select a "Student SOE" to represent both of our high schools and personally mentor them in the duties of a SOE. They will be responsible for recruiting student poll workers, providing the training, conducting school-wide elections (SGA, Homecoming, etc.), and pre-registering younger students and registering students that are 18 year old.
• Each student that volunteers for the SOE or poll worker position will be able to use their volunteer hours for the Bright Futures Scholarship requirement.
• Middle Schools: I will hold mock elections using our voting equipment so middle school students can get real-time results of their mock elections.
• Elementary Schools: The Florida Department of Education has a Sunshine State Young Reader's Awards Program (SSYRAP) where any student that reads 3 or more Sunshine State books can vote for their favorite book. During non-election years, I will contact the school's Media Specialists to schedule elections for this program.
• To reach the young and middle age voters, I will use social media such as Facebook and Twitter, sending "Be a Voter" updates through a strategic marketing plan. Studies show that most Americans get their news from TV and the Internet; therefore using these avenues to reach voters will have the greatest impact.
• For our senior citizens, the strategies mentioned above will be used along with the second factor; Relationships.
RELATIONSHIPS – Attending community functions, participating in holiday celebrations and parades, and speaking at local organizations and service clubs are not actions that should be done just during the campaign season. As Supervisor of Elections I will:
• Be an active member of our community, promoting and encouraging each citizen's right to vote.
• Contact the numerous social and civic clubs and charitable organizations in Flagler County to schedule presentations between their members and the SOE office.
• Reach out to the Flagler County Association of Realtors to provide "Be a Voter" literature to every new resident when they close on their home.
• Provide voter education classes to area retirement homes for registered voters to cast their ballot through Vote By Mail.
• As Flagler County Supervisor of Elections, I will be an active representative of the elections office building relationships with Flagler County voters through continuous community engagement. I will be an ambassador for voting!
Supervisors of Elections can have an awesome voter outreach program, can make it convenient as possible to vote and give the maximum amount of opportunities to vote (early voting, vote by mail) but a voter must make the individual choice to cast their ballot. I will work diligently so individuals will choose to Be A Voter.
How would you hold yourself accountable should turnout figures drop during your tenure? Would you resign? Would you not run again?
A supervisor of elections can have the best voter outreach program, have convenient polling places and work tirelessly to improve voter turnout but the ultimate decision to vote lies with the voter.  It would be a personal goal of mine to improve turnout and if I wasn't successful in 4 years I would review the strategies in place, adjust where necessary and continue working on the end goal and vision for Flagler County.  Resigning or not running again would be giving up and that is not who I am, I will stay the course and keep working for the citizens of Flagler County.
Jump to other candidates' answer: Lenhart | Medley | Seay

10. Would you support making the supervisor's race non-partisan? What will you do to ensure that your own party allegiance does not interfere with the impartiality the job requires?
I would support making the supervisor's race non-partisan if our county chose to change it. I will treat all voters as if they were my mom, she's a registered Democrat and I'm a registered Republican. I respect her views and why she chooses to be registered the way she is, I don't see a D or an R or an I, I just see a voter and taxpayer that deserves to be treated with dignity and respect. As a public employee for the last 16 years, I have a very strong view on how much effort a public employee and/or official should put into his/her profession. Our tax dollars support public salaries; therefore, a taxpayer cannot choose which profession to support whether it be a teacher, firefighter, police officer or elected official, taxpayers support them all. It's not like being able to choose between private companies like Publix or Winn-Dixie, Bealls or Kohl's, our tax dollars support all public employees and therefore we should diligently work to earn every dollar, going above and beyond what is required because our paycheck depends on our hard-working citizens. That is how I will ensure my party affiliation does not interfere with the impartiality the job requires.
Jump to other candidates' answer: Lenhart | Medley | Seay

11. If you or someone on your staff or among your poll worker sees someone breaking an election law, what would you do?
If someone on my staff or among the poll workers sees someone breaking an election law, my response would depend on the law that was in violation. For example, if someone was soliciting voters from inside the 100 ft boundary of the polling place, I would remind them of the 100 ft boundary, politely ask them to obey the statute and then carry on with my other duties. If I wasn't present, it would be the clerk's duty to remind the person. But, if it were a more serious offense like fraud, the proper authorities would be notified and termination of employment would take place. The SOE office should be managed by following the statutes and when election laws are not followed there must be consequences, it would just depend on the circumstance. Most importantly, statutes must be followed.
Jump to other candidates' answer: Lenhart | Medley | Seay

12. Have you ever been charged with a misdemeanor (other than speeding or running red lights) or a felony, or convicted of either, in Florida or elsewhere? If yes, please provide dates and details.
No, I have never been charged or convicted of a misdemeanor or a felony.
Jump to other candidates' answer: Lenhart | Medley | Seay

13. Please provide a clear narrative explaining the history and closure of your VPK.
In 2007, our two youngest children were still in childcare and we had a terrible experience at a local facility so we decided to open our own in a second home we owned at the time. My childcare facility was open for five years and provided high-quality care for infants through VPK. The VPK readiness rate was an average 92 percent for the five years, with two of the years at 100 percent. The readiness rate is a score earned by a provider depending on how well a child performs on Kindergarten evaluations during the first 30 days of Kindergarten. After five years, my children had moved into elementary school and I had to choose between my career with Flagler Schools and my private business, doing both was very difficult while trying to raise a family and assist my husband with his business that was getting busier since the economy was improving. I had also earned my Master's degree during those five years and knew I was going to be moving into an administrative role if I stayed with Flagler Schools. I chose my career with Flagler Schools, assisted an employee with establishing her own S-Corporation and transferred the business to her. All of the employees kept their jobs and parents continued to have their child(ren) enrolled in the facility. To this day, it's still in operation, it's called Precious Angels Learning Center and I recommend it to parents needing quality childcare.
Jump to other candidates' answer: Lenhart | Medley | Seay