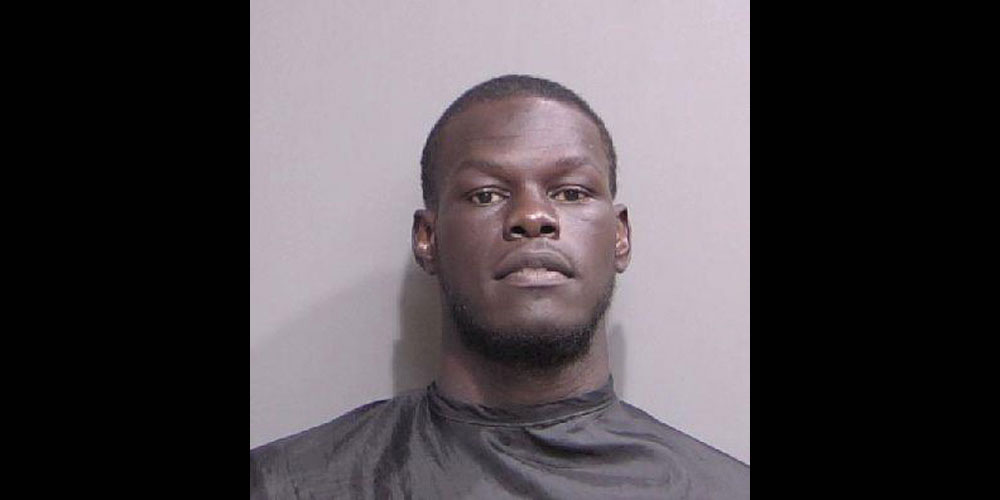 When he was originally charged for the overdose death of Shaun Callahan, Nysean Dwight Giddens faced a count of manslaughter–bad enough, as he could have faced up to 15 years in prison if found guilty.
Last week, however–a matter of weeks before his scheduled trial in July–a Flagler County grand jury indicted Giddens on a first-degree murder charge, a capital felony.




The State Attorney's office could choose to seek the death penalty. It will almost certainly not do so. It's never done so in any overdose-death cases in the Seventh Judicial Circuit, nor has any state attorney done so in such cases anywhere in Florida. The consequences of the indictment are still grim for Giddens, who could face life in prison if convicted.
He had been offered a plea, and so far had chosen not to take it. The indictment may compel him to give a plea another look. The state may still offer plea terms that could go as low as manslaughter despite the indictment. Since Giddens is not a repeat offender, his punishment could also be limited to 15 years.
For example, Joseph Carroll, a 44-year-old former resident of Shady Lane in Palm Coast, had similarly been indicted on a capital felony murder charge in the overdose death of Michael Burnett, 31, in June 2018. He pleaded down to manslaughter, and in January was sentenced to 15 years in prison, with credit for time served and eligibility for gain time, or early release, after serving 85 percent of his sentence.




The same month, Jevante Hamilton was sentenced to 40 years, 30 of those on a manslaughter charge in the overdose death of Timothy Davidson of Palm Coast a year earlier. Hamilton had been indicted on a first-degree murder charge. He went to trial and was convicted on a the lesser charge of manslaughter. (An earlier version of this article incorrectly reported that he had pleaded down to manslaughter.)
Why the sentencing disparity with Carroll? Because Hamilton was a so-called prison-releasee reoffender. The conviction was his third on a felony within 10 years. Under Florida law, that doubled his penalty. He would have faced a 30-year sentence but for the judge's decision to tack on a 10-year consecutive sentence for a mere probation violation in Volusia County. (He's appealing.)
Giddens is not a re-offender, though he does face other felony charges, including trafficking a controlled substance, a second degree felony, which would add to his potential sentence if he doesn't plead out. All of which suggests that the surprise would be only if he chooses not to plead out before his July 17 trial before Circuit Judge Terence Perkins.
Assistant State Attorney Jennifer Dunton is prosecuting the case. Nicole Jordan-Dixon is defending Giddens. The state's evidence is not hazy. Detectives had taken possession of Callahan's phone after Callahan died and called Giddens, posing as Callahan, to set up another drug transaction, ostensibly for cocaine. Giddens showed up, thinking it was Callahan texting him. Detectives also had the texts between Callahan and Giddens that preceded the fatal sale to Callahan, who died on Sept. 13, 2020 on Utrillo Place in Palm Coast.
Callahan's girlfriend called 911 to report him unresponsive. The couple had a child in common and was supposed to meet that morning so Callahan, who lived with his parents, would pick up the child and his girlfriend could go to work at Publix. He never showed up. Previously, "Shaun seemed healthy and happy and was making plans for his future," according to what his mother told detectives. His girlfriend was aware of his cocaine use, but he was "trying to stop."




Giddens and Callahan texted good-naturedly in the set-up of the transaction the night of Sept. 12, texting in their own slang: "can't get that chunk anymore huh everybody running out of what," Callahan had texted. "Yea bro that chunk high and hard yo find but saving my money up top deal with my brother ppl… I need big money to go see him lol."
That was the end of the exchange. After detectives took possession of Callahan's phone, they set up a buy in the parking lot of the Tractor Supply store on belle Terre Boulevard, and Giddens showed up. He "admitted to selling narcotics to Shaun the night before," according to his arrest report, leaving the drugs in Callahan's mailbox. He also had a small amount of cocaine hidden under his scrotum.
When detectives tested the cocaine, they found it laced with fentanyl, a deadly drug even in small proportions. The Medical Examiner listed the cause of death as Fentanyl Toxicity, according to Giddens's arrest report.
Giddens told detectives he had no idea he was selling cocaine laced with fentanyl. "I didn't know man," he told detectives, as he told them that he thought his life was over.