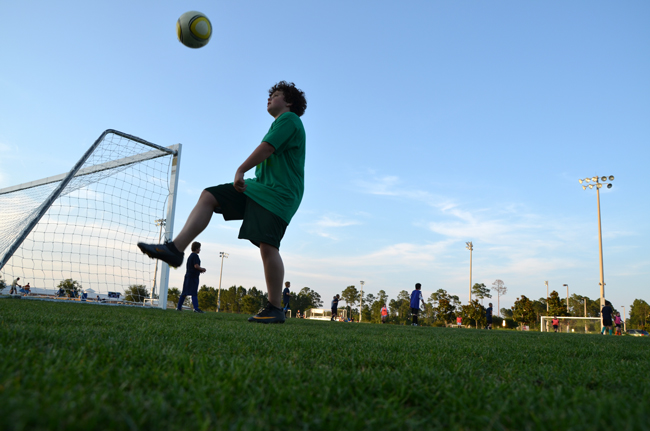 Palm Coast halted most of its capital projects this year to keep its property tax rate even with last year's. But it still has construction plans. One of those is a $358,000 plan to almost double the number of playing fields at the Indian Trails Sports Complex and make the complex more tournament-friendly to attract more events, and presumably more out-of-county visitors. Last week, the Tourist Development Council unanimously approved subsidizing almost half that cost–$150,000.
Assuming the Flagler County Commission ratifies the award, by next October, the complex would have three more lacrosse, soccer or football fields, for a total of seven. The fields would be managed by Palm Coast and the Flagler County School Board.
"The ability to offer an athletic facility to sports event organizers with the capacity to host multi-day tournaments has the potential to bring thousands of visitors to our community in a single weekend," ZPalm Coast's application for the money reads. "These visitors will be staying within our community taking advantage of the hotels, restaurants and shopping centers easily readily available within close proximity to the venue." A two-day lacrosse tournament tentatively scheduled for November, for example, would host 1,000 players and 2,500 family members, according to the city's application, for a total of 3,500 visitors to the area for a 48-hour period. The numbers are not verified, and unlike a different type of grant the tourism council awards, don't have to be, though that lacrosse tournament has grown over the years, and appears to be growing too large for the complex as it now is, according to Jim Landon, the Palm Coast city manager.
The council money is drawn from the county's 4 percent supplemental bed tax, added to the regular sales tax on such things as hotel and motel charges, RV rentals and other short-term rental arrangements. The council's $1.4 million budget is broken down into three grant-awarding funds. One of them requires those receiving grants of up to $10,000 to prove that the money will generate the promised number of hotel stays.
The capital fund Palm Coast is tapping into, for far more money, doesn't have that requirement, and has triggered controversy before. Last year, with Milissa Holland, who chairs the tourism council and is a county commissioner, pushing hard, the council, in a split, 4-3 vote, approved a $75,000 grant for a $500,000 marina in Marineland. That marina, when it's built—if it's built—would be a mostly a private venture with a few boat slips devoted to public use. When the matter appeared before the county commission, the grant award doubled to $150,000—and was approved, also on a split vote, 3-2.
The award to Palm Coast had none of the controversy or the fractured vote, the Indian Trails Sports Complex being entirely a public facility, and, unlike Marineland, one busily and constantly in use by little league teams, soccer and football teams year-round, as well as by school teams. But the details of the award do raise questions about the city's contribution, which will be less, and possibly far less, than what it is asking from the council and from various leagues' donors and contributors.
The $150,000 grant from the council would pay for sod ($105,000), an irrigation system and a pump station. The city is looking for $474,000 from donors to pay for 12 goals, there scoreboards (along with electrical costs associated with the scoreboards), bleachers and team benches. The city would provide $134,000, but $106,000 of that, for fill, "may not be necessary," according to the budget it submitted. That leaves $27,000 in city contribution, much, or all of which is actually in-kind: labor provided by city employees, calculated as hard dollars. Donors and the county would be making the funding the project.
Andy Blair, a member of the council, raised that point. "So we're basically footing the entire cost of this improvement, or the majority of this improvement," he said.
Landon described the city's share as "a softer cost." He re-stated the break-down of the budget, and said: "If we were to design this, put it out to bid, you probably talking at least $150,000 total per field, is what our experience is," he said, though local governments—counties, school boards, cities—routinely use their public works departments to provide public works without putting the work out to bid: that's what they're there for. The additional fields would, in fact, be built adjacent to Indian Trails Middle School (on the south side of the school), on school, not city, property, and would be maintained by school tax dollars.
"People ask me, why is the school district involved in economic development?" Landon said. "Well, you're seeing it today. That's what I talked to their superintendent about, is, you have the opportunity to bring in a lot of visitors, you have the opportunity to try to get district tournaments, district activities, but we need your facilities. We don't habve gymnasiums, we don't have these kinds of facilities, but it's those facilities that can help with this effort, and with the city, TDC, the school district working together, that's the only way it's going to happen, and we don't have to duplicate the facilities, we only have to make the best out of them."
From Holland's perspective, the broader picture matters more as a starting point for "building our assets right here in Flagler County" toward marketing the area as a sports destination. "The type of events we're trying to promote is those families coming into our community and enjoying all the different amenities throughout our community," she said.
"Under our new policies, how we've amended those policies, this is well within the city of Palm Coast's ability and right to apply for these funds," Holland said, "especially enhancing our newly developed sports niche market, which we're very excited about."
Aside from the three new fields, there are no plans to build more. The complex is surrounded by wetlands and conservation easements, minimizing impacts on homes.
"I too am thrilled to see this happening," Tom Grimes, a member of the council and a representative of the Hilton garden Inn, said. "I think it's a wonderful addition to the community and will be a great draw. I ask that somehow we be sure to coordinate the dates of these events so that they don't coordinate with some of the events that happening the region that we have no control over, i.e. things like Bike Week or Daytona or things of that nature, because it often is very frustrating to be able to have to talk to some folks and have to say gee, I can't take your group because I've got another thing happening, and it screws up your schedule."