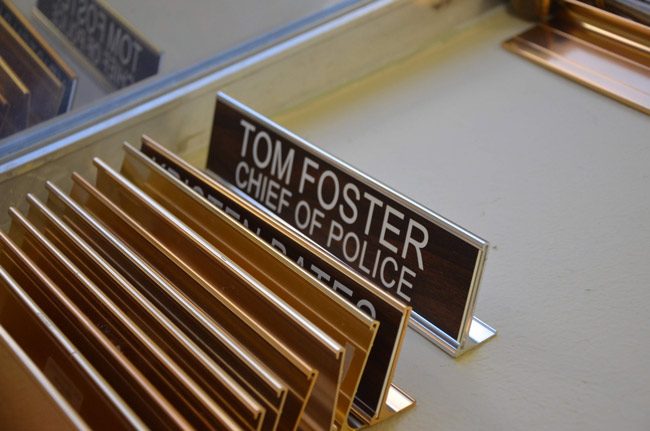 The Bunnell City Commission will interview four candidates on Monday and Tuesday in a second attempt at filling its city manager post, vacant since the firing of Dan Davis on April 23. Tom Foster, the city's police chief, has been filling in as interim manager. But he's been eager to return to his policing duties and had no interest in applying for the permanent job. Nor did any other internal candidates.
The candidates to be interviewed in two separate workshops in one-hour segments are Lawrence McNaul and Rodney Lucas on Monday, starting at 6 p.m., and Phyllis Marshall-Hartman and Alvin Jackson on Tuesday. Jackson and Lucas are from Florida.
Commissioners Bill Baxley and Elbert Tucker both selected McNaul. Tucker stressed that the choice was made independently, without contact between the two commissioners. Commissioner Jowhn Sowell selected Jackson and Marshall-Hartman. Mayor Catherine Robinson selected Jackson. And Commissioner John Rogers selected Rodney Lucas.
It will be a second interview for Jackson, an economic development director in Suwanee County with an outsize personality who did not get so much as a second when Commissioner John Rogers moved to offer him a contract. But Mayor Catherine Robinson hadn't given him her vote because she wanted a second interview with him. Now she has one. (She's also had her own one-on-one interview with Jackson over the phone.)
Rogers's choice of Lucas was a surprise. He was expected to select Jackson again. "I was getting the feeling that Jackson was a dead issue," Rogers said today, "but I was pleasantly surprised when the mayor and Sowell had him on their list for an interview."
McNaul, 48 (he's one of the rare candidates who doesn't hide his age on applications) was part of the 18 candidates who'd applied in the first round in May. Surprisingly, he had not been short-listed at the time even though he was one of the few applicants who had several years' experience as a city manager, albeit outside of Florida: West Liberty, Iowa, whose population is slightly larger than Bunnell's. He's been its city manager since 2013. He was in policing before that, including a 15-year stint in the police department of Grinnell, home to Iowa's best college. He was a police officer, narcotics investigator, detective and supervisory sergeant. He also spent 23 years in the military reserves and active duty, rising to captain in military and tactical intelligence, and was involved in managerial duties for emergency and humanitarian operations. He's a decorated veteran, with two Bronze Stars.
Hartman will be the first woman to be interviewed or short-listed in either round. She's spent most of her public administration career in New England, mostly in Massachusetts. She's managed towns and counties, but never without the words "assistant" or "interim" as a prefix to the title. Like McNaull, she has a master's in public administration. (The Bunnell commission had made a master's a requirement in its first round of solicitations. It dropped that requirement in its second round, when it drew just six applicants, only five of whom qualified.)
Lucas had one year of interim city management, in Groveland, Fla., spending three years before that in mid-level community development and economic development posts. His resume thins out before that.
Commissioners are willing to interview candidates by Skype or other web connections, which will likely be the case for McNaul and Marshall-Hartman, assuming one or both don't see the advantage of appearing in person, though that would have to be at their expense. Commissioners may request second interviews. "We can decide after we interview them and after the background check," Robinson said. The background checks are no formality: at least two of the candidates who applied in the two rounds have an arrest record, and one of them –a former Bunnell city manager–had been granted an interview. He did not go further.