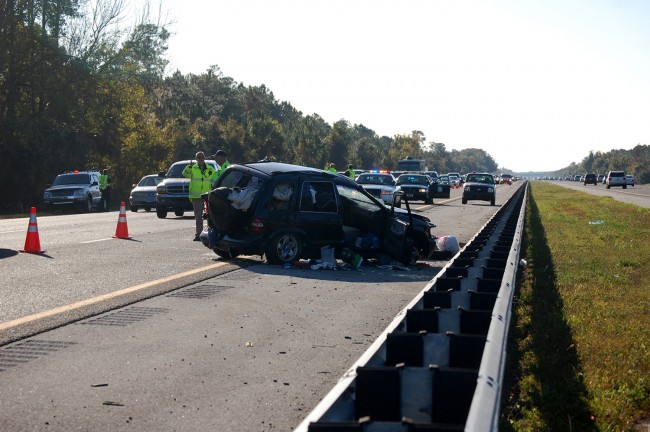 A two-vehicle wreck north of Palm Coast at 8:10 Sunday morning shut down two lanes of I-95 northbound and backed up traffic for more than two miles before the vehicles were towed and the lanes reopened. There were no fatalities, but the driver of one of the two vehicles was taken to a local hospital.
The wreck took place at mile marker 295. It involved a silver Cadillac STS registered in Florida and a black Kia Sportage registered in New York. It's not yet clear how the collision took place. At 9:15 a.m., the Kia was facing southwest on the left shoulder of the Interstate, its windshield was smashed in, and its roof, on the driver's side, had been severely dented . Two-thirds of the front right tire was literally sheared off. The vehicle was jammed with materials–clothing, electrical equipment, extension cords, bottles of household chemical fluids and the like.
The Cadillac's front was damaged, but little else. The Cadillac's owner was at the scene, sitting or walking around until Saxon's Wrecker arrived and had both vehicles on two separate flatbeds by 9:20. By then traffic had backed up more than two miles, past the Matanzas Parkway overpass, as the Florida Highway Patrol had closed two of the Interstate's three lanes (the outside and inside lanes).
Traffic resumed normally shortly after. FHP has not yet released the identities of those involved.
See Also: