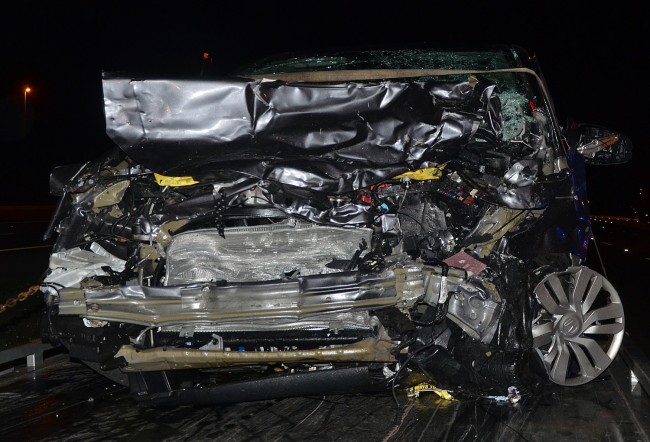 An overnight wreck involving five vehicles, two of whose occupants ran after the crash–one of them literally so–sent six people to a local hospital and shut down all northbound lanes of I-95 at the weight station for over two hours early Saturday morning.
All but one of the injuries were minor. The exception was an individual who suffered more serious injuries to the legs. The wreck took place at 2:25 a.m. The scene was cleared and traffic, which had been diverted through the weigh station's lanes, resumed at 4:42 a.m. As of 9:30 Saturday morning, the Florida Highway Patrol had yet to issue its usual news release listing the names of those involved.
An FHP investigator at the scene described the sequence of events: a silver, two-door Mitsubishi that may have been an Eclipse–it was significantly mangled after the wreck–triggered the wreck. It struck the center guardrail and spun back into the road, causing a dark-gray Honda Fit to strike it.
The Honda became disabled in the center lane. A gold-colored Chevy Equinox (with a dealer's tag) then struck the Honda. The front of the Equinox was severely damaged, but not as much as the front of the Honda, which appeared as if sheared off, though it had just been compressed beyond recognition. Both Honda and Chevy had generic Florida license plates (no county included). There appeared to be no license plate on the Mitsubishi, though it may have been dislodged in the wreck.
A fourth car, a white, four-door Ford sedan out of Loganville, Ga., then saw the wreck ahead, slowed down, only to be rear-ended by another vehicle. That vehicle kept going. There were four people in the Ford, with a woman at the wheel. All four were taken to Florida Hospital Flagler, as were the drivers of the Honda and the Chevy.
The driver of the Mitsubishi, the car that triggered the wreck, got out of his or her car immediately after the wreck, according to one of the witness statements to the FHP investigator, and ran off. That driver had not been found. The investigator said the Flagler County Sheriff's Office, which was first on scene, was searching for him or her. Overnight, there was little clue as to the fifth vehicle that struck the Ford and ran.
Because the wreck took place parallel to the weigh station, the diversion of traffic caused no delays: traffic was at its lightest in the early morning hours, and it flowed through the weight station's lanes. The Palm Coast Fire Department and Flagler County Fire Rescue responded to the scene, as did the Palm Coast Fire Police, which regulated traffic.
The center and left lane of I-95 was covered in sand to absorb oil or fuel that had spilled. All responders had left the scene by 4:45 a.m.