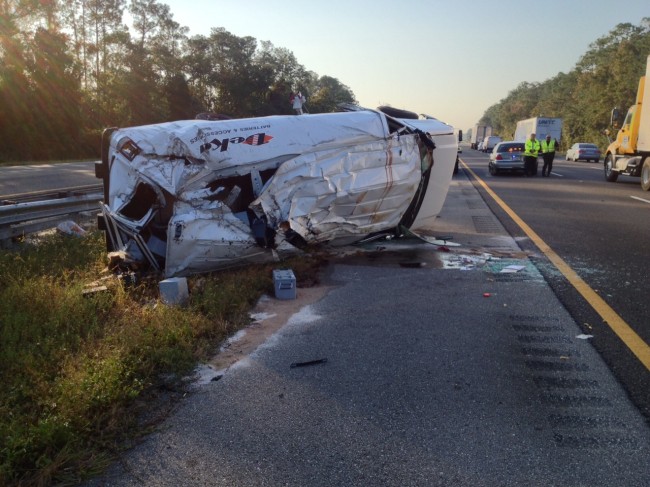 Last Updated: 11 a.m.
A van transporting some 75 vehicle batteries and traveling north on I-95, just north of State Road 100 in Palm Coast, lost control from a tire blow-out and overturned into the southbound lanes, spilling batteries, acid and candy.
The driver, Arthur Richards, 61, of Sanford, was flown to Halifax hospital with traumatic injuries to the chest.
One lane on I-95 was closed after 8 a.m. and remains closed as a team from the state Department of Environmental Protection was due to assess what's been categorized as a hazardous spill. The closure caused a back-up of about a mile. The lane was re-opened at 10 a.m. for an hour, but was closed again at 11 a.m. for crew members' safety.
Richards was traveling north on the outside lane at around 7:45 a.m. He was not speeding, nor was he attempting a lane change, a Florida Highway Patrol investigator at the scene said. A witness saw a rear-right tire lose its tread, at which point the van began to spin counter clockwise. Reynolds could not control it. The van then slammed against the center guardrail and tipped over it. The 75 batteries weighed down the van with an additional 2,000 pounds or so. The van ended up on its roof, facing southwest, and straddling the emergency and inside lanes.
A gash punctured the van in its rear, where the vehicle had struck the guard rail. Numerous batteries spilled out of the van–and spilled their acid–as did a quantity of candy (it is the morning after Halloween) and paperwork.
Flagler County Fire Rescue personnel at the scene warned of battery acid and fumes extending several yards from the scene of the crash. Personnel from John's Towing towed the van and picked up all the batteries, but it was going to be left up to DEP officials and a clean-up crew from Deka Batteries to complete the clean-up, the FHP investigator said.
There was no danger to passing traffic on either side of the highway, but because acid had spilled, the materials could not be hosed down or simply swept off, as would normally be the case at a crash scene. The materials had spilled on pavement and in the grass, near a drain, raising questions about whether the acid could corrode the pavement or end up in the water system.
The wreck took place near mile marker 284. Flagler County Fire Flight, the county's fire and rescue helicopter, landed at the weigh station a distance north to collect Richards (and avoid closing down the highway). The Palm Coast Fire Department, Flagler County Fire Rescue, the Palm Coast Fire Police and the Flagler County Sheriff's Office responded to the scene, as did unites of the Florida Highway Patrol.
Deka is based in Lyon Station, Penn. Its local affiliate is based in Stanford.