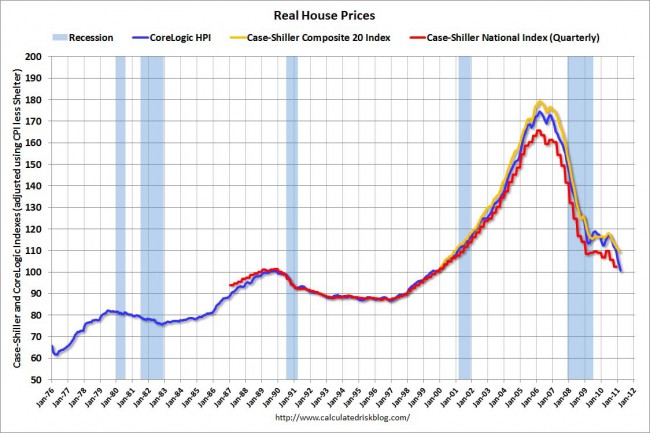 Despite what appears to be an economic recovery and some job creation, housing prices have fallen to a new low, declining to their lowest level since mid-2002, according to figures released this morning by Standard & Poor's/Case-Shiller Index of 20 large cities. The 20-city composite index's new recession low reflects an annual decline of 5.1 percent compared with the first quarter of 2010, and a 4.2 percent decline from the last quarter of 2010.
The numbers are compounding a deepening housing crisis that has sent home ownership down sharply, to 66.4 percent last year, down from 69.2 percent in 2004, and housing-unit vacancy rates nearly three times their levels 10 years ago. In Flagler County, the 2010 Census revealed that out of 48,595 housing units, 9,409 are vacant (not including occasional-use housing), for a vacancy rate of 19.4 percent.
Ironically, the Palm Coast City Council today is discussing approval of a settlement agreement with the Department of Community Affairs, the state's growth-management agency, that clears the way for two massive developments on Palm Coast's west side. The two developments would, at build-out, add 12,000 homes to the city's and the county's housing stock.
Nationally, with an index value of 138.16, the 20-City Composite fell below its earlier reported April 2009 low of 139.26. Prices have fallen 33.1 percent from their peak in July 2006 in what has become the worst housing crisis since the Great Depression. Fewer people are choosing to own a home, opting instead to rent.
"This month's report is marked by the confirmation of a double-dip in home prices across much of the nation," says David M. Blitzer, Chairman of the Index Committee at S&P Indices. "The National Index, the 20-City Composite and 12 MSAs all hit new lows with data reported through March 2011. The National Index fell 4.2% over the first quarter alone, and is down 5.1% compared to its year-ago level. Home prices continue on their downward spiral with no relief in sight. Since December 2010, we have found an increasing number of markets posting new lows. In March 2011, 12 cities – Atlanta, Charlotte, Chicago, Cleveland, Detroit, Las Vegas, Miami, Minneapolis, New York, Phoenix, Portland (Ore.) and Tampa – fell to their lowest levels as measured by the current housing cycle. Washington D.C. was the only MSA displaying positive trends with an annual growth rate of +4.3% and a 1.1% increase from its February level.
"The rebound in prices seen in 2009 and 2010 was largely due to the first-time home buyers tax credit. Excluding the results of that policy, there has been no recovery or even stabilization in home prices during or after the recent recession. Further, while last year saw signs of an economic recovery, the most recent data do not point to renewed gains. Looking deeper into the monthly data, 18 MSAs and both Composites were down in March over February. The only two which weren't, are Washington DC, up 1.1%, and Seattle, up 0.1%. Atlanta, Cleveland, Detroit and Las Vegas are the markets where average home prices are now below their January 2000 levels. With a March index level of 100.27, Phoenix is not far off."