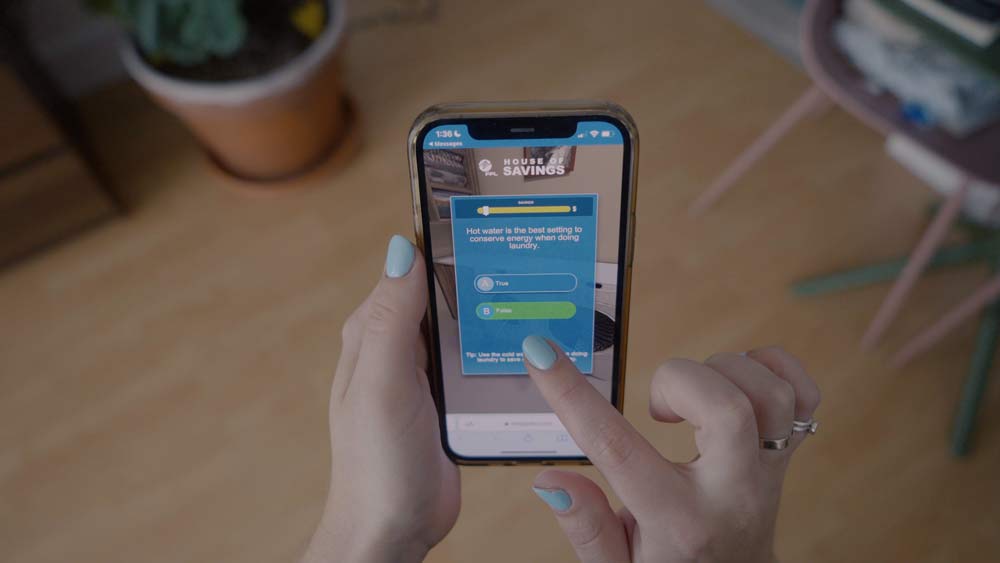 As the summer heat reaches its peak, Florida Power & Light Company (FPL) debuts a revamped version of its interactive, augmented reality (AR) tool, the House of Savings. New this year, each time a customer completes the House of Savings mobile experience, $2 will be donated on their behalf, up to a total of $100,000, toward FPL's Care To Share. This program provides eligible customers who are in financial crisis with emergency bill payment assistance as well as help for those who need to make electrical repairs to their meter can or weather head.
This year, the experience takes users through new rooms and offers fresh, easy to implement tips to save. Participants can use their mobile device to move through the 3D home and answer energy-related questions to learn which appliances have the biggest impact on their bill and see how changes like unplugging appliances or electronics can add up to big savings. By answering all 10 questions correctly, customers will learn how to save more than $30 on their monthly energy bill. Customers can play the House of Savings at FPL.com/HouseofSavings.
For the first time, customers can also experience the FPL House of Savings using a compatible virtual reality (VR) device, including the Meta QUEST device or any VR device supporting webXR. Customers can access the VR experience at vr.houseofsavingsfl.com where they will be redirected to the 360-degree experience.
Founded in 1994, FPL's Care to Share program is made possible by the generosity of FPL's employees, shareholders and customers to keep the lights on for those who are experiencing temporary financial difficulties, such as sudden illness, unexpected unemployment, or another emergency or personal crisis. Every year, thousands of families are assisted by Care To Share in partnership with programs like the Salvation Army and others.
"The Care To Share program is there all the time for our families in their time of need," said Ashley Jones, director for social programs at the Salvation Army of Collier County. "So many seniors are having to go without food and even sacrificing medications or going to the doctor. There are a lot of families having to make hard sacrifices to make ends meet. We cannot thank FPL enough."
"Care To Share is such a great program, and you will do more good with your donation than you could ever imagine. The Care To Share funds literally save lives," said Monica Moore, case worker at the Salvation Army of Collier County.
To learn even more ways to save, customers can go to FPL.com/WaystoSave, which includes access to FPL's free, all-in-one tools like the Energy Manager, information on FPL's energy-saving programs and rebates, and more.