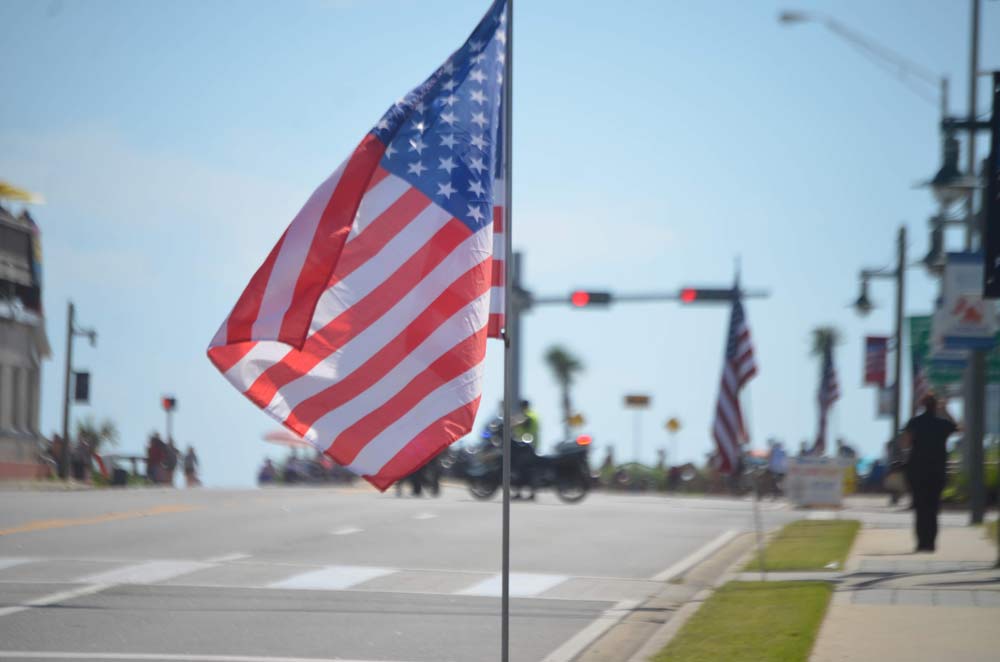 Independence Day this year falls on a Tuesday, slicing through the earlier part of the week and creating a checkerboard of work schedules and closed offices. The one constant are safety and travel advisories. Here's a  run-down.
While all local governments, schools and courts will be closed for Independence Day on July 4, most will also be closed on July 3, but some, including the Clerk of Court and such services as garbage pick-up in some jurisdictions, will operate as normal on Monday. All return to normal activities on Wednesday.




Government Schedules
Courts and Clerk of Court: Both will be open on Monday, closed on Tuesday. The court schedule is very limited: just one domestic relations mediation is scheduled by zoom on Monday, in a case presided over by Circuit Judge Chris France. All other judges have no public sessions on Monday.
County Commission and offices: Closed on Monday and Tuesday.
Property Appraiser and Supervisor of Elections: Closed on Monday and Tuesday.
Tax Collector: Closed Monday, Tuesday and Wednesday.
Sheriff's Office: Administrative offices open on Monday, closed on Tuesday, though road patrols will be stepped up this weekend and through the holiday. See below.
Flagler County Schools: District offices are open on Monday, closed on Tuesday. Summer school and summer-school activities are open on Monday, closed on Tuesday.
Palm Coast: City offices will be closed Monday and Tuesday. FCC Environmental garbage and recycling collection will proceed according to the regular schedule on both days. Palm Coast is joining with Flagler Beach and the county to coordinate the Independence Day festivities, including fireworks at the county airport Tuesday evening. See details: "Daylong July 4 Celebration in Flagler Beach, Then Fireworks at County Airport."
Flagler Beach: City offices open on Monday, closed on Tuesday. All garbage schedules as normal on both days:
South of Highway 100 (Moody Boulevard) – Monday and Thursday (Does not include south of Gamble Rodgers and golf course area)
North of Highway 100 (Moody Boulevard) – Tuesday and Friday
West of Intracoastal and south of Gamble Rodgers including golf course area – Tuesday
Bunnell: City offices open on Monday, closed on Tuesday. All garbage schedules as normal on both days: Garbage will be picked up on Tuesday in residential areas across the city but not at Grand Reserve. Pick-ups for cardboard at commercial locations will also take place.




Holiday Travel Advisories
Floridians will travel in record numbers for Independence Day. AAA forecasts more than 2.8 million Floridians will take at least one trip of 50 miles or more, between Friday and Tuesday, July 4. That's 87,000 more holiday travelers than the previous record high, set last year.
Nationally, travel figures are also expected to set new records. An estimated 50.7 million Americans are forecast to travel for the holiday weekend. That's nearly 2.1 million more travelers than last year's holiday and almost 1.8 million more than the previous high, set back in 2019.
This despite higher air fares and lodging costs, though lower gas costs, which are likely to be well below what drivers paid during last year's holiday period. The Florida average was $4.54 per gallon on July 4th, 2022. So far this summer, gas prices have been somewhat erratic, but the state average has remained below $3.47 per gallon, thanks to the lower cost of oil.
Friday, June 30 is expected to be the busiest day on the roads during the Independence Day holiday weekend, according to INRIX, a provider of transportation data and insights. The worst travel times vary by day, but are generally in the afternoon and early evening.
Average travel times are estimated to be 30 percent longer than normal, particularly in major metro areas, near beaches and attractions. To avoid the heaviest congestion, INRIX recommends drivers leave in the morning or after 6 p.m. The Florida Department of Transportation and Florida Highway Patrol urge drivers to make sure their vehicle is ready for the trip, buckle up, and not drive impaired — including not driving while drowsy.
Drivers can also check roadway conditions and view live streaming traffic cameras on FL511.com, home of the Florida Department of Transportation's Florida 511 traveler information system. FDOT also provides roadside assistance to stranded motorists. Road Rangers are FDOT's safety/service patrol who provide free, limited roadside assistance, including changing a tire or assisting with minor mechanical repairs.
Road Rangers also protect motorists and crash scenes by alerting oncoming drivers of the incident. Motorists on I-4, I-75, I-95 and Central Florida's toll roads can request a Road Ranger's assistance by calling *FHP (*347).
Safety Advisories
The Flagler County Sheriff's Office is encouraging everyone to keep their vehicles safe this weekend, Independence Day and always. While you are enjoying the fireworks and beaches, your car could become a prime target for thieves.
From tampering with car locks to smashing windows, criminals will try anything to get inside and steal your property. Beach approaches and parks are prime hot spots for "Smash-and-grab" car break-ins,  so remember to lock up and avoid leaving any visible bait for opportunistic criminals.
While no one wants their weekend or holiday celebrations to be marred by theft, there are some simple steps you can take to protect your vehicle:
Park in a well-lit area.
Make sure your vehicle is locked when you're not using it, even if you're out of the car for just a minute.
Hide all valuables from plain sight.
Take only what you need and leave valuables like purses, shopping bags, and electronics at home.
"While you're enjoying the beaches this weekend and all summer or looking up and watching fireworks, criminals may try to prey on your car looking for any valuables," said Sheriff Rick Staly. "Our deputies will be out in full force as we enjoy the weekend and holiday, but you can help by being the Sheriff of your own property and take steps to deter criminals from targeting. A little crime prevention on your part will save you many hassles later."
"Exploring Florida can be a fun adventure and we want everyone to reach their destination safely," said Lieutenant Tara Crescenzi of the Florida Highway Patrol. "We urge everyone to stay calm, slow down, and adhere to the speed limit. Ensuring your vehicle is ready before embarking on your journey is also crucial and we also insist that drivers ensure everyone in the vehicle is properly secured with seatbelts. These are just a few tips to Arrive Alive this summer."
"Our goal is to see everyone arrive safely to their July 4th celebrations and back home again," said Loreen Bobo, FDOT District Five's Safety Administrator. "Florida's target is zero fatal and serious injury crashes on our state's roadways. Every driver can do their part to hit that target by buckling up, obeying the speed limit, and never driving distracted."
Boating Safety Advisory
The Fourth of July holiday is one of the busiest boating holidays across the country. With more than a million registered recreational vessels, Florida is recognized as the "Boating Capital of the World." The Florida Fish and Wildlife Conservation Commission and partner agencies are responsible for keeping the millions of visitors and residents who enjoy the state's beautiful waterways safe. Last year law enforcement removed 93 impaired operators from Florida waterways during Operation Dry Water.
"Our officers are committed to addressing the issue of impaired boating year-round," said Maj. Rob Beaton, FWC's Boating and Waterways Section Leader. "Ensuring the safety and enhancing the overall boating experience for the people enjoying our beautiful waterways is a priority for us. We will be patrolling statewide during the upcoming weekend and throughout the holiday looking for any signs of boater impairment."
Operating a vessel while under the influence of alcohol or drugs is illegal on all bodies of water and can lead to series injuries and consequences. In Florida, it is illegal to operate a vessel with a blood alcohol content of .08 or higher, the same as in a vehicle.
The FWC reminds boaters to designate an operator who will remain sober to ensure the safety of everyone with them and around them, and encourages boaters wear a life jacket and take a boating education course.