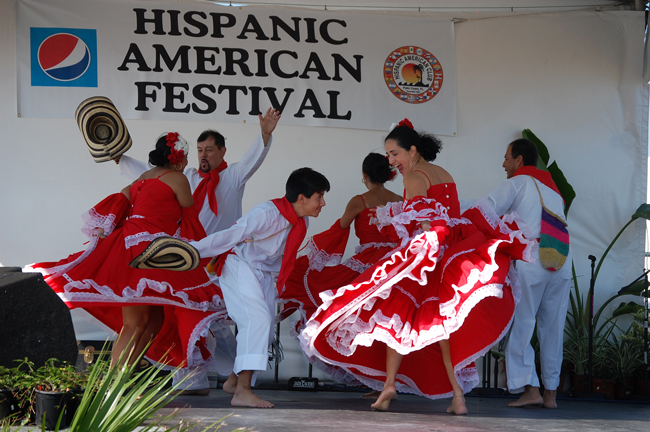 Capping an especially busy weekend of smart and festive activity across Flagler County — the Maya at the Playa conference, Flagler Beach's First Fridays on Oct. 1, its Great Bed Race the following afternoon — the three-day Hispanic Heritage Festival of Palm Coast was winding down Sunday under the crisp colors of 20 Caribbean and Latin American flags and a crisper sun.
"Last night was incredible, with the main act, Puerto Rican Power, and today's main act, which goes on about 5:30, Johnny Rivera, we're expecting the same or more crowd," the festival's chairman, Ramon Marrero, said. "you couldn't move," he said, describing the crowd. "I see more Hispanics coming every year, but I also see more non-Hispanics, African-Americans, Americans, Russian, all other nationalities which makes Palm Coast famous. The diversity has grown every year–not only Hispanics, but also non-Hispanics."
---
Have a Look: Johnny Rivera
The Hispanic Heritage Festival is the creation of Emilio Agosto, who'd attended Jacksonville's Fiesta Playera and thought in 2006 that Palm Coast should have its own version. At 8.2 percent of the local population, Hispanics in Flagler account for the third-largest population group after non-Hispanic whites (77.7 percent) and blacks (10.7 percent). So it was: the first festival; was held at James Holland Memorial Park. It was a one-day thing. It's grown since, in attendance, days, musical acts and spending by the organizers themselves.
In 2006 at Holland Park, it drew 2,500 people and spent $16,000. In 2007, the first year it was held at Town Center, it drew 7,000 people and spent $35,000. Last year, it drew 10,000 and spent $42,000. This year's festival had a $50,000 budget. In 2008, the festival received a $7,000 subsidy from the Tourist Development Council, a subset of the county government (the money is drawn from the bed tax assessed on hotels and short-term rentals, among other visitor-prone spending). The subsidy is provided as long as a festival shows that it can book many hotel rooms. In 2009, the festival did not get a TDC subsidy. This year it received $2,500.
Last year the festival documented 22 hotel rooms booked to its account. "This year we honestly think we're going to double that," Marrero said.
Some merchants said that attendance was down this year, which could have something to do with the fact that the festival organizers decided to charge a $3 admission fee for anyone 13 and older for the first time. but Marrero doubts that attendance will decline. "The people have responded very generously. We did it as an experiment," Marrero said of the admission fee, "and the people have responded very generously."
Marrero spoke as one of Sunday's popular acts filled the stage with a series of performances–Jacksonville-based Raices de Colombia, whose folkloric pieces underscored visually what Marrero was saying about the purpose of the festival: "Honor our heritage. Show people that we're proud to be American, but also that we have roots that we'll never forget."
The Hispanic Heritage Festival Photo Gallery
[nggallery id=30]
And have a look at Puerto Rican Power: