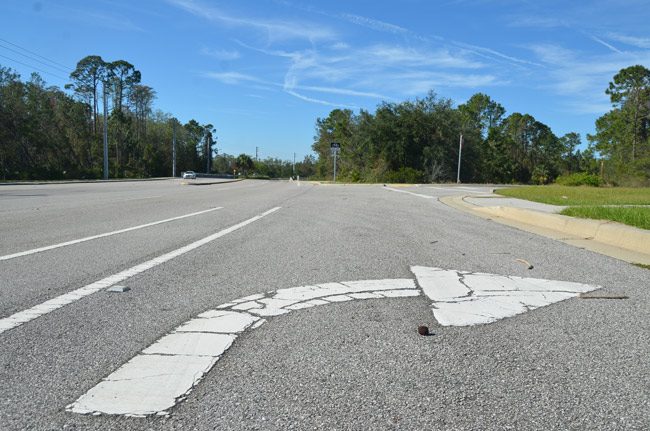 There were whimpers from Hidden Lakes, the sprawling new subdivision of more than 300 homes off Old Kings Road, but in the end not more than limited opposition to a rezoning that opens the way for a potential but modest apartment complex off Old Kings, nearer State Road 100:
After just seven Hidden Lakes residents spoke their opposition to the rezoning, mostly on speculative or unfounded grounds that were soon proven incorrect, the Palm Coast City Council Tuesday evening voted unanimously to approve the rezoning in the first reading of an ordinance. The second and final reading is in two weeks.
The rezoning actually lowers the permissible development intensity on 12 acres stretching mostly east to west on the east side of Old Kings Road, just north of the yet-to-be-developed Kings Pointe commercial zone. The property owner for the 12-acre parcel—Flagler Pinoneer Group, registered to Chevrolet dealership owner Tom Gibbs and Judy Gibbs, according to Department of State records–is looking to make it more appealing for a buyer.
Enabling apartments or town houses there, or condos, would make it so. Charlie Faulkner, who represented the land owner at a planning board meeting earlier this month, said there were potentially four interested buyers, but he did not go into further details. The rezoning would allow for an apartment complex of up to 136 units, though city planners say developers rarely use every available unit.
Planners also say that a new RaceTrac gas station is in the works for the Kings Point development. That would be the very first commercial development in that large northeast corner at State Road 100 and Old Kings Road. The lots have stood empty for almost a decade, victims of the housing bust.
Some council members and Hidden Lakes residents raised questions about the infrastructure in the area, and whether it could handle an apartment complex. But that will not be an issue. "When we widened Old Kings Road," City Manager Jim Landon said of the 2010 project, "we put that infrastructure in there to handle this. Infrastructure is not an issue at this location whatsoever, other than that we built it and they haven't come yet. That's probably the biggest issue."
Still, for about 15 minutes, seven residents of Hidden Trail—a development at least a mile and a half north of the area being rezoned—addressed the council in hopes of killing the rezoning.
One warned that Old Kings Elementary school is already past capacity, "so when you add this multi-family into there, their students will get priority to go to Old King Elementary, and the other students will have to be bused north to Belle Terre Elementary." He's right, the school is more than 100 students beyond capacity, but that's largely because the school has essentially overbooked itself through "choice," the state-law allowance granting parents the freedom to have their child attend any school of their choosing. Many choose Old Kings, and not because they're zoned for it. The district is grappling with such overbooking, given that several other schools are 2,000 students below capacity (combined).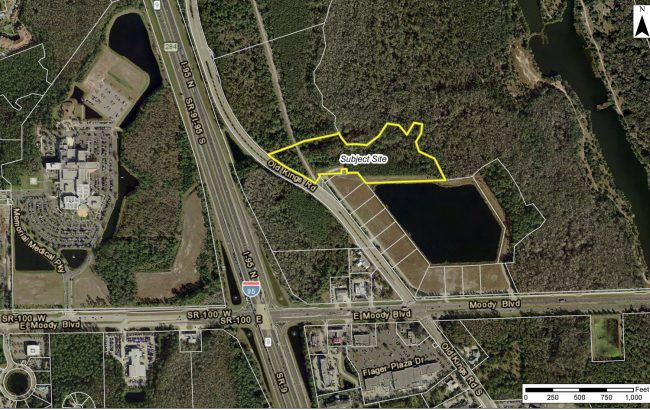 Carl Murphy, another Hidden Lakes resident, said he used to teach a social studies course he described as "Americanism versus communism" and said it "showed the difference between American representative government and the politbureau," the policy arm of communist regimes. He'd been to the planning board meeting, he said. "What I saw at that in my opinion was a politbureau because everything was decided before the first person got up to speak." He then claimed an apartment complex would bring "a flood of traffic" at rush hours, though planners showed with numbers that between an apartment complex and, say, a development like Hidden Lakes, Hidden Lakes is four times more likely to add to traffic (as it is in fact doing) than an apartment complex.
Susan Murphy, another Hidden Lakes resident, described traffic on Old Kings Road as "getting more and more," never noting the fact that her development is the source of at least part of that additional traffic. She then alluded in coded language to what makes "apartment dwellers" undesirable: "We all have probably experienced, had some bad experiences with apartment dwellers. I know I have," she said. "I was an apartment dweller at one time, but I treated that apartment as if it was mine. The problem with apartment dwellers most of the time, not all of the time, they have no skin in the game, and for those of us who own homes, who chose to move here and make this our forever home for whatever days we have left, we have all of our skin in the game, and this is important for us."
When apartment complexes are proposed anywhere in Flagler County or Palm Coast, the almost inevitable result is an organized opposition from whichever neighborhoods are near the proposed development. The opposition always makes the same claims: traffic will increase, infrastructure will not suffice, and "undesirables" will move in. What opponents usually mean is that they don't want b lack, Hispanic, other minorities or working class people living near them. Opposition is more apoplectic when there's a chance the development may entail subsidized housing.
Toby Tobin, an "apartment dweller" himself and a Realtor, was one of two people who spoke to the council in favor of the rezoning, noting how unusual it is for such measures to bring down the potential development intensity rather than raise it. "It's also hard for me to understand how there's an issue with an apartment," Tobin said. "If you were to think of an apartment house or an apartment structure, where would you put it in Palm Coast? If you were given free choice to pick any vacant piece of property in Palm Coast, this is probably one of the very most appropriate places to put an apartment complex. It's near the hospital, it's near Target, it's near the beach, and the traffic is handled with fairly recent upgrades to our infrastructure."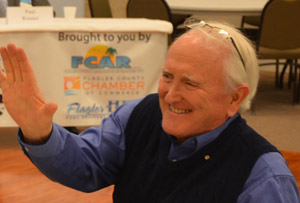 Tobin had appeared a few months ago before the council to urge it to resist opposition to an actual apartment complex proposal for the west side of U.S. 1, just south of Belle Terre Boulevard. The council had at first put the brakes on the development, but finally relented.
"I'd like to point out to the people who have spoken before me," Tobin continued, "that if your logic had prevailed over the last 10 to 12 years, you would not have a Target, you would not have an Epic Theater, you would not have an Island Walk complex and you would not have a Hidden lakes or a Toscana. If that's really where you think you want to go, I can't change your mind, but I certainly urge the city council to not pay too much attention to your request."
He walked back to his seat to the sound of a few hisses.
Gretchen Smith, a Palm Coast resident and the political affairs director at the Flagler County Chamber of Commerce, provided an unspoken perspective: that of the constant stream of visitors or potential new residents who stop by the chamber to get a pulse of the community. "Every single day it seems like," Smith said, "we get newcomers to Flagler County, senior citizens, people who had great jobs and have retired now, they're moving here, they've fallen in love with our area, and they say, 'Why are there no patio homes, why are there no town homes, why are there no apartments? Because honestly, we're retired and we don't want to buy a house.' Here we have another opportunity in front of us. Flagler County is growing. We get these people in every single day. They don't want to buy a house, they want to have no overhead, and this seems again a great opportunity."
The landowner was represented Tuesday evening by attorney Jay Livingston, who said there will be no issue of additional taxation for people along Old Kings Road. "These particular landowners have been paying not only the interest initially when the project was first started," Livingston said of the original widening of Old Kings, "but the assessment since then. So they have been contributing as much as anybody possibly could toward the infrastructure that supports their lands. And now we're actually taking some burden off of it with the rezoning."
Impact fees, the one-time levies on new homes and businesses that exceed $10,000 for a single family house in Palm Coast, are intended to defray the cost of new developments, including roads, parks, water and sewer, and so on.
Sewer-wise, two lift stations do the job in that area: the main line has been upgraded and can handle many coming developments. A smaller lift station on the periphery of the developable land would have to increase its capacity, but that would be the developer's responsibility. As for Old Kings Road's capacity, Landon, the city manager, said, "whether it's a four lane or two lane, I drive it all the time, you never have any problem with having any backups. Only place you might have right now would be at Palm Coast Parkway and that's in design to improve that intersection."
It's also worth remembering, as city attorney Bill Reischmann put it, that "there is no pending project." That may happen in the future. That time is not known, nor is the nature of the complex that would be built—whether apartments, town houses or condominiums.