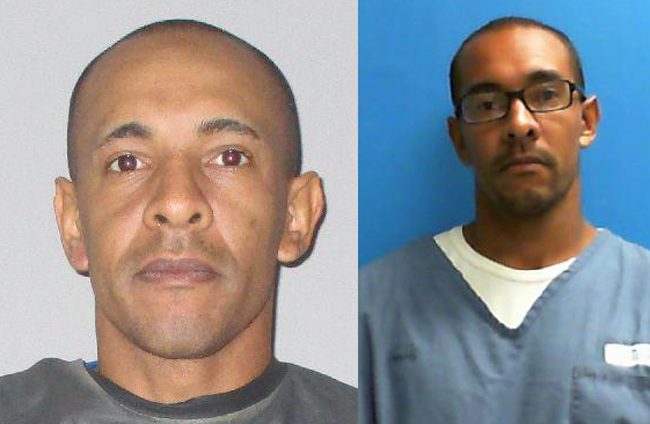 Flagler County Sheriff's deputy Philip Conway was off duty around lunchtime on Monday when he noticed Joseph Colon at the wheel of a white Nissan SUV–ironically, a Rogue: Colon is well known to local cops. He's been booked at the county jail about 10 times in the last 10 years, serving two stints in state prison along the way, both for drug-related crimes. The last was a year-and-a-half sentence ending in September 2015.
What the deputy also knew was that Colon's driver's license had been revoked. So he started following the 34-year-old resident of 21 Ballenger Lane in Palm Coast as Colon drove south on U.S. 1, calling in the sighting to detective Augustine Rodriguez, who picked up the quiet surveillance in an unmarked car around East Moody Boulevard in Bunnell as Colon parked at Frazier's Mini Storage, not far from the Government Services Building. Rodriguez confirmed with himself that it was Colon, then called for a marked patrol cars.
As Colon was seen entering a bathroom, the detective and deputy Fiona Ebril called out to him and placed him under arrest for driving on a suspended license, but soon uncovered the first of what would allegedly turn out to be a stash of drugs on his person and, after a K-9 sniffed it out, in his car. By the time the search was over he'd allegedly been found carrying heroin laced with fentanyl, crack cocaine, several varieties of prescription drugs.
After he was read his Miranda rights, detectives interviewed Colon at the Sheriff's Operation Center. He admitted that he was carrying heroin, according to his arrest report, and that he would sell the stuff in individual baggies for $20 a pop, with each bag containing a tenth of a gram of heroin. But he didn't know or wouldn't say whether the heroin contained fentanyl, the very fast-acting narcotic with many more times the potency of morphine. As for the crack, he said he was holding it for a "girl I mess with," according to his arrest report. He says he sold portions of the prescription drugs, depending on the type (hydromorphone and Xanax), and held back oxycodone for his own use.
Fentanyl is now widely used in opioid medicines, but it is also blamed as one of the factors in the exploding opioid crisis. The number of deaths from overdoses attributed to heroin and prescription drugs has more than quadrupled since 1999, with 64,000 deaths last year alone–more than deaths from gunshots or car crashes.
Drug dealers are among the culprits as a larger portion of drug-related deaths results from illegally obtained drugs. But as President Trumps own commission concluded in its interim report last summer and issued by the White House, "We have an enormous problem that is often not beginning on street corners; it is starting in doctor's offices and hospitals in every state in our nation."
Substantially to blame, in other words, are pharmaceutical companies producing and pushing the hyper-potent pain-killers (even though the level of pain Americans are reporting has not increased since 1999), physicians prescribing and over-prescribing medication, leading to addiction, and insurers that keep their clients from buying less expensive, less addictive painkillers, because the more lethal kind is more profitable to insurers' and drug companies' bottom lines.
News stories frequently focus on street-level arrests with little to no context for the broader origins of the crisis: there seldom are arrests in doctor's offices, in hospitals, in pharmaceutical or insurance companies' board rooms. But heroin aside (at least non-fentanyl-laced heroin), street-level dealers would have nothing to sell without better placed and richly marketed purveyors of what law enforcement officials routinely and, judging from the numbers, accurately call "poison" when it is found in dealers' baggies. Only it is easier to make a case against a man caught with illegal drugs and admitting to selling them than it is against more sophisticated purveyors of the same products selling it from behind opaque institutions and moats of legalities that make individual responsibility less tractable.
Colon was arrested not far from a public park, which may increase the severity of the charges he faces. He was booked at the county jail on charges of driving on a suspended license, possession with intent to sell prescription drugs, cocaine and heroin, and trafficking heroin. The lot results in four first-degree felonies, each of which carry penalties of up to 30 years in prison. He is being held on $131,000 bond and is to be arraigned before Circuit Judge Dennis Craig on Dec. 18.
"This dealer was out and ready to sell poison – he already had baggies ready to sell to the next person who wanted to get high," Sheriff Rick Staly was quoted as saying in a release on the arrest issued Tuesday afternoon. "Thankfully our off-duty deputy recognized him and alerted us so that we could get him off the streets. We will not sit back and watch this epidemic continue while poison peddlers kill people."