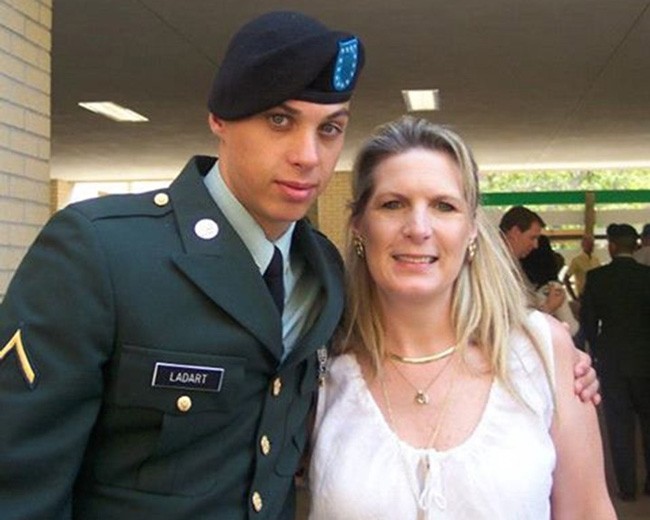 Debbie LaDart McLean heard about it on the phone as she was driving home from a new job, on June 4, 2012: her son David, who had survived two tours of duty in Iraq at the height of the war, including a 14-month second tour on hazard duty during the surge of 2007, her son who'd told her of seeing bodies burning, of having to clean vehicles of body parts, of seeing a 3-year-old boy's head shattered by a bullet, her son who had nevertheless re-enlisted because being in the army had been his childhood dream, her son who'd repeatedly sought help for PTSD and whose personal life had been unraveling—her son had killed himself. He'd spoken with his wife around lunch, gone back to his quarters, and hung himself in a garage. There was no suicide note.
Tonight, the Palm Coast Beautification and Environmental Advisory Committee will consider approving a new monument to be installed at Palm Coast's Heroes Park in memory of David LaDart, better know as "Bubba" to his family and friends. The monument, which would be entirely privately paid for and installed, would be called "Healing of the wounded spirit."
If it is, it'll be one of the first of its kind in the nation, if not the first: a memorial dedicated to the victims of Post Traumatic Stress Disorder, soldiers who kill themselves sometimes long after combat but are never reported as combat deaths by the Department of Defense's official tallies, and so are never added to official memorials.
Like LaDart.
Online and mobile versions of such memorials have been created, but Palm Coast's physical, permanent memorial may be a first. Yet for three years running—starting with the year when LaDart killed himself—more American soldiers have died as a result of suicide than in combat, even though the war in Afghanistan continues and American soldiers, especially airmen, have been engaged in various roles in other theaters of operation. "By some estimates," The Times reported in February, the day after President Obama signed  a law intended to battle veteran suicides, "22 veterans commit suicide every day in the United States." The actual suicide rate for troops deployed in support of the wars in Iraq and Afghanistan is 18.86 per 100,000, according to a comprehensive study published three weeks ago. It is 17.78 per 100,000 for troops not deployed to war zones, and 13 per 100,000 for the general, civilian population.
---
A memorial to the memory of fallen soldiers the Pentagon will not recognize in its official tallies of war dead.
---
It isn't clear why LaDart's mother chose Palm Coast for the memorial, Bill Butler, Palm Coast's landscape architect and the staff liaison to the beautification committee, said today. McLean's son was born in Louisiana, though she lives in Astor, a small town not far from Palm Coast: it's just west of Pierson, on State Road 40. And there's nothing like Heroes Park anywhere around but in Palm Coast. (McLean, who describes various ordeals since her son's death at length on a Facebook page, could not be reached by phone or email Thursday. She was not expected at tonight's meeting. Her son's story, based on army records, was summarized by the Tampa Tribune two years ago.)
The idea emerged about a year ago when McLean proposed it, Butler said, and has since gone through various incarnations. At one time it was going to be a sculpture by Paul Baliker, whose panther welcomes drivers into Palm Coast from the Hammock Dunes bridge. The sculpture would have shown a soldier crawling on the ground. The idea then morphed into a fountain. Finally, it all "evolved into what we see today, which is a similar memorial that was put there for the order or the Purple Heart," Butler said. That memorial of pink granite was dedicated in 2010.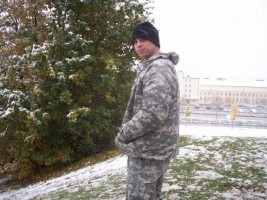 The proposed monument for victims of PTSD would have the same look and depth, but would be made of black granite, like other memorials at Heroes Park. Its front would feature a picture of LaDart and a dedication "to our brave American casualties of Post Traumatic Stress Disorder/Traumatic Brain Injury." There would be room on the memorial for numerous names to be added later—and to be chosen by LaDart's charitable organization, which is raising money for the memorial. Once the memorial itself is filled with names, additional names may be added on pavers that the organization is also using as a fund-raising mechanism.
After getting the beautification committee's approval, the monument will have to clear the city administration's parks team next Friday. If it does, then its installation will be green-lighted, Butler says. It will not have to be approved by the Palm Coast City Council. It may be a year before the monument is installed, however, as the organization is still raising money: by getting final clearance, the fun-raising efforts may have a more solid footing. "It might be a year before it gets done but whenever it does get done the city will have a dedication ceremony on it," Butler said.
He compared the uniqueness of the memorial to Palm Coast's Children's Memorial Garden, near Waterfront Park.