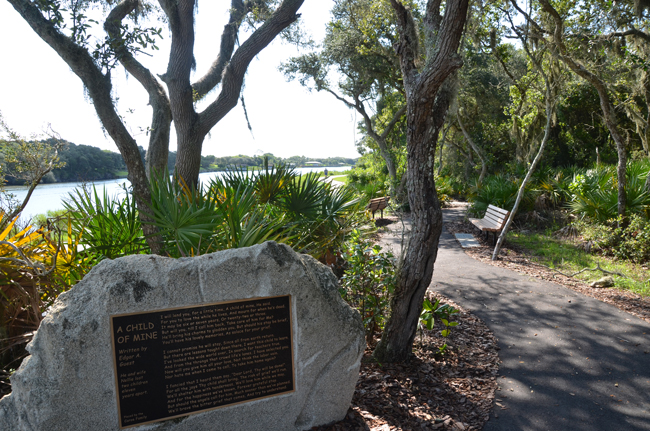 Last July it became one of the most wrenching issues the Palm Coast City Council had to deal with: what could people say, or not say—including dates of birth and death—on their stone engravings memorializing a dead child at the city's new Children's Memorial Garden near Waterfront Park, and whether sculptures should be allowed.
This morning (Jan. 31), the council, without taking formal action, endorsed new standards that would give families some latitude on engravings and even sculptures, but leaves all final judgments to city staff. Dates of birth and death are allowed. And special requests for memorial benches, trees, sculptures and other markers "will be evaluated and must be approved" by city staff.
Unlike the meeting in July when City Manager Jim Landon, whose voice broke as he spoke of his own lost child, denounced attempts to limit families' rights to speak their heart on memorial pavers ("I find it downright ludicrous, if not downright offensive, with the idea that I've got to go to any individual to determine what's going to be on my paver"), the discussion on Tuesday was brief, calm and matter-of-fact.
"I'm comfortable with the process that was followed," Mayor Jon Netts said, referring to the work city staff did in conjunction with the city's leisure services committee, which approved the guidelines at its last meeting.
The memorial garden was a concept developed by Bill Butler, the city's landscape architect, and Ed Caroe, an outspoken local political activist. Both men have lost a child. Caroe was all for standards. But his conflicted with the city's.  For example, Caroe favored volunteers (such as himself) overseeing the garden. He opposed markers used to memorialize dates. He wanted to donate expensive statues for the garden. But on the whole there were no more significant differences.
The city's guidelines are spare: "Messages should be inspirational and consistent with the mission of the CMG," the acronym for the Children's Memorial Garden. Those wishing to have some form of memorial at the garden must fill out an application (see below). "The donor's personal message should provide comfort and support to other grieving families."
The approach is summed up in the garden's mission statement: "The Garden is designed to be a comfortable, peaceful, positive sanctuary of healing for those who have experienced the unthinkable death of a child. This public memorial site does not focus on religion, ethnicity, age or circumstance of death. It will instead provide a positive meeting place for bereaved parents, family members and friends to gather, rest, reflect and recall those precious, special memories of their child." In Butler's words, "this garden celebrates love and the innocence of children. Its beauty and tranquility helps one to relax and restore their inner peace."
Pavers cost from $87 to $128. A park bench with a paver costs $730. The city's public works department installs the materials. The cost is passed on to those requesting the memorial. There are now 33 pavers and eight memorial benches at the garden.
Last July's controversy may have seemed like a personal battle between Landon and Caroe. But families were upset, too. The debate "resurfaced all of the emotions of grief and sorrow and forced us to relive these terrible emotions again," one family wrote the city. "It is just terrible to think a decision could be made to remove our daughter's paver or change the wording from this beautiful, tranquil place." Another family did, in fact, remove its paver, but only when it found out that the new guidelines gave the family more leeway. That family willingly paid the extra cost to have the paver replaced "and re-engraved with the initial vision of how they wanted to honor their lost child," the city noted in a presentation to the council.
Caroe was not at the meeting this morning, and was dismayed, when reached by phone, to hear that the matter had been taken up in his absence. "Nobody told me. I obviously would have been there. I knew nothing about it," he said. "So the city manager again has everything right in his bag. That's a shame. I guess I have a hard time comprehending how anybody would think it would make sense to do this and not have the courtesy to call and let me know." Caroe had appeared before the leisure services committee, but he put little stock in that panel. "They gave me a little time to speak but that was just a joke. They'd already made their decision and they'd already done what they wanted to do," Caroe said.
The council declined to formalize the guidelines into an ordinance, or even take a vote on the matter. "It's not like it's an ordinance, a law, a formal policy, it's exactly what you called it, guidelines," Landon said. "We wanted to have some parameters."
The memorial garden and Waterfront Park were dedicated in September 2010.


Palm Coast Children's Memorial Garden criteria