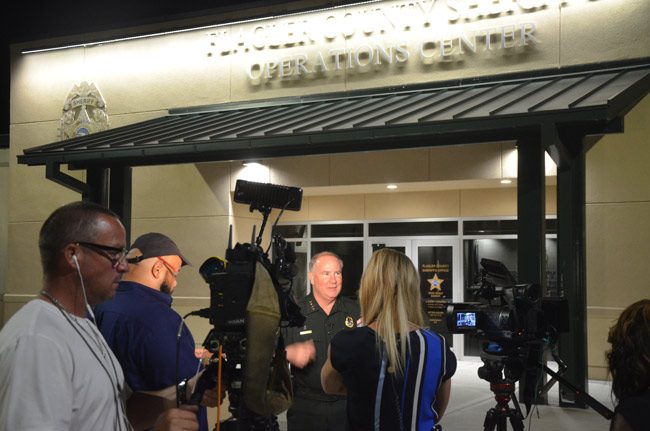 Phillip Haire, the 19-year-old who's accused of twice driving by his own house on Palm Coast's London Drive Monday afternoon and twice firing a gun in the direction of his own parents and a Flagler County Sheriff's deputy, turned himself in late Tuesday night at the Putnam County jail.
Haire was either heeding pleas by his mother, Jeneen Haire, to turn himself in, or buckling from pressure police agencies in three counties were exerting on him and associates, at least one of whom–Derek Hall, who was arrested with Haire in 2016 over a shooting on Belle Terre–was arrested in Putnam as a result of the 30-hour manhunt, and possibly a second in Flagler.
Haire turned himself in at 9:25 Tuesday evening, Sheriff Rick Staly, clearly relieved, said in a hastily called news conference in front of the Sheriff's Operations Center in Bunnell tonight.
"Thankfully no one was hurt in this incident, but we have a very serious felon now in custody, and the community can rest that he's no longer out there and a danger to anyone in many counties," Staly said. "I have talked to Sgt. Reynolds to let him know that the suspect is in custody, and he and his wife are much relieved in that."
Sgt. Phil Reynolds was the sheriff's supervisor who'd responded to 11 London Drive, where Haire had previously lived, and where his parents and family have lived for over 10 years, after his mother called 911 for help, fearing that he was going to commit harmful acts. Reynolds was conducting his investigation at the house when Haire drove by and fired his gun, then drove by again and fired again. Staly said at one point Haire's father went into the house, retrieved a gun, and fired some shots at his son as he drove off. Reynolds then disarmed the father.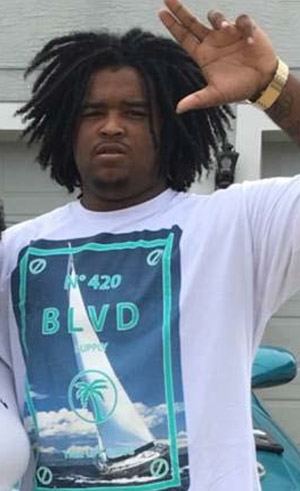 Investigators are at the Putnam jail, but it's not clear if he is communicating with them. Haire will likely be extradited to Flagler County Wednesday. He faces a slew of charges, including attempted second degree murder of a law enforcement officer, aggravated assault on a law enforcement officer, aggravated assault with a firearm, armed carjacking, armed burglary, shooting into a building, and discharging a firearm from a vehicle.
Earlier in the afternoon, his mother in an an interview pleaded for him to turn himself in and said: "I don't want my child to be shot dead, I want my child to get help." She said her son was suffering from mental issues since himself getting shot in the stomach in a confrontation two years ago near the house.
Staly, however, doesn't buy the mental-illness matter–only that Haire has been at the center of more than three dozen police calls to the London Drive house in the last few years, and that he made the decision, the Sheriff said, to twice shoot at a sheriff's deputy.
"I think the help that he needs is the Florida state prison system, and that's where he belongs," the sheriff said. "He made decisions in this case to go to his family's house and shoot it up with a marked police car in front, and a uniformed sheriff's sergeant there. He drove by the house, shot it up once, made a U-turn, drove back and shot it up again, all within a matter of seconds. To me, and I'm not the attorney and I'm not a mental health counselor, but that certainly shows intent, and I would suspect that would show right from wrong, but that's up to the State Attorney and the legal people to determine that."
Staly said that anyone who points a gun at a sheriff's deputy will "probably get shot," so his deputies were prepared to handle Haire, who had "already demonstrated to take deadly force" against police, to use force if necessary.
Dispatch notes indicate that Jeneene Haire had called for a deputy at 1:40 p.m., saying Phillip was calling and threatening family members. A deputy responded at 2:29 p.m., according to the dispatch notes, and was told that Phillip wanted to fight his step-dad, as the two had not gotten along for a long time. "Jeneen just wanted to make LEO aware of the incident and also had questions on how to obtain a no-contact order," the deputy reported. The shooting took place about two and a half hours later, when Reynolds was at the house, following up on the other deputy's investigation.
Immediately after the shooting, Haire drove off, but soon crashed the vehicle he was driving–a 2006 Pontiac Grand Prix (with 2017 plates) his mother said was borrowed from a friend–on U.S. 1. Palm Coast resident Samuel S. Nutter was driving by. He stopped, as the Grand Prix was blocking both travel lanes. Haire approached him, firearm in hand–according to a sheriff's incident report–told Nutter he needed his keys and his car and didn't want to have to shoot him. Haire took the 2013 Ford Fiesta, made a U-turn in the median and drove on north.
---
"While he didn't shoot at me, indirectly he shot at me, because that's one of my deputies."
---
The sheriff said the broader investigation was not over, and that he was considering it part of a larger case connected to drugs and gangs. There were few details about that, however, other than reference to an arrest from a fugitive from St. Johns County who may or may not be related to the Haire case. ("We had reason to stop a vehicle that resulted in this arrest," the sheriff said.)
Tuesday evening though, Staly was grateful the incident had not escalated further.
"I've got a sergeant and his wife that, the sergeant just by the grace of God went home yesterday," he said. "It could have been completely different. We could have been planning a funeral right now instead. So this is a critical incident, it's a high-profile incident, but our agency performed very well. Our communications center, dispatchers, handled this emergency yesterday when the sergeant called emergency, I need help, shots fired, and at that point they did not know if they sergeant had been struck or not. So that's very tough and traumatic on the dispatchers, because they're in a building wondering if he's OK, and if they're going to go home. So we had some counseling available today for our dispatchers and the employees involved, just in case they felt that they needed it."
Staly said he guaranteed Haire's safety. "I have very professional deputy sheriffs that work our jail," he said. And so I have no concern about his safety in our jail."
On a more personal note, Staly reflected about why he took the incident personally, as he had himself been shot in the line of duty early in his career, in 1978. "No flashbacks, but I know the risk out there, I understand the risk, and because I'm the sheriff and I can't answer every call, I have deputy sheriffs to support, myself and the community. So they are legally my alter ego. So while he didn't shoot at me, indirectly he shot at me, because that's one of my deputies."