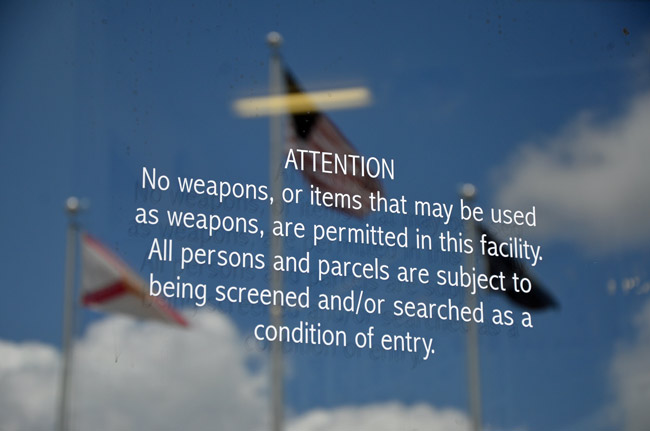 Those words familiar to anyone entering Flagler County public buildings–"No weapons, or items that may be used as weapons, are permitted in this facility"–are about to come down from most of the doors where they're stenciled, including for the majority of the county government building in Bunnell. That means people legally carrying weapons may still carry them into county commission offices, the offices of constitutional officers such as the tax collector, the property appraiser and the supervisor of elections.
Guns were also prohibited in county parks. No longer. Guns may be taken into any county, city or state park, though state hunting regulations still apply. County code also imposed a little-known 48-hour waiting period between the purchase and delivery of a handgun from any local shop. That local provision will be erased, but only because it conflicts with state regulation, which is slightly stricter: the state requires a three-day waiting period. On the other hand, the county may not outdo the state with a longer waiting period, should it decided to do so in the future, even though the state Constitution since 1998 explicitly allows counties to require a criminal record check and a waiting period of up to five days in connection with the sale of a weapon.
The Flagler County County Commission this evening is expected to approve the repeal of many of its own county code provisions regulating firearms. The commission has no choice–and no right to stand its ground, even if it wanted to.
Last year the Florida Legislature passed a so-called pre-emption law that reserves to the state all rights to regulate–or not regulate–guns, conversely prohibiting county and city governments from doing so. That includes laws pertaining to the purchase, sale, transfer, taxation, manufacture, ownership, possession, storage and transportation of guns. "Any such existing ordinances, rules or regulations are hereby declared null and void," the Legislature decreed. It imposed a $5,000 fine on any public official or administrative head who knowingly violates the law.
"Even assuming hypothetically that the Legislature would allow us to keep our county code provisions, county law enforcement is not going to charge a violator with a county code violation but rather with a violation of state statute. Thus, our code provisions do not aid local law enforcement," a background analysis for Flagler county commissioners states–though clearly local police had the authority to forbid possession of firearms in county and city parks, and now no longer do. (Palm Coast repealed its own gun-related ordinances last year.)
There are exceptions. Weapons are still barred from the county courthouse. They're still barred on public school properties, including any common ares shared by county government and the school board, as in the lobby of the Government Services Building in Bunnell. So while the prohibition on carrying guns will be taken down from all other entrance doors to that building, it will remain at the main entrance, opposite the war memorial. While people are allowed to carry guns in the offices of the tax collector on the first floor or the property appraiser on the second, they are, in fact, not allowed to walk through the lobby that takes them to those offices–unless they find a different way in. They could carry weapons on the third floor, in the portion of the floor where the county and Bunnell have offices, but not in the portion where the school board has its offices, Al Hadeed, the county attorney, said.
"All the common areas coming out of that downstairs lobbyare deemed by the school board to be school board administration building space because school board offices are accessible from it," Hadeed said. "So they deem that to be their space. Now, the entrance to the permitting office, the entrance to the supervisor of elections, the stenciling is coming down, there's a work order that's been put in to take that out."
Another exception: weapons may not be brought in to county commission meetings.
Commissioners this evening will also repeal a page of restrictions that applied to the Flagler County Airport. But there, in effect, the changes will be almost invisible because, Flagler County Airport Roy Sieger said, there never was a prohibition on, say, concealed weapons, as long as the individual carrying the firearm has a permit. "Our rule really never said that you cannot bring a weapon on the airport at all," Sieger said, noting that those who would carry weapons do so legally and responsibly.
"We've never had a problem with weapons on this airport," he said, "and in my three years being a director here, we've never seen a weapon on this airport, other than to take care of our nuisance wildlife." Or when law enforcement is on the premises.
The 2011 law isn't actually new: a version of it has been on the books since 1987. (When Miami passed an ordinance in 2000 requiring a locking device on all firearms, the coty was sued under the state's preemption law, which includes no such provision. Miami lost the case.) Despite that case, local governments have regulated or considered regulating firearms in a variety of ways, including measures that would prohibit concealed carry permit holders from lawfully carrying their firearms on municipal or county property or ban high-capacity ammunition clips, according to a legislative analysis surrounding the new law. The 2011 law reasserts the state's authority, but also specifies prohibition of local regulations regarding weapons or ammunition storage (a detail the 1987 law had not addressed).
The 2011 bill passed the Florida House on April 26, 2011, by an 85-33 vote, and the Senate two days later, 30-8.
Preemption doesn't mean permissiveness. Here are some prohibitions still in effect, as summarized in documents presented to commissioners this evening:
Discharging Firearm in Public. Regulated by Florida Statute Section 790.15. A person may not knowingly discharge a firearm in any public place or on the right-of-way of any paved public road, highway, or street, or over any right-of-way of any paved public road, highway, or street or over any occupied properties. This does not apply to a person who is lawfully defending life or property or performing official public duties requiring the discharge of a firearm or to a person discharging a firearm on public roads or properties expressly approved for hunting by the Fish and Wildlife Conservation Commission or
Division of Forestry.
Open Carrying of Weapons. Regulated by Florida Statute Section 790.053. Prohibits any person from openly carrying a firearm, unless otherwise allowed by Section 790.25, and prohibits person licensed to carry a concealed firearm from intentionally displaying firearm in an angry or threatening manner.
Improper Exhibition of Dangerous Weapons or Firearms. Regulated by Florida Statute Section 790.10. Prohibits any person from exhibiting weapon or firearm in a rude, careless, angry, or threatening manner, unless in necessary self defense, as in this Palm Coast example last month.
Purchase and Delivery of Handguns. Mandatory Waiting Period. Regulated by Florida Statute Section 790.0655. Mandatory three-day waiting period between purchase and the delivery' at retail of any handgun. This does not apply to trade-ins, or to handguns purchased by a holder of a concealed weapons permit.
Concealed Weapon Exceptions. Regulated by Florida Statute Section 790.06. Authorizes the issuance of a license to carry concealed firearms in public except in those locations enumerated in the statute, such as police stations, jails, courthouses, polling places, meetings of governing bodies, schools, professional athletic events, airport passenger terminals, and school administration offices.
Authorized Emergency Measures. Regulated by Florida Statute Section 870.044. Upon declaration of a state of emergency by the Sheriff or designated city official, per Section 870.043, the sale of ammunition or a firearm or the intentional possession of a firearm in a public place are prohibited.
Breach of the Peace. Regulated by Florida Statute Section 877.03. Whoever commits such acts as are of a nature to affect the peace and quiet of persons who may witness them, or engages in brawling or fighting, or engages in such conduct as to constitute a breach of the peace or disorderly conduct is guilty of a misdemeanor.

The 2011 Preemption Bill