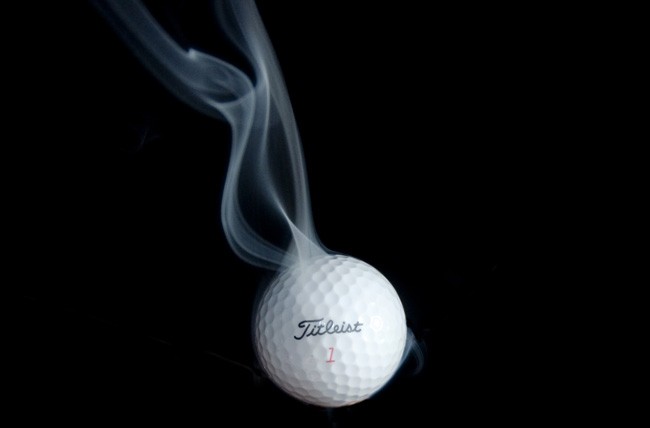 Since 2008, Palm Coast government has been engaged in a colossal boondoggle at taxpayers' expense, propping up a money-losing private contractor to run the city's golf and tennis centers for no justifiable reason other than that the city is in too deep to get out. Year after year, the city has downplayed the losses and done everything it can to pretend that it's not as bad as it looks. But it is. And it's not getting better.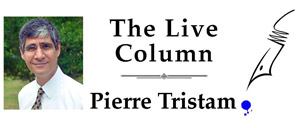 I'm referring to the Palm Harbor Golf Club and the Palm Coast Tennis Center. Both are run by KemperSports, a private company based in Illinois. I have nothing against KemperSports. They can't be faulted for not breaking even, let alone running a profit, when they have a tax-funded sugar daddy as their backstop. They're milking their sugar daddy very effectively. But if they're doing so, it's because of the indifference of the Palm Coast City Council and its administration. After all, it's not their money. It's ours.
Kemper just gave the council an update, thanks to Bill McGuire, the only council member who seems genuinely concerned about what's turning into a running gag, or a scam, at taxpayers' expense. But even he was oddly silent when Kemper revealed its latest barrels of red ink, with more of the same for years ahead. The numbers Kemper presented are bad enough.
But they're not nearly as bad as the true numbers you'll find in the annual audit reports, which total up actual losses, not rosier projections and rounded numbers the administration projects at budget time. Tallying up those numbers from those audit reports, the golf course since 2009 has averaged losses of $212,000 a year, for a total of $1.5 million. That's not the total loss. Add to that the depreciation costs, which go into the true operating income or loss column in every audit report, and the total loss rises to $3 million. Add to that the $5.5 million the city spent to renovate the club eight years ago, a figure the city conveniently wrote off its books and public memory, and the total bill to taxpayers, money they will never see again, rises to $8.6 million. (See the detailed numbers in the chart below.)
The tennis center in comparison has been less of a disaster, but it's still averaging an annual loss of just over $111,000. Add that to the overall total, and we're up to $9.3 million in losses since these two money pits opened. And for what? For an exclusive service that serves a relatively small group of people. We don't need Downton Abbey's equivalent of leisurely services for the few supported by a mass of servant-taxpayers in Palm Coast.
On WNZF Friday morning Milissa Holland, the former county commissioner and now a candidate for Palm Coast mayor, defended the Palm Harbor and tennis subsidies, saying that ITT built Palm Coast in the 1970s around golf and tennis, with the city's old Players Club, the tennis center, drawing a few big names in its heyday. Holland is right. But That was the 1970s and 1980s. This is not her father's Palm Coast anymore (Jim Holland was a founding member of the city council). Nor, by the way, is it the Palm Coast of current Mayor Jon Netts, who would be handing the torch to Holland, his long-time protégée.
---
Palm Coast Golf and Tennis Operation Losses, 2009-2015
Year
Golf Course Operating Losses
Golf Course Losses With Depreciation
Tennis Center Losses
2015
$346,191
$561,191
$85,000
2014
$292,887
$563,031
$99,543
2013
$125,669
$397,361
$105,002
2012
$68,651
$340,342
$110,022
2011
$152,199
$422,786
$172,198
2010
$413,183
$663,060
$121,015
2009
$82,672
$84,219
$89,044
Totals:
$1,481,452
$3,031,990
$781,824

Capital spending on Palm Harbor Golf Course Palm Coast wrote off: $5,534,878.

Combined tax dollar spending and losses on golf and tennis operations that the city will never recoup: $9,348,692.
Sources: The figures for 2009 through 2014 are taken from Palm Coast Government's annual audit reports. The figures for 2015 are taken from a January 12, 2016 presentation by KemperSports. The depreciation figure for that year is an estimate based on the average depreciation of the previous six years.
---
Golf is a dying sport. It is newspapers made of greens: those who still walk those greens are, like newspaper readers, themselves dying. The sport of Dwight Eisenhower's and John Updike's generations is giving way to more space-conscious, more time-conscious, more environmentally conscious younger people. Those younger people are less inclined to seek escape from a spouse on golf courses, less willing to cheat their family of entire mornings or afternoons, and justly queazy about treading fanatically manicured acreage that does our environment no favors.
To cite the National Golf Foundation's numbers (the same foundation KemperSports cherry-picks for cheerier figures, like how many golf-"interested" residents live within the radius of its cemetery), golfers by 2014 had declined by 7 million since a peak of 30.6 million in 2003, with the steepest drop among golfers 18 to 34 years old. TV ratings for the sport are worse than Tiger Woods's fidelity record. Golf courses have been closing by the hundreds every year. If ITT were building a community today, it wouldn't build it around golf courses but more family-centric, less narcissistic amenities. We'd be better off doing what Japan is doing–turning its useless golf courses into energy producing solar farms.
So to hear Holland buy the party line about Palm Coast's golf traps shows her to be hung up on the same-old assumptions of her political and biological fathers and belies whatever hope we may have that her candidacy will bring a younger, healthier outlook to public policy on the fustiest, most timid local government board in the county. Her mention of the Players Club was also indicative of quite the disconnect. The Players Club today is a literal ruin and as poignant an emblem of the sport's arc as we have in Palm Coast. And like so many golf courses these days, it's primarily a playground for rattlesnakes and history. We can–and you certainly can, Milissa–do better. I say this having been among Holland's biggest fans (and editor).
The city has since 2015 been peddling the falsehood that the golf and tennis clubs are like city parks, part and parcel of city amenities. It's a nice marketing concept to placate taxpayers. But it's a lie. City parks are free. Fee-for-service clubs are exclusive. People who use city parks are numbered in the thousands, and the tens of thousands in the case of some of those parks. People who use the tennis center and the golf course are in the hundreds.
The city began operating those clubs as independent, so-called "enterprise" funds designed to make money, like its utility operation. Funds that don't are discontinued. Instead, the city, in what amounts to a bookkeeping sham, eliminated the two operations as independent funds in 2015 and folded them into the parks and recreation budget, to better dissimulate the true losses. And the council of course went along with the ploy.
One council member described it to me it as a catch-22. There's no money in it, but closing the golf course would hurt the neighborhoods around it. In that case, the city should also be subsidizing Roma Court, St. Joe's Plaza and City Marketplace, whose gaping storefronts hurt commerce. But that's not how government works—not when losses are so steep, so continuous, and benefiting so few people. There are better public uses for $325,000 a year. Subsidizing a private company so a few hundred people can play golf and tennis aren't among them.
The council gave those clubs a good shot. But good will is over. It's time to wake up and smell the scam.

Pierre Tristam is FlaglerLive's editor. Reach him by email here or follow him @PierreTristam. A version of this piece aired on WNZF.