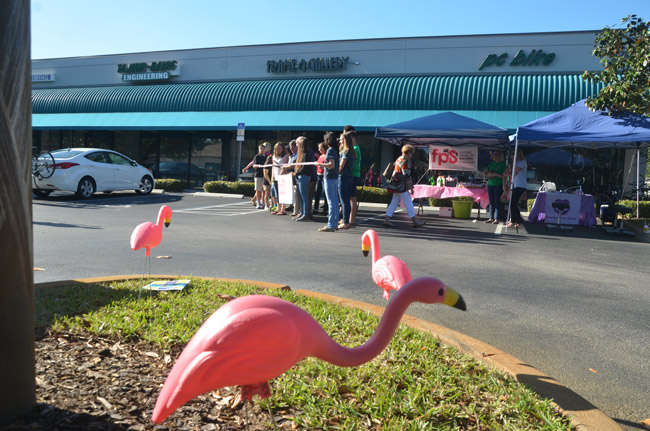 Note: To order the flaming flocking of someone's yard and help raise money for the Future Problem Solvers, fill out this form.

Wherever two or more Future Problem Solvers teams are gathered, you're not likely to hear this much concentrated creativity and pragmatism—this much problem-solving—anywhere in Flagler.
Take Jake Blumengarten. If you see him in a crowd, he looks like any ordinary 6th grader: more boyish than adolescent, unassuming, shy in the presence of toom many adults. But start talking to him about Project Think, his and his team's Future Problem Solving Project, and you immediately understand why he got the attention of almost every principal in the district and that of the superintendent, who have asked him to implement Project Think across the district.
Jake and his eight teammates put together a mentoring program for new students at Rymfire Elementary. "There's basically 1,000 strangers there, because it's a big school," he says. It's also an intimidating school for newcomers. So why not make them feel more comfortable? Project Think (the acronym stands for "To Help Include New Kids") assigns one of its team members as mentors to four to six new students. Each student gets a goodie bag of school supplies, those essentials for any elementary school student—scissors, glue stick, paper, pencils, and so on, goods paid for with PTO money—and the mentor stays with the students the rest of the year, going to lunch with them, helping with orientation, giving them a sense of belonging.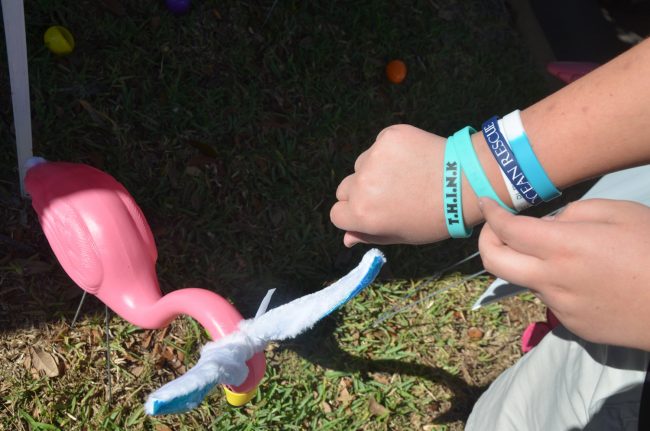 "I usually go with them to lunch and eat outside and get to know them a little bit better," Jake says of his wards. "We're basically their one friend when they come into Rymfire. We're trying to encourage them to make more friends throughout the year."
After the team met with Superintendent Jacob Oliva, he thought it would be a good idea to expand Project Think to other schools. "And we met with all the principals later, and they all said that they would love to have this program in their school," he said.
That sort of idea is probably why Flagler's problem solvers keep winning big at state competitions, as they did again in Orlando in March. No fewer than four teams were named Grand Champions, including Jake's at Rymfire, a team at Bunnell that won for a project about coping with divorce, and two teams at Flagler Palm Coast High School, one designed to control mosquito populations through bat houses, and the other designed to give families and friends tending to sick loved ones in hospital some psychological relief through comfort goods.
Last year the district's problem solvers collected 69 awards at state competition. The year before, 62. This year, 51. (See this year's full list of winners below.)
It's why they keep getting invited to international competition, where no fewer than 51 district students from four schools hope to go. But it's expensive: figure that it costs about $1,100 per student to cover air fare and registration at competition, which this year takes place in Lacrosse, Wis., June7-11.
The district's problem solvers for several years have had two big champions, in addition to the school coaches who shepherd students through their projects. The first is Diane Tomko, the Flagler Palm Coast High School teacher who by now has peerless doyenne status in the field. If she were a sports coach, the trophies that have stacked up on her watch would make her the winningest in the county's history, local governments would issue proclamations in her name, she'd be in the papers and on radio every week and the district would rename stadiums after her. As it is, academics still play lesser fiddle to sports, so her achievements are neither noticed nor celebrated as much as they should be, though her students never forget her.
The second is Andy Dance, the school board member who's adopted the problem solvers' fund-raising mission as his own. He's the tireless grunt who every spring flocks private lawns at night, planting dozens of those perfectly gaudy pink flamingos on someone's property at the behest of a donor willing to donate money for the privilege. Last year Dance and his daughter, who usually helps him carry out the planting in the night, raised $3,800 that way.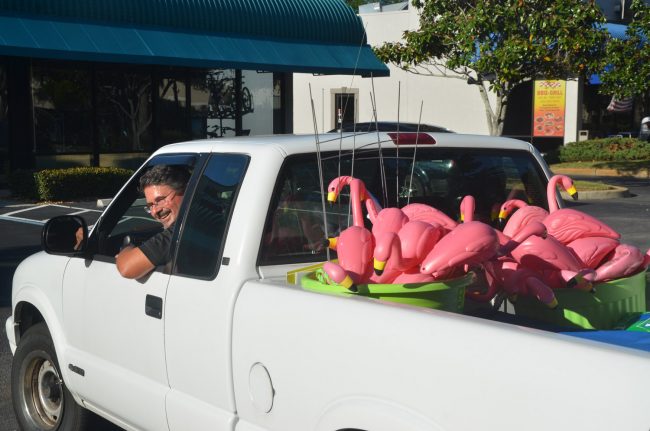 This year he teamed up with WNZF, the radio station, to tap into an even bigger fund-raising opportunity when the station sponsored a car and boat sale at FPC, through a Daytona Beach car dealer. The event is a bit of a sore spot for the controversy it triggered, as some school board members chafed at the notion of a school campus given over to a car dealer, outside policy norms. But the radio station pledged $5,000 to the FPS effort.
Monday afternoon, Dance, Tomko and many problem solver teams and supporters gathered outside of Palm Coast's PC Bike, one of the organization's generous sponsors, to launch the fund-raising and flocking season. The event drew its share of local officials, who now recognize the value of problem solvers in the community: Palm Coast Mayor Milissa Holland and former Mayor Jon Netts, Flagler County Commission Chairman Nate McLaughlin, and former Commissioner George Hanns, though Dance, curiously, was the only school board member, present or past. (The school board has been distinctly more discombobulated lately as it faces a change in superintendents and adjusts to the Trevor Tucker's frenetic-style chairmanship of the board.)
"Never-ending admiration for the quality of our kids," Netts said, explaining his reason for showing up.
FPC is hoping to send 23 students, Rymfire, 17, Bunnell Elementyary, 10, and Indian Trails Middle School, one. Each school is putting up some money from its internal accounts. FPC is using the principal's account to pay for coaches traveling to international competition, but no money is going to student costs: that'll be covered by fund-raising.
Dance's flocking started a couple of years ago when it became apparent that some students didn't get the chance to go to international competition for lack of money. He doesn't want that to be the case. "I've been there first-hand, I've witnessed the work the students put into it and what they get out of it," he told the supporters Monday afternoon. "It's a life-changing event, they get out of the state, they go to a college campus, they meet students from all over the world, they interact with them, and they have an experience that's once-in-a-lifetime. And what they get out of doing future problem solving sets them up for success in life. They learn to speak better in front of crowds, they learn how to solve problems, first and foremost, they work through the process, and that'll carry them through any obstacle that they're going to meet in life. So I'm very proud of the students and what they do. It takes a lot of work to get to where they are. They wouldn't be able to do it without our great coaches, all the great coaches who put in selfless amounts of time and money for the benefit of the students, to see them grow. If it doesn't touch your heart, we're not living and breathing, because it's a sacrifice. It keeps us going every day, watching what the teachers do, and the coaches to make these students the best that they can be."

Flagler Schools' State Future Problem Solvers Competition Winners (2017)
Click to access 2017-FL-State-Competition-winners-by-school-final.pdf