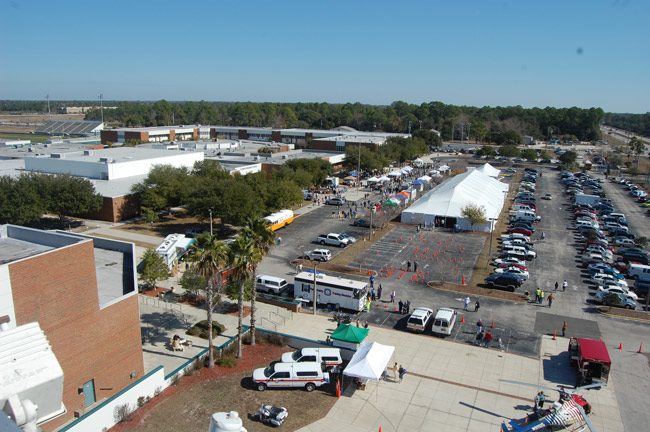 The Flagler County School Board is now in the boat and car sale business, and the campus of Flagler Palm Coast High School is its dealership, competing directly with Palm Coast's dealerships along State Road 100.
At least that's what it will look like Saturday and Sunday, when Ritchey Auto, the big car dealer from Volusia County, will invade FPC's campus with over 250 boats and car models in what it unapologetically calls a "Wheels and Keels Car and Boat Sale!" in radio and print advertising, broadcast locally especially on WNZF's radio stations, as WNZF is promoting the sale.
The school board did not approve that kind of use of FPC's campus. With the exception of one school board member—Andy Dance—the board was not aware that the campus was being turned over to an out-of-county mega car dealer for the weekend. Nor, it appears, would the board have approved that arrangement had it known, though because of the vagueness of a policy addressing the use of school properties, there was nothing illegal or improper about the way the FPC was turned over to the event, even though at least two school board members consider it improper.
Neither FPC nor the school board will be getting a dime's rent or a fee for the dealership's use of the grounds, even though by school board policy the use of school facilities by outside organizations requires a "Use of Facilities" agreement, and such uses typically entail the payment of fees. In this case, FPC's campus will be used for 18 hours on Saturday and Sunday. The normal rate of $205 an hour, for a total of $3,800. But there will be no such payment.
Instead, 20 percent of the advertising price Daytona Beach's Ritchey Auto is paying WNZF to promote the event will be donated to the school district's Future Problem Solvers program, a donation that amounts to at least $5,000, WNZF and Flagler Broadcasting General Manager David Ayres said.
That's the other problem of this weekend's car sale, as two school board members see it: the arrangement favors one school district organization above all others, unfairly in their view, and again, not only without garnering school board approval, but with one school board member—Dance—working on the arrangements unilaterally with the school administration and WNZF, without bringing that arrangement to the school board's attention.
Championing the Problem Solvers
Dance has been a tireless champion of the Future Problem Solvers program, devising various fund-raising operations such as his lawn-raids of pink flamingos and more direct fund-raising with local businesses. He's been looking for a more solid, yearly recurring fund-raising system or permanent endowment to underwrite the program, which involves a handful of students at several schools but has been successful enough in recent years to send dozens of students to state and international competitions, each time netting the students mounds of prizes and recognition.
---
No one disputes the validity of the district's problem solvers program, but a fund-raiser on their behalf exposes many policy flaws.
---
Until now, however, most steps involving money and the problem solvers, including needed fund-raising totals, have included an appearance on the school board's agenda for discussion and approval, while less formal developments and successes of the programs have been eagerly discussed by Dance.
The arrangement between WNZF, Ritchey Auto, FPC Principal Dusty Sims, Superintendent Jacob Oliva and Dance has been in the works for months, according to Ayers, and the agreement itself was signed on Aug. 19. But Board Chairman Colleen Conklin and fellow-board member Janet McDonald learned of it only in the last week of August, when local car dealer Bob Gibbs of Tom Gibbs Chevrolet wrote Conklin an email that spoke of his concern that an out-of-county car dealer was taking over a local school campus, and that the school itself would "allow an out of town business to set up shop without the infrastructure commitment that we also participate in."
Gibbs continued, summing up the issue that caught the attention of school board members and the Chamber of Commerce: "I believe in free enterprise and would encourage one of these businesses to set up permanent shop in our community, but with the current policy they really don't need to invest the millions needed, only the cost of hiring one maintenance person for a day. Let's make the playing field the same for all. Let's make our community and schools even better!"
(Local businesses are typically troubled by traveling businesses that set up temporary shop, allowing them to bypass the local cost of doing business, such as property taxes, utilities and other overhead expenses. In this case, the school is paying for the utilities, and there are no property taxes to speak of, though people buying cars at the show will have to pay the local sales tax, including Flagler's 1 percent sales surtax.)
WNZF's Involvement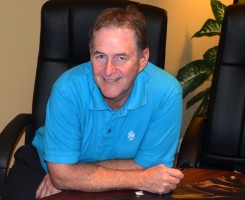 The idea for the car and boat sale tied into a fund-raiser for the problem solvers emerged out of Ayers's radio studio after he interviewed problem solvers ahead of one of their competitions. They were fund-raising, the radio station helped—it managed to get a car donated to the program, which then sold it to raise money–but Ayers thought something "bigger than these onsey -twosey things" was needed.
So he devised the car show as something like the annual home show in January (which benefits the school district's Adult Education program), sent invitations to car dealers, including all three major local car dealers—Tom Gibbs, Palm Coast Ford and Flagler Chrysler. The Ford dealership initially was going to be part of the sale but pulled out, Ayers said.
"We sent emails to them all, we do business with everybody anyway," Ayers said. "We don't hear back, they're not interested, it kind of came down to the wire here."
Gibbs, as noted in a comment below, said, "to the best of my knowledge, we were never contacted or invited to be part of a sale at the school."
Ritchey agreed to take all the space at the high school exclusively. The Volusia dealer is not paying FPC to rent out the space: FPC did not deal with Ritchey, but with WNZF, which is also not getting "rent" payments per se, but it is getting paid to advertise the event, with a significant cut of that going to the problem solvers: in that sense, WNZF is the mega donor (and is getting little recognition for that so far).  The arrangement, Ayers said, did not require a use of facilities agreement with the district because, he said, "it's the school's event, not mine, so they don't need to use a facilities use."
An Agreement's Fine Print
It's not quite the school's event, however, at least not according to FPC Principal Dusty Sims: "This sale is not presented by FPC or Flagler Schools," Sims wrote Conklin explicitly. "This is presented by WNZF and had been agreed to by the Flagler school board attorney as well as the attorney for WNZF," meaning Sid Nowell. "I have spoken with Import Auto and the Chamber of Commerce by phone as well as personally stopping by Tom Gibbs to speak to their general manager. Each person understand the event is presented by WNZF."
It's not the school's event according to the contract, either, that WNZF and the district signed on Aug. 19. The contract is titled: "Flagler County School District and Flagler Broadcasting LLC Fund Raising Event Agreement."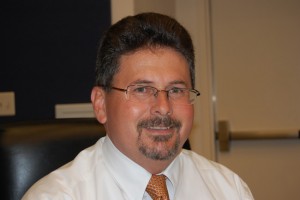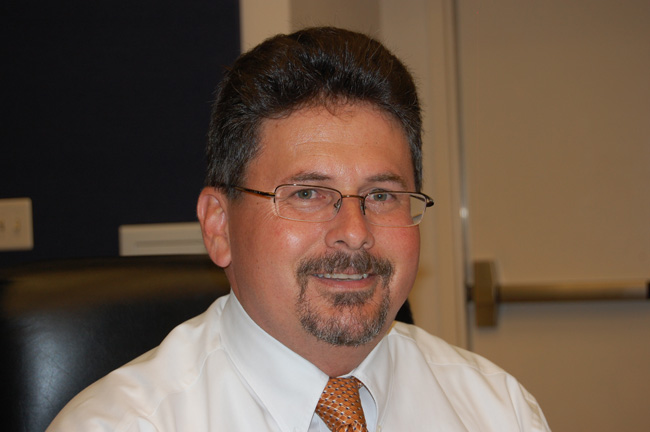 The two-page agreement clearly states that it's between Flagler Broadcasting (WNZF's parent) and "Flagler County Public Schools." FPC is not mentioned in that clause. The agreement establishes a "partnership" between the broadcaster and the district to give students "mentoring relationships" (some students will be able to shadow radio station staffers, for example) and to give Future Problem Solvers a fund-raising opportunity, with the program receiving 20 percent of gross advertising sales generated by the event.
"The vendors participating in this event will be displaying boats, cars and RVs. No other vendors will be permitted at this event without the prior written approval of the parties," the agreement states. "Vendors are not permitted to sublease to other vendors."
Subleasing is forbidden by school board policy. Subleasing, however, is precisely what took place, in two school board members' view, which is what allowed the car dealership to set up shop. Ayers doesn't see it that way.
"I don't understand why they're in such a tizzy because it's really a win-win-win," Ayers said. "The taxpayers come out ahead, the kids come out ahead, the publicity from the event for the future problem solvers is good. People have to understand these are mental athletes.  It's not at the expense of other programs. This is designed specifically to help them who, in my opinion, have been neglected."
Dance's Role
Dance, Ayers said, was involved but "not too much, I told him we'd take care of it." Dance, who will be Ayers's guest on Free For All Friday on Sept. 9, and will be promoting the event at FPC, defended his role and the event at FPC in a 50-minute interview today.
"It's been properly done through the avenues that we currently have available to network with businesses and promote activities and raise funds with the schools, it's on a larger scale than maybe what's been done in the past," Dance said. "Everybody had the opportunity, it was promoted, the more people the better to be able to raise the most funds, it wasn't exclusive by any means, it may have ended up that way, but it was promoted to everyone." Even today, Dance was unaware that the grounds would be held exclusively by Ritchey's dealership.
He said the matter never came up at a school board meeting because it coincided with the busy-ness of the beginning of school. Later, after checking dates, he said the last board meeting before this week's had been on Aug. 16, three days before the agreement was signed, and he did not want to bring up an event that may or may not have happened.
But it was definitely brought up Tuesday (Sept. 6) at the school board's workshop, at the urging of McDonald, who wants a review of the use of facilities policy.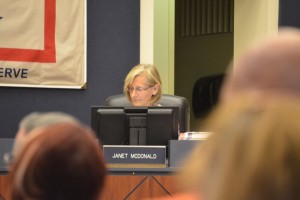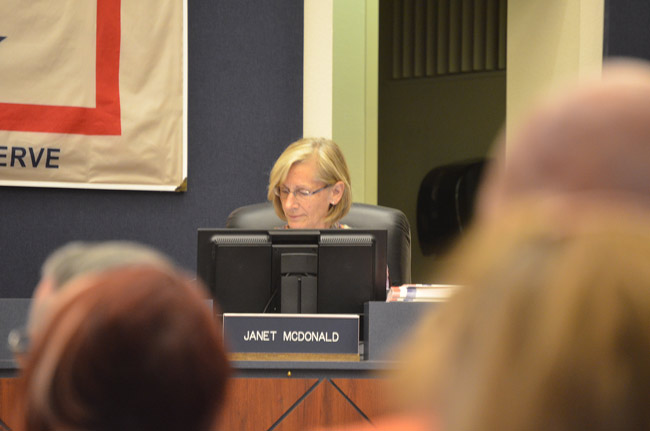 McDonald was blunt in her criticism—among other criticisms—of Dance's involvement to the exclusion of the board. The board has been very supportive of the problem solvers, and its criticism last Tuesday, when it delved into the FPC car show issue, was not directed at the problem solvers, but at the process that led to the car show, and at the problem solvers program being exclusively tagged as the beneficiary of the first car sale of its kind on school property.
McDonald, Conklin, School Board Attorney Kristy Gavin and other school officials were involved in flurries of emails in the days before the Sept. 6 workshop, when the matter was brought into the open, as the two school board members were trying to understand how the car sale had been permitted.
In a long email from Gavin, the board attorney explained that all dealership s were invited to participate, and that "should a local dealership still be interested in participating we will work to make that happen." Ayers said that's not possible: "It's too late now, there's no last call here, it's already done," he said of Gavin's promise, though he added: "I'd love to have our local car dealers support something like this."
Policy Problems
Superintendent Jacob Oliva brought up the issue at the workshop because of "a question on subleasing, or using that space with another party or another vendor or something along those organizations." He then suggested that the policy be reviewed, as "there are some areas that probably should be clarified a little bit because we start getting into very gray areas, and that's one thing that I can tell you that when reviewing use of facility requests or trying to make as many accommodations with the public as we can, there's no standard use of facility, they all kind of have special nuances and different things that come along with them."
McDonald unleashed sustained and withering criticism over the agreement that led to this weekend's car sale: "The first violation of that arrangement is that this was pushed by one group and directed by one board member," McDonald said, "and I think that violates the community's expectations, and certainly eliminates comfortable dealings on the part of our district administrators who have been charged with following through on the policy as the school board as a whole directed. I think Ms. Gavin and Mr. Oliva have been violated in their ability to operate at the direction of the board as opposed to a specific member. And in that, lots of other relationships were violated in this."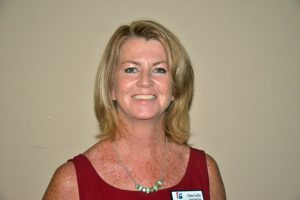 Dance did not address McDonald's criticism during the meeting. In today's interview, he addressed the references to violations: "That's her opinion but it's not true," Dance said. "There's checks and balances in this. As one board member, staff, they don't follow the lead of one board member on issues like this. There's checks and balances." He said his involvement did not lead to "undue influence," and that he was merely a conduit for the problem solvers program. "So I was called about the opportunity and made sure we properly discussed it with FPC and district staff. There's nothing in the procedures for board approval, but there was mentioned in the discussion for events of this size or something of this magnitude that it come back before the board. So those are the discussions that I think will be forthcoming."
He was referring to the rest of McDonald's comment on Tuesday: "I think certainly that this school board policy needs to be looked at, lots of refinements, and yet I think this will continue to leave a bad taste in the community if this event goes forward as it is scheduled," McDonald continued, "because there isn't one organization in this district that doesn't benefit from additional funds, and to have the school district involved in a compromise for our administrators, our community partners and every organization in this district that are doing wonderful things at the elementary, at the middle and the high school levels, to provide extra-curricular activities, which obviously need funds—we need to make sure that we don't marginalize anyone. This is a public school organization, it needs to serve the community in balance and along with guidelines that are agreed to."
Conklin largely agreed with McDonald, and with re-considering the policy to define what's meant by "subleasing" and other details.
"The policy we have right now says, you cannot sublease. Am I wrong?" Conklin had asked Tuesday.
"That's what it currently states," Gavin said.
"And the agreement was rewritten to kind of make it work," McDonald said, "which is another issue I have, direction that did not come from this board."
There had even been some consideration of cancelling the event, but that was not possible. "My understanding is that there was no opportunity and we did not have the authority, given the current school board policy, to cancel the event, Conklin said. "It's disappointing because there's no reason why this couldn't have been brought forward to us in an August meeting where this could have been publicly discussed."
Dance during Tuesday's discussion only raised the possibility of rewriting the sublease clause. He was more expansive, and unapologetic, in today's interview, and was concerned that "two years of hard work" on behalf of the problem solvers would be tarnished by the car sale controversy.
"Everybody had a chance to come and show their wares and be part of a home-show atmosphere, even though it sounds disturbing that one dealership is coming, it very well could have turned out that more could have participated," Dance said. "It just didn't turn out that way, and that may be a flaw in the promoting. But there's nothing sinister. This is an attempt to help a school program. For the parents of these students that don't want to miss these opportunities for the students that get invited, the goal is to have 100 percent of the students that are invited to get to experience international competition. Again it's worth repeating, if there's a fine line for a board member in this, it's as a parent-board member, and I'll defend a parent board member to the death. I think it's critical."