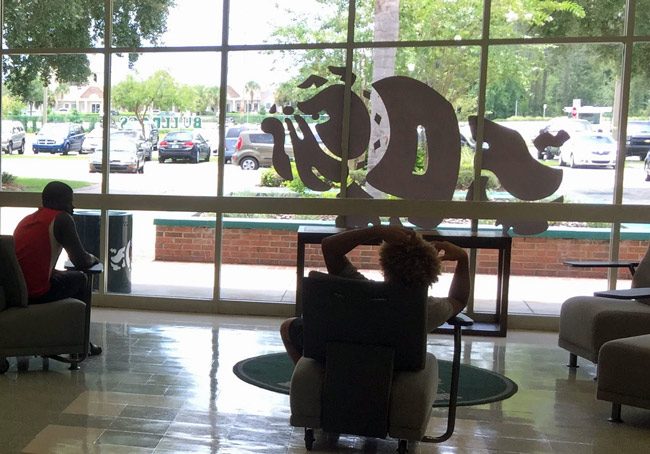 Two Flagler Palm Coast High School students have been suspended from campus and face potentially further disciplinary action, but no criminal charges, following an incident today in which they're alleged to have plotted to threaten a teacher through online communications.
"We were made aware of online threats leveled against a member of our staff by a couple of our students," FPC Principal Bob Wallace told parents and guardians in a recorded robocall this evening. The incident unfolded around midday, prompting a response by the Flagler County Sheriff's Office, which conducted the initial investigation.
It was the second incident prompting a stepped up police response and investigation in Flagler schools in the last two school days: on Friday, a 14-year-old student was charged with two felonies for bringing a loaded semi-automatic pistol to school.
The students involved in the FPC incident exchanged communications through online messaging as to the time and place to do something to the teacher. A faculty member noticed the exchange and intervened. The teacher allegedly targeted was not harmed. "She was OK right now and I believe they may up some security around her as well," Jason Wheeler, a district spokesman, said.
The incident came to light around 2:30 p.m., the superintendent said. There were discussions for the rest of the day as to whether to pursue charges or not. The sheriff's office opted not to pursue charges, essentially concluding that the students had not acted criminally or with criminal intent and suggesting that it may have been the latest in a series of cases involving students misjudging inappropriately black humor for permissible behavior. Several students have faced charges since last February–the time of the Parkland school massacre in South Florida–for jokingly or off-handedly referring to weaponry or violent intentions on school grounds, and the sheriff's office investigated many more such allegations.
"What's happened since Parkland, obviously we may be a little bit overprotective," Superintendent Jim Tager said this evening. "But it puts everybody a little bit on edge, and comments kids could make back when I was in school or when you were in school are taken more literally."
School officials, like law enforcement, have become reluctant to downplay incidents even in the clear absence of malice. "We're in a time now that things are just hyper-sensitive everywhere," Wheeler said, "and what some parents may think it's kids being kids that may have been the case 10 or 15 years ago. These days we can't make that assumption anymore, we have to fully investigate all these incidents."
He said that since the sheriff's office is not filing charges, the matter will be handled internally, with the students–whose ages and grades he did not disclose, saying he'd not been provided the information–going through a disciplinary review. "Just bec the sheriff's office finished up their end and didn't press charges doesn't mean our investigation ends," Wheeler said.
That review will include a safety and psychological assessment for each student to determine whether they are candidates for counseling or other forms of interventions. Meanwhile, they are barred from campus, but not from participating in their daily school work, keeping up with it through their teachers.
It's not clear how long they'll be barred from campus. Previous such instances have taken up to five days for internal investigations to run their course. "The bottom line, it takes us as long as it takes us until we're satisfied, a) they're no longer a threat, and b) they need to be moved somewhere else," Wheeler said. The district hasn't had an alternative school since 2013, but has since developed several alternative ways of educating students, not least among them online classes–an ironic possibility for students who may have run afoul of school rules over "online threats."
Wheeler again credited the see-something-say-something mindset to bring today's incident to light. Wallace, the principal, was largely un-specific in his message to parents. "Over the past year we have taken steps to tighten security on our campuses as well as take a closer look at what is said and shared online," he said. (The district earlier this year controversially signed on with a social-media snoop called Social Sentinel to mine eight publicly available social media platforms and provide the district with real-time analysis of any threats or potential threats, though it does not appear that Social Sentinel was instrumental in uncovering today's incident, as was human intelligence on the ground.)
"The speed at which such incidents are discovered allows our staff to begin their investigation and involve law enforcement much earlier," the principal said, encouraging parents to keep an eye on their children's online activities.