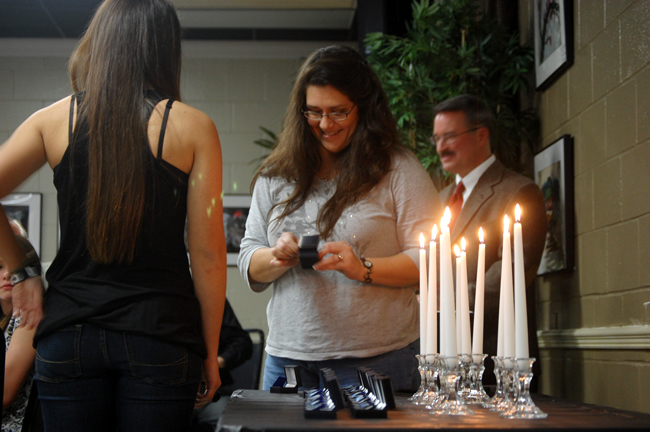 While Tallahassee mulls over how to gut the state's education budget and the local school district wrestles with ways to dull the cleaver's sharpest edges, students lit 10 candles in a ceremony at Flagler Palm Coast High School Wednesday evening symbolizing the very best that local education offers, and produces, in Flagler County: the International Baccalaureate and the 10 values it instills in its learners, including inquiry, open-mindedness, caring, risk-taking and an ethical outlook (see the full 10 principles below).
The occasion was the annual IB pinning ceremony, where each of the junior class IB candidate is essentially confirmed as such. "The pinning represents the recognition that the diploma candidates have actually entered the IB program, and have up to this point met the challenges and rigors of the program," Roger Tangney, the program's director at PFC, said.
Some 130 parents, relatives, friends and students jammed the school's Bistro Café as 31 of the IB Class of 2012's 35 students were pinned—a father or mother fumbling with the small blue IB medal, finding a lapel or a collar or, in a couple of cases, a thin strap, and posing for pictures.
Tangney led the ceremony with his distinctive brand of IB humor throughout: You know you're in IB when the sun is too loud, when you've filled a 7-11 big gulp cup with coffee and wished you could find a bigger cup, or when speaking with a non-I.B. kid, you must define nearly every word you use, and when you think school is where all of the cool kids hang out.
Five students from the IB Class of 2013 were invited to light the symbolic candles and recite the 10 principles of being an IB student. The Class of 2013 now has 44 students. The Class of 2014 has 54. The current Class of 2011 is down to 26. That's what the IB program does: those who can't hack it drop out little by little, though the current class remains the largest surviving one yet (the school began the program in the middle of the last decade), and each successive class would break the record of participants.
Just hours earlier in the day, the Flagler County School Board had met in a four-hour workshop to decide how to cut $4.5 million out of the district's $100 million budget. The board found $3.5 million to cut. The state is likely to reduce education funding next year, and $5 million in federal stimulus funds that had staved off cuts in the past two years will not be replenished, making the local cuts necessary.
The IB program is not part of those cuts, and isn't likely to be. IB and Advanced Placement students are not numerous. But they wield disproportionate leverage on their schools' standing, essentially subsidizing the rest of the student population's academic standing in the state's eyes. "I feel pretty confident at this point IB and AP will not be affected," Tangney said, "especially because not only student participation but student performance has an effect on the overall school grade."
There are some 905,000 IB students at 3,144 schools in 140 countries.
"Being in IB," Kyle Russell, FPC's top-ranked senior, said today, "has meant more to me than I could have imagined. I've learned the value of putting time into my work. I've learned that not cheating isn't just about doing the ethical thing, but having respect for my own knowledge. I've learned that volunteering isn't about numbers on a transcript, but being a member of the community. It's prepared me for not only college but being an important part of the world I'll be going into in the next few years."

IB Principles
The aim of all IB programs is to develop internationally minded people who, recognizing their common humanity and shared guardianship of the planet, help to create a better and more peaceful world. IB learners strive to be:
Inquirers: They develop their natural curiosity. They acquire the skills necessary to conduct inquiry and research and show independence in learning. They actively enjoy learning and this love of learning will be sustained throughout their lives.
Knowledgeable: They explore concepts, ideas and issues that have local and global significance. In so doing, they acquire in-depth knowledge and develop understanding across a broad and balanced range of disciplines.
Thinkers: They exercise initiative in applying thinking skills critically and creatively to recognize and approach complex problems, and make reasoned, ethical decisions.
Communicators: They understand and express ideas and information confidently and creatively in more than one language and in a variety of modes of communication. They work effectively and willingly in collaboration with others.
Principled: They act with integrity and honesty, with a strong sense of fairness, justice and respect for the dignity of the individual, groups and communities. They take responsibility for their own actions and the consequences that accompany them.
Open-minded: They understand and appreciate their own cultures and personal histories, and are open to the perspectives, values and traditions of other individuals and communities. They are accustomed to seeking and evaluating a range of points of view, and are willing to grow from the experience.
Caring: They show empathy, compassion and respect towards the needs and feelings of others. They have a personal commitment to service, and act to make a positive difference to the lives of others and to the environment.
Risk-takers: They approach unfamiliar situations and uncertainty with courage and forethought, and have the independence of spirit to explore new roles, ideas and strategies. They are brave and articulate in defending their beliefs.
Balanced: They understand the importance of intellectual, physical and emotional balance to achieve personal well-being for themselves and others.
Reflective: They give thoughtful consideration to their own learning and experience. They are able to assess and understand their strengths and limitations in order to support their learning and personal development.
Source: The International Baccalaureate Organization, Geneva.