These students knew where they were coming from. They knew what they wanted. They knew where they were heading. They knew the why of their life even before their principal urged them never to forget it.
For Leandra Tarpley, 17, maintaining her grades was the single most important thing that happened to her this year on the way to graduating from Flagler Palm Coast High School tonight. "It was really hard," she said, "because between family deaths and illnesses—I had three deaths right after each other, my mom has a heart issue," and there were a few other illnesses in between. 'But I'm here, and I did it." She will take her diploma , head for Bethune-Cookman University in Daytona Beach, and start her pre-law studies to become a defense attorney.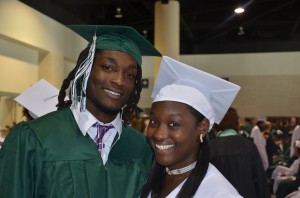 For Willie Gardner, 19, last year's Athlete of the Year at FPC, it happened today: "I actually signed on to a college, Fort Scott in Kansas," he said, moments before walking down the aisle to Pomp and Circumstance. He doesn't yet know much about the school, only that it's "16 hours away from here." Graduates want distance. His next goal: "To graduate again, from college."
For A.J. Torres, 18, "That would have to be the Senior Awards ceremony." He's a future—if not a current—linguist. He's the first student in FPC's history to complete the Higher Level Spanish course in the International Baccalaureate program, which isn't your everyday language curriculum. In the IB, a higher level language course lasts two years and makes sadistic demands on a student's intellect and analytical grasp of literature. A decathlon by comparison is a breeze. The grades aren't in yet, but Torres made it through, and got a Pioneer Award for his work in Spanish, and a separate award for French. Now it's onto Emory University for a double-major in International Relations and languages and a career as a diplomat or a linguist, possibly at the United Nations.
For IB students graduation is usually an afterthought to making it through the IB, though for Maeve Dineen, an 18-year-old soon-to-be freshman at Mercer University in Georgia, getting the Senior of the Year Award was the year's highlight. She'll be studying forensic anthropology (if not archeology), with something CSI-ish on her mind down the road.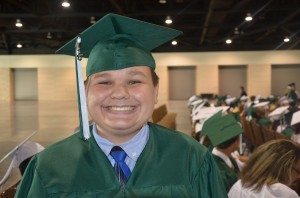 And for 18-year-old Adam Workman? There was no question: "Getting my diploma." His achievements are not easily described in words. But they speak to a particular kind of resilience, to what a student can attain on his own, and to what a school can do for certain students the way no other institution can.
Those five students were among the 450-some men and women who graduated Thursday evening (with a few exceptions, though all walked the plank) at FPC's annual commencement ceremony at the Ocean Center in Daytona Beach, where it may or may not take place next year (depending on required budget cuts). Janet Valentine, the superintendent, spoke of one of her own achievements, too, as she was getting ready to walk into the Ocean Center's scream zone: "I'm excited that we're at the end of the year and we're moving smoothly into it, even though it may not have seemed like it today."
Today, Valentine had to contend with an odd bomb scare at FPC. It was just another day at the high school. By evening, as the situation had long been resolved, she was back to smiling, looking over her latest graduating class, and speaking gratefully of a community that had done its share to support the schools—through mentors, volunteers, partners and other means.
Then sounded Pomp and Circumstance (incidentally, a march by Edward Elgar), when Valentine and the School Board members, followed by faculty and the graduating seniors, march into the Hall of Screams to a rain of flashlights and names called out from the bleachers before the Formality Singers and welcome address start things off.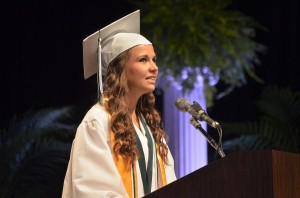 Katie Young, who delivered the commencement address, had trouble imagining the speed with which the last four years went by. (She should know a few things about speed: her father, Pete Young, is a Florida Highway Patrol trooper, though he's yet to figure out how to ticket time's reckless passing.) Young remembered her first day as a freshman. "I was almost in tears while getting my first late pass from the dean's office, all because my locker would not open." She figured it out and spent the following three years teaching others who to resolve the challenge. She noted with distinct wryness that hers was the first graduating class that had to contend with uniforms, or the dress code students refer to as a uniform. "We dealt with it," she said. But it's the memories she made with her classmates that she would be taking with her.
"Our  devotion and determination has brought us to the great triumph of our young lives," she said, reminding her students to keep in mind something Abraham Lincoln had said about always doing once's best. It had worked for him, she said: he kept a nation together.
She was followed, after another song by the Formality Singers, by Lynette Shott, who became principal of FPC when Jacob Oliva took up new duties as the deputy superintendent. "I don't want you to think about what you are going to do," Shott told the first graduating class on her watch, "I want you to think about why you are going to do it." It isn't enough to show up on time and do as one is told, even though that may result in "what society would call success."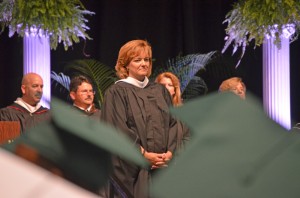 "But if you know why you are doing something, you will have a passion for it. You will always seek a way to make it happen no matter what obstacles get in your way, and you will never be satisfied with just finishing a task, but will always be driven to higher levels of accomplishment. I'd like to share a story with you from a young lady who chose nursing as her profession. She shared that a few weeks before her 14th birthday, she held her father's hand as he passed away. She was too young to have participated in his care, to fight for information when provided updates by the doctors at the hospital or to even fully comprehend the technicalities of his illness. In her words, 'I feel like nursing is my chance to fight for my father, to care for every patient as I would have cared for him if given the chance, and if given the time.' On a very personal level, she had a passion of her chosen path in life because she knew the why. Knowing the why behind what you do day in and day out can not only have a personal impact on your life, but that impact can go viral and transcend into global bounds."