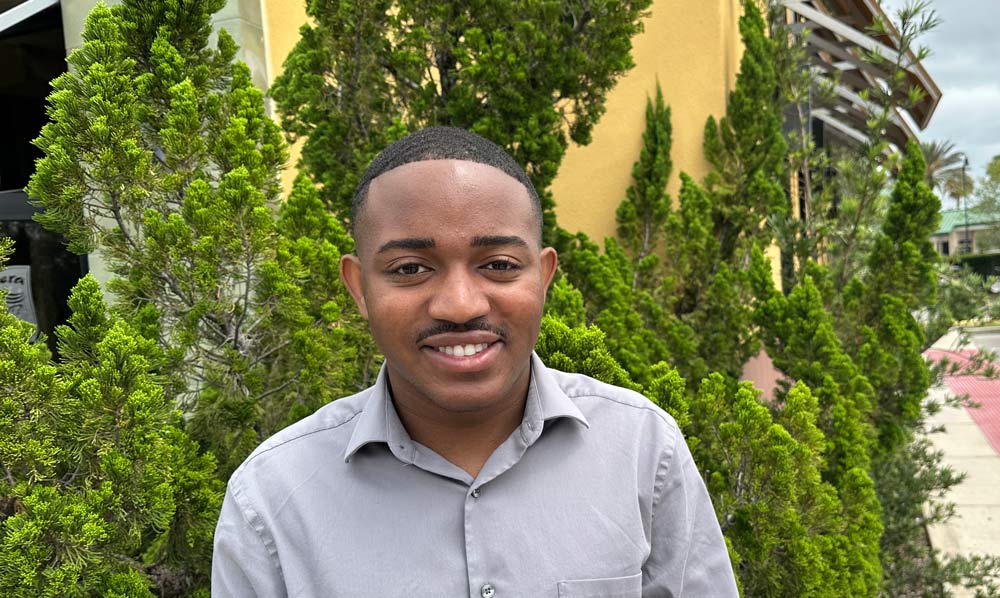 Darryl Boyer, the youngest emerging face of Flagler County's Republican Party and a candidate for the Florida House seat held by Paul Renner in the 2024 election, was a guest this morning on Fox & Friends Weekend, his second appearance in four weeks on the show.
He appeared in a five-minute segment as part of what Fox dubbed "a panel of Florida voters" to discuss the developing Republican primary contest between Ron DeSantis and Donald Trump. Boyer took advantage of the opportunity essentially to announce his candidacy to a national audience.




"Now more than ever I believe that servant leadership is essential to our nation," Boyer said. "I'm very proud of my former congressman, now governor, Ron DeSantis. Recently he inspired me to step up to the plate and serve to protect my state, so I recently just announced my candidacy to run for Florida state House."
A 39-year-old Deerfield Beach business owner was on DeSantis's side. An Estero Gen-Z woman sided with Trump. (Fox had been an ardent Trump supporter during and after his term as president, but distanced itself from him last fall and into 2023, with DeSantis getting a higher profile on the network.)
Boyer said "both candidates have an amazing track record," and did not come down on one side or the other as far as who would or should win the primary.




He did so more clearly during an in-person interview in Palm Coast this morning, shortly after his appearance on Fox. "After I think the way that he left in the 2020 election, I think that that really changed a lot of opinions on him as a leader," Boyer said of Trump. "I think he could have left in a better way, because he's now tarnished the party and ultimately, our country. And I think DeSantis is going to do a really good job at unifying us, bringing our country together, re-steering away the ship, and I think he brings a lot of qualities that people aren't used to seeing. He brings youth, which is valuable right now to politics. He brings grit, and I think he brings a lot of self responsibility as well as what we need."
The Estero voter had been asked if she felt her vote was "nullified" in the 2020 election. She said "there were many problems with the 2020 election." Asked in the in-person interview if he thought the 2020 election was stolen, Boyer was unequivocal: "I don't believe it was stolen. I believe that, you know, we got the results. Joe Biden is our president."
He praised Flagler County Elections Supervisor Kaiti Lenhart. Asked if he trusted the electoral system in the country, he said: "I do. And it's been proven. Our electoral system is good. Now there was–there there are reports of ballot harvesting, fraud, but here in Florida, I trust our Florida elections."
He later qualified the statement more, as if walking back his statement about the country as a whole and saying he could not address the state of the system beyond Florida. He then emailed: "Joe Biden is our President and Florida did a fantastic job hosting our 2020 Election. I can't speak to other states."




The backtrack was instructive, if disconcerting: while Boyer instinctively felt that the election was fair and accurate, he couldn't quite bring himself to leave the statement unqualified, looking instead rest on the disingenuous stance that while Florida's election went fine, doubt remains as to the rest of the country. Boyer, in other words, remains in the fold of doctrinaire Republican doubletalk on the 2020 election, seeking to concede legitimacy on one hand while leaving open the suggestion of fraud on the other. It's the equivalent of conceding that yes, seas are rising around Miami, but the jury is still out elsewhere. It is not.
In fact, as nearly 70 judges and court decisions, including the U.S. Supreme Court confirmed, there was no room for doubt, as even the infamous audit of Florida's election by a Florida-based company that had alleged fraud confirmed.
Boyer made his first appearance on Fox a month ago when Campus Reform, the college and university website run by the conservative Leadership Institute and focused on liberal biases on campus, asked him to be a guest in a segment about students accusing professors of racism. ("I thought that that was very disgraceful, because the reason why they could tell on their professors for racism was if they weren't being called on in class," Boyer said, recalling his contribution in that segment. "So it wasn't like they were actually being racist.") He had no idea how Campus Reform, which lists him as one of its "Florida correspondents," found him to invite him.




Boyer, a Palm Coast resident, is one of three candidates so far in the GOP primary for Renner's seat. Donald O'Brien, a county commissioner for the last seven years, announced his run in February, and a few days ago had an amiable coffee with Boyer. The third Republican candidate is James St. George, a physician who lists his campaign document address as 1103 Hayes Street in Tallahassee–the address of the political action committee manager Noreen Fenner.
Democrat Adam Morley of St. Augustine, an environmental advocate whose persistence has come to define sustainable optimism, has also filed to run, as he has for every election for that seat since 2016. Renner is term-limited.