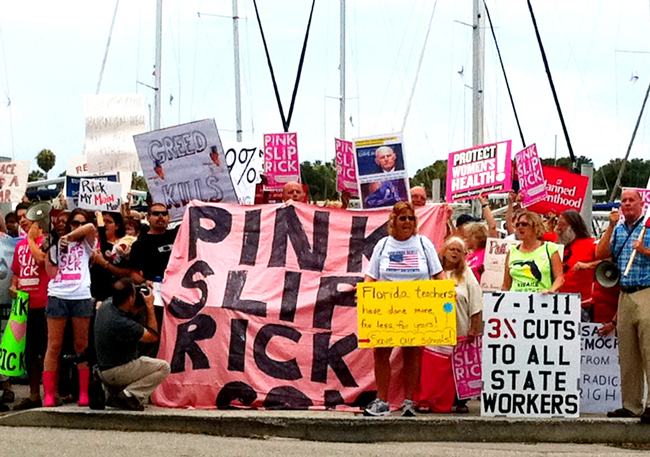 This year's legislative session was brutal for public employee unions, who found themselves the target of a raft of legislative proposals.
In what was viewed by some as political payback, Republicans used their super-majorities in the House and Senate to file and approve several bills that were opposed by union officials and rank and file members.
While unions have been among the staunchest supporters of the Democratic Party over the last few decades, some are cautiously questioning the wisdom of favoring only Democrats in Florida. The Democrats may be counted on to support union legislative priorities, but in Florida, Republicans overwhelmingly wield the power.
While most unions still heavily favor Democrats in campaign donations, at least one public employees union has shifted a fair amount of its political contributions toward Republicans this year, both before and after the legislative session.
"Because partisanship is so lopsided in the Florida Legislature, some within the ranks of organized labor have begun to think more strategically, reaching out to the few remaining sympathetic allies in the Republican Party," said University of Florida political science professor Daniel Smith.
According to campaign contribution figures released this week, the Florida chapter of the American Federation for State, County and Municipal Employees, which lobbied against a required 3 percent contribution from public employees to their retirement accounts, and other measures generally opposed by workers, has showered at least $161,000 this year on the Republican Party, Republican candidates, or fundraising committees affiliated with Republicans or conservative causes.
For instance, a fundraising committee called "Florida Heritage" and run by Sen. Thad Altman, R-Viera, received $5,000 from AFSCME's political fundraising arm – called the Florida Public Employees Council – in September. Altman had voiced opposition to the plan to require public employees to contribute to their retirement plans.
By contrast, the union spent $26,500 on the Democratic Party and its candidates this year.
Doug Martin, a spokesman for AFSCME, said they union was "not giving as much because this has been a really financially difficult year, a lot of our members have been laid off."
He said they have not done "major contributions to any party."
Union members face difficult choices in Florida, political experts say.
If they try to court at least a little favor with Republicans they risk alienating Democrats.
"Government employees basically see the handwriting on the wall and are trying to hedge their bets and it's probably not a bad strategy," said University of Central Florida Political Science Professor Aubrey Jewett.
But he said by splitting their money more evenly, they could hurt Democrats – who ultimately are far more likely to support their agenda. Jewett said, however, Democrats are likely to forgive any union transgressions while Republicans are in power.
Some unions, such as the Florida Police Benevolent Association, donated to both parties, but leaned more Democratic this year. The PBA has supported Republicans in the past – the union was a highly visible backer of Gov. Jeb Bush and also supported former Gov. Charlie Crist. In last year's election, however, the PBA backed Democrat Alex Sink over Rick Scott, the Republican and eventual winner.
Through various political fundraising committees, the PBA, which represents law enforcement officers – including most corrections officers – spent nearly 40 percent of its contributions on Republicans or conservative causes this year.
Florida PBA Executive Director Matt Puckett said which political party a lawmaker belongs to is not a factor in deciding which campaigns to contribute to.
"If you look at our demographics, we are split evenly between Republicans and Democrats," he said.
"We have a basic approach," Puckett said. "We look for fairness. We don't have an agenda. We want open-minded, fair legislators. You are going to see our money going toward those folks we feel have that."
One of Florida's most powerful unions – the Florida Education Association – has stuck with a strategy of supporting mostly Democrats and a small handful of moderate Republicans. Nearly percent of the union's donations this year went toward the Democratic Party or its candidates, according to campaign contribution data.
"Whichever election it is, we are looking for candidates to support that have a strong interest in helping our public schools and making sure they are funded properly," said FEA spokesman Mark Pudlow.
It's no surprise that lawmakers like Rep. Dwight Bullard, D-Miami, an outspoken advocate for public schools, received a $500 donation from the FEA, along with two dozen other Democratic lawmakers.
But the FEA, which represents public school teachers and other school employees, also failed to stop efforts to link teacher pay to test scores, changes to the class size requirements, and cuts in school funding.
For the most part, Democrats joined FEA in opposition to these proposals, though some moderate Republicans got a nod from the FEA through $2,500 donations in fundraising committees they chair.
"If you are putting all of your chips on one side or the other it doesn't work quite as well," Pudlow said.
–Lilly Rockwell, News Service of Florida