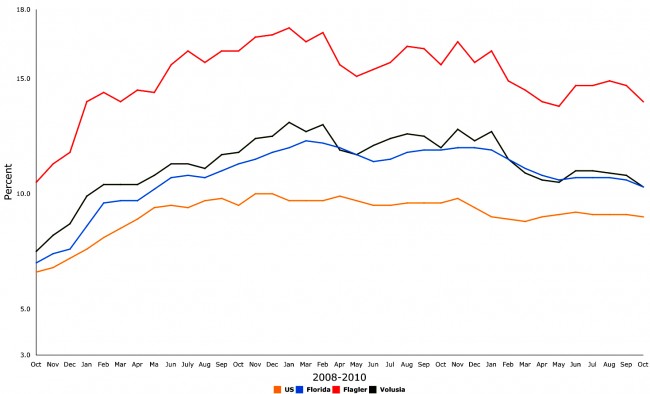 Almost 1 million Floridians are still unemployed, and well over 1 million are unemployed, under-employed or too discouraged to look–or be counted in the labor force–but figures improved slightly in October, with the unemployment rate falling to 10.3 percent statewide, the lowest level in 18 months.
Job creation is not significant: just 9,500 jobs were created in October, for a total of 93,000 in the last 12 months, still well below normal job-creation activity. But the state's new, stringent requirement for people hoping to collect unemployment are paring the jobless rolls by discouraging workers from applying in the first place.
In Flagler County, the September unemployment rate was revised upward by a decimal point, to 14.7 percent, but the October figure was down sharply, to 14 percent, a level last reached, briefly, last April, and also in march 2009. The county's labor force has also shrunk by 1.6 percent when compared with its size a year ago.
Still, the overall trend is more positive than it's been for months–if not a couple of years–and more good news may be ahead, as fewer people are filing for unemployment claims nationally. The four-week average for those initial claims fell to 388,000, best since April, while the nation has been adding jobs for 13 straight months–though still not enough to outdo the 125,000 jobs a month the economy must create just to keep up with normal increases in population and labor force.
Professional and business services, especially administrative and waste services, added the most jobs during the month, with 10,900 (or a 1 percent increase for that sector). For the first time in months, government jobs, especially at the local level, increased, with 6,900 new jobs added, 6,800 of them at the local level. Federal jobs continue to decline in the state, with a loss of 800.
Other sectors posting gains include wholesale trade (1,900 jobs), information (1,000), and health care (1,300).
On the losing end, leisure and hospitality, which had been a job creator for months, lost 2,800 jobs. Construction lost 4,800 jobs. Transportation, warehousing and utilities lost 1,800, and education services lost 900.
For all the improvements in the jobs picture, Flagler County's 14 percent unemployment rate is still second-worst (and the worst when rated by metropolitan areas), behind Hendry's 16.1 percent. Hernando is in third, at 13 percent. The counties with the lowest unemployment rates are Liberty and Monroe (6.3 percent), Walton (6.8 percent), Okaloosa (7 percent) and Lafayette and Alachua (7.4 percent).