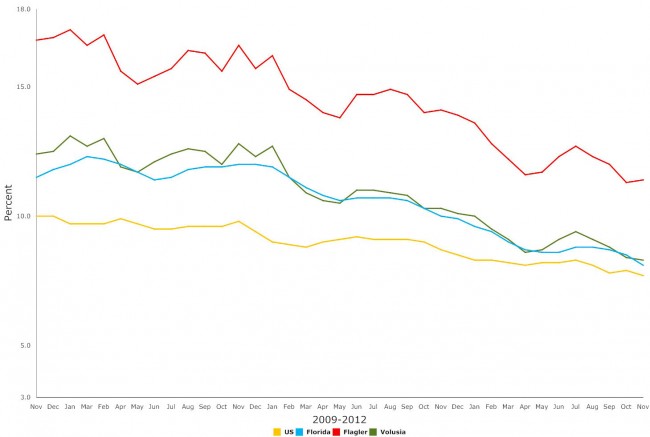 Florida's unemployment rate dropped sharply in November, to 8.1 percent, from 8.5 percent last month–and 10.1 percent a year ago–but Flagler County's unemployment rate rose a decimal point, to 11.4 percent. Flagler remains the county with the second-highest unemployment in the state, as it has for most of the past three years, and is one of only six of Florida's 67 counties with an unemployment rate still in double digits.
Florida's four decimal point drop is the second of the year, and only the second time it has happened since the recovery from the recession of 1991. There were 760,000 jobless Floridians out of a labor force of 9,343,000. The state added 24,500 jobs over the month. Very slowly, Florida's and the national unemployment rate have been converging, and are now separated by just four decimal points. Since December 2010, Florida has seen its unemployment rate decline by 2.6 percentage points. It is one of the better recoveries among states. But Florida's unemployment rate had also been among the worst, and many new jobs in the state are low-wage jobs with few or no benefits. A portion of the reduction in the unemployment rate is not attributable to new jobs but to the number of people who have quit the workforce altogether, now that the state makes it very difficult to collect unemployment.
In Flagler, the number of people with jobs shrank by 406 (or by 1.3 percent), virtually the same number by which the overall workforce shrank. But the workforce is only fractionally smaller than it was a year ago. The number of unemployed people in the county was virtually unchanged at 3,875. The recent opening of Carrabba's, the restaurant on Cypress Edge Drive, generated close to 100 new jobs, but those jobs may not register until the December unemployment report.
Looking at employment sector by sector, the single-largest numerical gain was in leisure and hospitality–or tourism–with 14,600 new jobs. But those jobs tend to be among the lowest paid, particularly in hotels and food services, which accounted for 9,000 jobs. Trade, transportation and utilities added 8,700 jobs, with retail trade–again, low-paying and seasonal jobs–accounting for 7,300 of those. Retail was adding jobs in anticipation of the Christmas season. Professional and technical services added almost 5,000 jobs, and construction added 3,100 jobs.
In the loss column, wholesale trade lost 2,100 jobs, Information and finance and insurance lost a combined 2,800 jobs, and administrative and waste services lost 10,900 jobs, a 2 percent decline.
Hendry County had the highest unemployment rate (11.6 percent), followed by Flagler, St. Lucie (10.5), Putnam (10.3), and Madison (10.2). Monroe County had the state's lowest unemployment rate (4.7 percent), followed by Walton (5.5), Okaloosa (5.9), and Wakulla (6.1), thanks mostly to government jobs.
"For many of Florida's families during this holiday season there could be no greater gift than a regular paycheck," said Governor Rick Scott, announcing the numbers. "Florida's economy continues to improve as evidenced by the more than 24,000 Floridians that filled private-sector jobs created in November, for one of the largest over the month rate declines in more than 20 years. We're now over 200,000 private-sector jobs created in the two years since I took office with the largest drop in unemployment in the country. More people are moving here, more businesses are expanding, our home prices are recovering and more people are pursuing the careers of their dreams. We have more work to do, but Florida is clearly on the right track for greater job creation."
Scott, who has manipulated jobs projections and accomplishments before, was not telling the whole story: net job creation under his watch has averaged about 6,500 jobs a month, resulting in roughly 50,000 fewer overall jobs than the 200,000 in private-sector jobs he noted. The public sector, often the largest employer in various counties (Flagler included) has been severely hit by lay-offs during those two years.