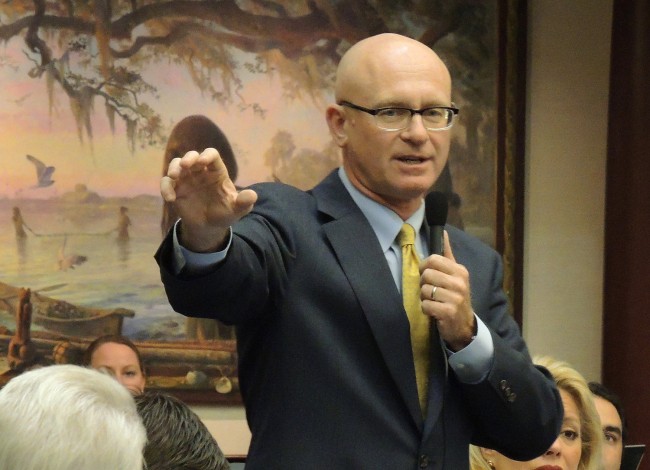 "By a 71 to 45 vote, the Florida House of Representatives on Friday passed its own health plan, which relies on state money and bypasses more than $50 billion in federal funds," Carol Gentry of Florida Health News reported Friday. "The vote, as expected, fell almost entirely along party lines. Democrats all voted against the plan, according to the House web site. All except two Republicans — Mike Fasano of New Port Richey and John Tobia of Melbourne Beach — voted for it. The plan, called Florida Health Choices Plus, is supposed to cover about 115,000 people who have incomes at or below the federal poverty level. But the plan leaves out most of the uninsured in that income group; only disabled adults and parents of children 18 and younger would qualify. They would pay $25 a month in premiums to receive about $167 a month in state revenue that would go into a savings account. They would then shop for coverage on an online marketplace operated by a non-profit organization. The cost to the state budget was estimated at $237 million. Opponents of the plan said that amounts to double taxation, since federal funds are already available to help the uninsured. But supporters of the plan said it would be wrong to take funds from Washington at a time when there is a federal deficit."
It is the latest development in a pivotal battle, with Florida as a defining battleground, between Barack Obama's vision for health care in general and health care for the poor in particular, and GOP-dominated states' opposition–and alternatives–to that vision. Below is a more detailed story of that battle.

Cary Pigman, a Republican lawmaker in the state House of Representatives, sees uninsured patients every shift as an emergency room doctor in a rural part of central Florida, where nearly 30 percent of residents lack coverage.
With a week remaining in Florida's legislative session, Dr. Pigman might be expected to be sympathetic to hospitals and other groups urging the Republican-dominated legislature to accept $50 billion in federal money over a decade to extend coverage to 1 million poor Floridians.
But that's not the case.
Pigman, 54, of Sebring, Fla., adamantly opposes taking the money to expand Medicaid, the state-federal health insurance program for the poor – one of the key ways the federal health law seeks to cover as many as 27 million people nationwide beginning in 2014. Asked about his position, he talks not about his uninsured patients, but about the federal deficit.
"We do not believe that the money exists," the freshman lawmaker says, echoing the refrain of Republican state House leaders and a Naples, Fla.-based conservative think tank, the Foundation for Government Accountability. "We have every reason to be suspicious of any new money from the federal government."
That view explains the uphill battle faced by proponents of Medicaid expansion in this populous swing state, which has twice voted to elect Barack Obama, albeit by small margins, and which has the 3rd largest percentage of uninsured in the country after Texas and Nevada.
"The optics of having a physician in the ER oppose expanding coverage for this population certainly isn't great, but it shows how extremely difficult it is for everyone to get their heads around this issue this year," says Lars Houmann, president and chief executive officer of Florida Hospital, which owns 22 hospitals including the one where Pigman works.
'Florida Is Pivotal'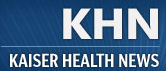 When the U.S. Supreme Court upheld the health law last year — in response to a challenge brought by Florida and 25 other states — the justices made the expansion of Medicaid voluntary. Of the 27 million people projected to gain coverage under the law, about 13 million are expected to do so through Medicaid.  Many of those gaining Medicaid coverage would be adults without children who are covered in only a handful of states today.
Fourteen states, many in the Republican-controlled South, have already rejected the Medicaid expansion, while 20 have agreed to comply with the law,according to consulting firm Avalere Health. Florida, with nearly four million uninsured residents, is one of more than a dozen still weighing the issue. And just as it has an outsized impact on presidential elections, it is likely to play a significant role in the success of the 2010 health law.
"Florida is pivotal, as better than one in twelve uninsured Americans is a Floridian," says Sara Rosenbaum, health policy professor at George Washington University. "Given the extensive poverty among state residents, a Medicaid expansion would have an enormous downward impact on the number of uninsured residents."
But Florida's statehouse, which has been controlled by Republicans since the 1990s, remains deeply divided as the clock winds down on a legislative session slated to end May 3.
Expansion supporters were jubilant in February when Gov. Rick Scott, a Republican, reversed his opposition and said he favored expanding Medicaid for at least three years while it is fully funded by the federal government. After that, states assume a share of the costs, up to 10 percent after 2019.
But within days, it was clear Republican leaders in the House and Senate would not all go along with him.
Senate Republican leaders thought they had found a middle ground in early April when they devised a plan to use the Medicaid funding to enroll 1 million people into private coverage. Under that scenario, Republicans could argue they weren't expanding Medicaid but using the money to expand residents' choice of private plans.
But the House rejected the Senate plan Thursday, with most Republicans saying they didn't think the state should rely on federal money at all.
"We are running into ideological opposition and facts don't change the way someone feels about that," says Florida Hospital Association President Bruce Rueben.
House Alternative
House members approved their own alternative Friday which  takes no federal money. Instead, it would use about $3 billion in state funds over 10 years to provide $2,000 a year to the disabled and poor adults with children to buy health insurance. Enrollees would pay $25 monthly premiums, and able-bodied adults would have to work at least 20 hours a week.
That plan would extend coverage to 115,000 people, compared to the Senate plan's 1 million people.  Democrats and hospital officials say the plan would give people substandard coverage that is nonetheless unaffordable. And adults without children would get no help.
Pigman is not the only House Republican with close ties to the hospital industry who supports the House plan as an alternative to the health law's Medicaid expansion. Rep. Travis Cummings, a trustee at Orange Park Medical Center near Jacksonville, says he doesn't believe that adults without children should get coverage.
"Many years ago our safety net was established for working families, the disabled, pregnant women and children and our most vulnerable," he says. "Able-bodied adults should be able to find work and not rely on an entitlement program."
Whether Scott will play any role trying to prod House members to change their positions remains a big unknown. House Speaker Will Weatherford, 33, a rising political star of the Conservative Political Action Conference in Washington, says he has yet to hear from the governor.
"We believe taking $50 billion in federal money to expand Medicaid in Florida is not going to create better outcomes," Weatherford said in an interview last week.
Campaign Intensifies
The pressure on lawmakers is growing in the session's final days. Florida hospitals, which have the most to gain from a million new paying patients, began airing commercials statewide saying the expansion would improve the health of residents, as well as hospitals, and create thousands of new jobs.
The industry notes it gave up billions in future Medicare reimbursements during negotiations over the health law three years ago with the expectation it would recoup those dollars in part through Medicaid's expansion.
The Service Employees International Union 1199, which represents many health care workers, has posted billboards in the Tallahassee Regional Airport, saying "Medicaid Expansion Will Save Lives." Members are also holding vigils in the districts of Republican House members expected to face competitive races next year. "We are urging Republican House members to not put politics and ideology over the needs of constituents," says Monica Russo, president of SEIU Healthcare Florida.
Also backing the expansion are insurers and consumer advocates, as well as several leading business groups, including the Florida Chamber of Commerce and Associated Industries of Florida.
But the National Federation of Independent Business, a small business group which filed one of the lawsuits seeking to overturn the law, opposes expansion. And the Florida Medical Association has remained neutral because it says its members are split. The American Medical Association was a key supporter of the health law.
Carol Weissert, a political science professor at Florida State University, said Florida's eight-year term limit on lawmakers means most have little understanding of Medicaid.  That, combined with their philosophical opposition to a greater role for government, creates a "potent mix against expanding the program in Florida," she says.
Pigman says he finds it ironic that hospitals and doctors' groups that complain about Medicaid reimbursements are pushing for the program's expansion.
"You have to be careful what you ask for," he says.
–Phil Galewitz, Kaiser Health News with USA Today