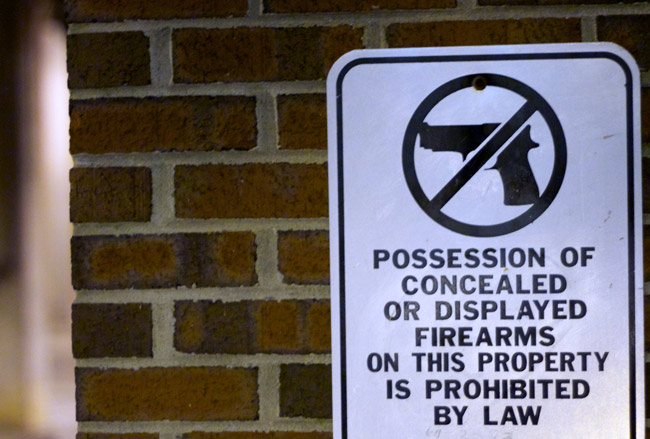 A Leon County circuit judge Wednesday said two South Florida counties can pursue a legal challenge against Gov. Rick Scott about a state crackdown on local gun restrictions, though the House and Senate will be dropped from the case.
Palm Beach County commissioners late last year filed a constitutional challenge to a 2011 law that subjects city and county officials to personal fines and possible removal from office if they try to stiffen gun regulations. Broward County was allowed to formally intervene in the case Wednesday.
Circuit Judge John Cooper said during a hearing that the counties can continue suing Scott over part of the law that would give the governor the power to remove local officials for violations — a provision that Palm Beach and Broward say exceeds the governor's constitutional authority.
But Cooper went along with state requests to dismiss other parts of the case, including the House, Senate and Attorney General Pam Bondi as defendants. That decision also would effectively prevent a challenge to the constitutionality of the fines that could be imposed on local officials.
Cooper said Scott should remain a defendant because the law would give him enforcement power, while the Legislature or Bondi wouldn't have such authority. Courts would assess the fines, which could be up to $5,000. Cooper said local officials could later challenge the constitutionality of the fines if they have to defend themselves against alleged violations of the law.
Palm Beach County attorney Amy Taylor Petrick raised the possibility of appealing Cooper's decision to dismiss parts of the case, though she said county commissioners ultimately would have to make such a decision. Petrick said the law was intended as a "political threat" to prevent gun restrictions and that the prospect of fines could stop local officials from considering gun-related measures.
"No one can be expected to put themselves on the line in such a fashion," she said.
Jason Vail, an attorney for the state, asked Cooper to also dismiss Scott as a defendant, saying there is no "immediate threat of injury to the county commissioners."
But Cooper pointed to what he described as a potential "chilling effect" on the duties and rights of local elected officials.
"I think the nature of the statute invites heightened scrutiny for what it attempts to regulate," he said.
The case is rooted in a longstanding state law — known as a "preemption" law — that is designed to prevent local governments from passing gun ordinances that are stricter than what the Legislature has approved. With gun-rights advocates arguing that cities and counties were not complying with the preemption law, the Republican-controlled Legislature approved the measure last year to penalize local officials who try to impose tougher regulations.
The lawsuit filed by Palm Beach County commissioners argues that the threat of personal fines and removal from office violate the "legislative immunity" that local officials typically have when they pass ordinances. Also, it says counties have some authority to make decisions about gun issues, such as in part of the state constitution that allows them to require criminal records checks and waiting periods when firearms are sold to people who do not have concealed-weapon permits.
–Jim Saunders, News Service of Florida