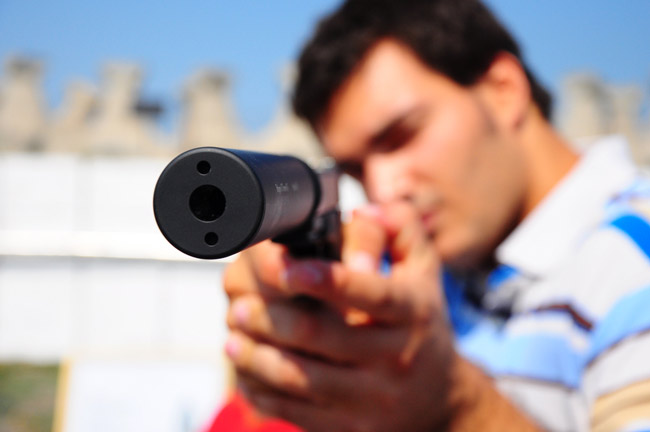 Two Miami Democrats called Tuesday for the Legislature to hear bills dealing with gun control before the 2013 session ends, with several of those filed in the wake of the Connecticut school shootings having gone nowhere.
No one expects any major gun control legislation to pass in the GOP-controlled Legislature, but Rep. Cynthia Stafford said there should be at least a discussion of the issue.
"In order to have the discussion, both sides need to be heard," Stafford said, joining Sen. Dwight Bullard in calling for several stalled bills to get a hearing.
Legislation carried by Bullard in the Senate (SB 362) and Stafford in the House (HB 123) would change the 'stand your ground' self-defense law. Stafford said instead of allowing someone immunity to shoot when they feel threatened, the bill would require an overt aggressive act.
"It's no longer 'I thought he or she looked dangerous,' or 'I thought I would be harmed or killed, so I used deadly force,'" she said. "This bill would help to eliminate those assumptions."
The bill hasn't had a committee hearing in either chamber. Stafford and Bullard said they're frustrated by what they called a Republican-led blockade of gun-control bills.
Republican Senate President Don Gaetz, however, said other Democrats have gotten controversial bills heard. He pointed to Sen. Eleanor Sobel, D-Hollywood, whose domestic partnership bill got three hearings in the Senate Children, Families and Elder Affairs Committee, which Sobel chairs, before passing on Monday.
"The best advice I would give to Sen. Bullard is to just bear in mind that Republican Senate leadership is not telling people what to put on an agenda," Gaetz said. "If he has a concern, he needs to go see the committee chair."
Stafford and Bullard also called on Gov. Rick Scott and Attorney General Pam Bondi to investigate the availability of black-market, military-style ammunition in urban neighborhoods. Bullard said some of his constituents were unable to leave their homes due to the violence around them.
"There's a war going on outside," he said. "We're talking about drive-by (shootings) at one o'clock in the afternoon…children walking to school. We're talking about church services ending and within an hour, people are dead."
Both Scott and Gaetz have pointed to Florida's crime rates, which are the lowest they've been in 41 years, as evidence that the state's approach is the right one.
Bullard said the crime rate may be down overall, but in some parts of Florida, it's rampant. He also said the media aren't covering many of those stories.
–Margie Menzel, News Service of Florida