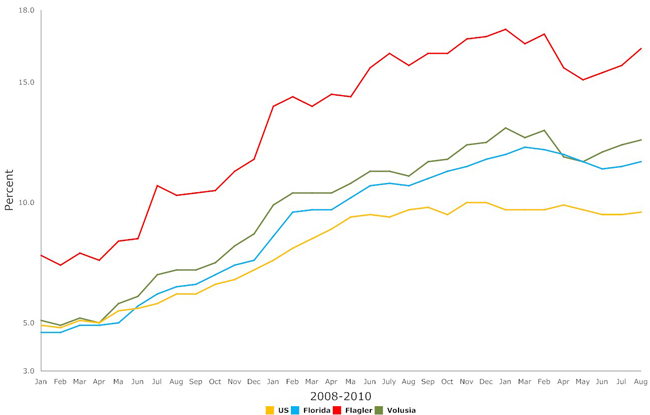 Flagler County's unemployment rate spiked steeply in August from 15.7 percent to 16.4 percent. Florida's unemployment rate also rose to 11.7 percent, from 11.5 percent, as the state's and the county's job picture darkened again after a spring reprieve.
---
Click On:
Where and how to file for unemployment
---
---
The state lost a net 16,000 jobs. In Flagler, the workforce itself shrank somewhat in addition to a net job loss. Flagler's August labor force stood at 32,917, compared with 32,969 the previous month, and 32,959 a year ago. The decline can be attributed to two reasons: as the number of long-term unemployed (those on the unemployment rolls one year or more) grows, they are no longer counted among the unemployed. The county may also be losing population. The first recorded decline in school population in recent memory, while slight, suggests that the county is, in fact, losing population.
Flagler's unemployment rate is the second-worst in the state, after Hendry County, where more than one in five worker is unemployed. The unemployment rate there is at Depression-era levels: 20.6 percent. The numbers suggest that while the nation is teetering on the brink of a double-dip recession, Florida is already there, and Flagler never got out of the last one.
A few sectors of Florida's economy experienced slight growth in August. Those included trade and transportation (0.3 percent), especially transportation (0.9 percent), insurance and finance (1.1 percent).
Losses were widespread across many sectors: Manufacturing (1.1 percent loss), Real estate (1.7 percent), education and health services (1.1 percent), tourism (0.2 percent), and government jobs (1.1 percent). Much of that loss was due to continuing decline in temporary census jobs (12,300 federal jobs were lost). But local governments, too, shed jobs (2,600).