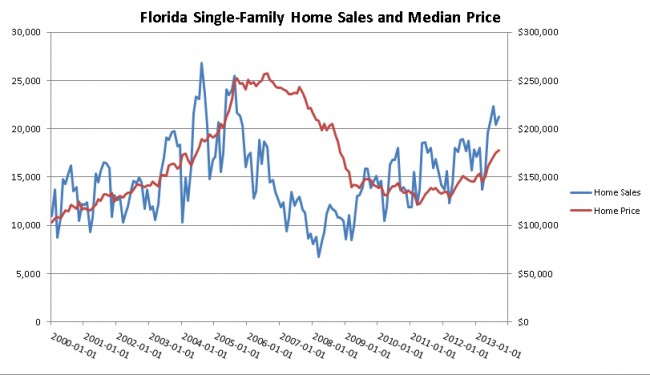 Consumer confidence among Floridians remained in August at 77, the same as the July after that number was revised downward, the University of Florida's Bureau of Economic and Business Research reported today. Three of the five components that make up the index declined while two increased, suggesting increased pessimism.
Perceptions of personal finances now compared to a year ago fell one point to 62 while expectations of personal finances a year from now rose six points to 81. Confidence in the national economy over the next year fell three points to 76 while expectations of economic conditions over the next five years rose three points, to 78. Floridians are not inclined to buy big-ticket items such as cars or refrigerators. That index fell six points.
"The slide in our index last month came as somewhat of a surprise," said Chris McCarty, the survey director. "However, the preliminary August index for the University of Michigan measuring consumer sentiment at the national level fell five points. The continued decline for Florida in August suggests a trend where consumers are becoming more pessimistic. The source of that decline is primarily in negative responses about their current personal finances and the sudden decline in optimism about buying conditions. While the big drop in confidence for July was mainly from low income and younger Floridians, a group who remains more pessimistic, there was slightly growing pessimism among older and higher income Floridians as well in August."
The decrease in confidence comes at a time when other Florida economic indicators are positive. Unemployment was unchanged in July at 7.1 percent, lower than the national level of 7.4 percent. Unlike recent months the labor force contracted by 15,000 jobs–either because Floridians are leaving the state or are too discouraged to continue to look for work–which would often lead to a decline in unemployment. But it didn't in July.
In a positive trend construction jobs once again increased, although they remain half what they were at the peak of the housing boom in 2006. Housing prices continued to rise in July with the median price for an existing single family home in Florida increasing by $4,500 to $179,500. That rise was especially encouraging in Flagler County and Palm Coast. The last time home prices were this high was August of 2008 when the median price was $186,900. The peak was June 2006 when the median price was $257,800.
That was an unsustainable price. But a conservative estimate puts current prices close to what the trend would have been over the past 10 years. It is unlikely that housing prices will continue rising a lot higher, particularly when interest rates have jumped 1.2 percent since February. While Floridians have recovered some of their losses in equity since the trough in prices in February 2011, they should not expect prices to go a lot higher when the Federal Reserve is considering an exit strategy from quantitative easing and a lower federal funds rate. Meanwhile anticipation of a pullback from the Federal Reserve is largely responsible for the recent decline in the stock market, which is down more than 3 percent from its record high in early August.
Gas prices declined slightly in August and inflation overall has not been a significant burden on consumers.
"With two back to back months of lower consumer sentiment we expect more of the same over the next couple of months," said McCarty. "There are two events in September that may contribute to a further decline. First is the Federal Reserve meeting in September where many expect the Fed to announce a pullback in the purchase of mortgage backed securities associated with quantitative easing. This event has been dubbed 'Septaper'. The second is what is likely to be another contentious debate in Washington over raising the debt ceiling. Sequestration was the result of a compromise between Congress and the White House over raising the debt ceiling in August of 2011. The Treasury Department estimates that the U.S. will run out of funds sometime in September unless the debt ceiling is raised again. Both of these events will likely lead to pessimism among consumers as they weigh the effects, such as a lower stock market and discussions about who is going to shoulder budget cuts."
The bureau's economic confidence scale runs from a low of 2 to a high of 150, benchmarked with 100 being the level of consumer confidence in 1966.