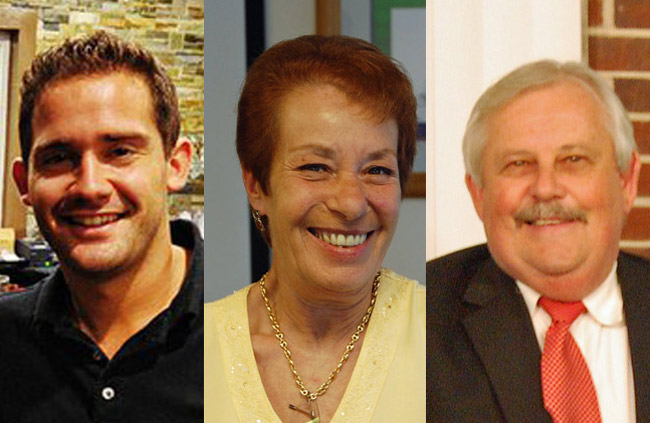 Qualifying has ended for this spring's city commission election in Flagler Beach, and three candidates have qualified for two seats: incumbents Steve Settle and Jane Mealy, and John Lulgjuraj, a 27-year-old newcomer to politics but not to Flagler Beach: he's been in town for 25 years—longer than most members of the city commission.
Flagler Beach doesn't have districts. The top two vote-getters will be elected. Settle won his first race three years ago by being the top vote-getter in a four-way race, polling 614 votes. Mealy came in second, with 503—just three votes ahead of Joy McGrew, who was defeated (but won back a commission seat subsequently). Mealy was first elected in 2006, when she, McGrew and Linda Provencher won their eeats unopposed. The trio is on the commission now, Provencher as mayor.
Bunnell is the only other city in the county that'll hold an election, with three candidates, including two incumbents, running for two seats on the city commission. The Bunnell mayor was close to being reelected today: she faced no opposition, with qualifying ending at 5 p.m. Friday. (See details here.)
Election Day is March 5.
Mealy, 68, currently the chairman of the Flagler Beach City Commission, moved to Flagler Beach in 2001 from Long Island, N.Y., where she'd been an elementary school teacher and a union leader. Forceful and candid, she's never shied from taking seemingly unpopular decision (at least from the tenor of commission meetings) that she felt would be vindicated by broader support beyond the commission chambers.
Mealy has opposed an outright ban of beach bonfires, sought to regulate roving street vendors, blistered a former commission for being meddlesome in administrative affairs, and initially opposed the appointment of Bruce Campbell as city manager, a decision she later reversed, after seeing Campbell's performance as an interim manager, and to project a unified commission on that decision.
"I care about my city and I've gotten involved in so many things, I want to keep working on them," Mealy said Friday evening. "I think I've helped the city stick to—as much as we can—stick to our code, I think I've helped to increase the viability of our downtown area, and of course you can't do all of this yourself, you're one of five."
Referring to Islip, the town in New York where she came from, she said: "I feel I'm doing what's good for the city, and I love this place, it's a great town, certainly different from where I came from, and to try to keep it–it's a tough balance between maintaining the old charm and making improvements to keep the city viable."
Until Thursday evening, Mealy and Settle thought they were coasting to re-election unopposed. But that day  Lulgjuraj had paid up the $512 qualifying fee (he'd missed the deadline to qualify by petition–that is, gathering signatures–as Settle and Mealy did, which would have enabled him to forego the fee) and made it a competitive race.
Settle, 62, was a lobbyist for the National Association of Manufacturers and spent 20 years in various political and legislative offices of the federal government, including a stint as a Ronald Reagan political appointee in the Department of Labor, in the office of Sen. Orrin Hatch, the Utah Republican, and on a House education and workforce committee, under John Boehner, now the speaker of the house.
"I still believe," Settle said of his decision to run again. "I believe the people of Flagler Beach hold what we have here as very valuable and something that we need to keep. There's a unique character to our city." Settle, too, has an independent streak that at times chafed with other commissioners (particularly Mealy), but also staked out clear ground, as with his unwavering championing of Campbell or his hard-nosed negotiations over the former Pier Restaurant lease (he was unhappy with the $3,000-a-month rent finally charged the new owner, a charge Settle felt was too low). Even Settle's run-ins with Mealy, more characteristic of Settle's earlier months, have yielded to a relatively more collegial relationship.
"The signature achievement, the most critical thing to keep the character of our city I think was sound management systems," Settle said. "The thing I think I was most proud in the last three years was putting a manager in place who's from the city and holds the same values I believe most people in Flagler Beach hold. I'm obviously proud we've been able to manage the city in a way that's been fiscally responsible."
Settle also cited the city's greater transparency and ethical standards as an achievement. Internally, however, the city administration recurring clashes with its fire department have clouded those achievements, including Campbell's. The latest matter (involving allegations of drinking in the fire department) is being investigated externally.
The Lulgjuraj name is a familiar one in Flagler Beach: George Lulgjuraj, John's father, owned Manny's for a couple of decades, the restaurant on A1A, at the south end of town, before selling it in 2005 and retiring in the West Virginia hills. John grew up in his father's business, and, with his brother, opened the Oceanside Grill, also at the south end of town, on A1A, last year. But he's not had an easy time of it with the city and its regulations. "They'll research three or four days how to say no to somebody, not how to make something work," Lulgjuraj said by phone this afternoon.
He was in Detroit, visiting family—and was somewhat shaken up during the interview, which took place almost immediately after he'd witnessed a spectacular SUV crash (it flipped several times in front of him), prompting him to help victims before being called off until paramedics arrived.
Last week he'd appeared before the Flagler Beach City Commission to battle over a chronic issue with the city: parking spaces for the restaurant, and plans for a deck. City regulation sets the parking ratio at one parking space for every three seats in any restaurant. The Grill has 163 seats, requiring a little over 50 spaces, which the city said he didn't have, until he leased some space. Even that was questioned by the city.
"I've lived here all my life, my family has done so much with the community, we never thought we'd have issues like we've had," Lulgjuraj  said. "I feel like they tried to use us as an example, or someone singled us out. I think that' the best word to use." Those last two requests, he felt, "made us go over and beyond what anyone has had to do to meet their code. Come to fund out the new Funky Pelican just opened with 200 seats, they're supposed to have 66 parking spaces, they only have 20."
Those issues "fueled the fire," and led him to file to run for the city commission. If he's elected, he'll be the youngest member of the commission, by far (he'll soon be 27). He'll also be the youngest elected official on any government in Flagler County.