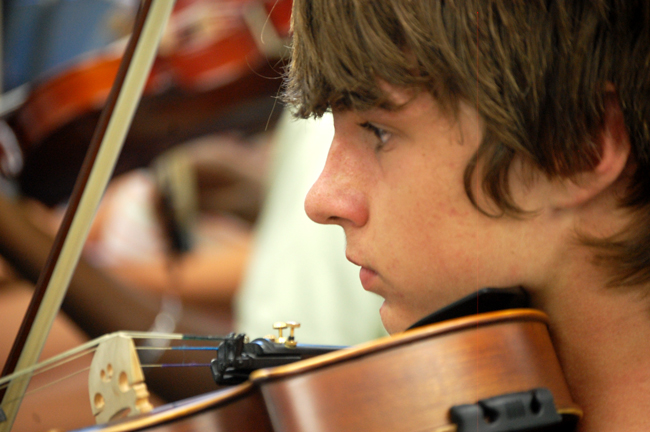 Breathe easier for now: The Flagler Youth Orchestra survived another year, its sixth in its present form as a free program offered to some 250 students across the county by the school district and the program's own fund-raising. Not the easiest feat, considering a climate of raging budget cuts and state government's general indifference to the arts in the last couple of years, arts in education in particular.
The orchestra had another challenge on its hands: completing the transition under Caren Umbarger, the artistic director who took over for the late Jonathan May a little over a year ago, bringing a distinctly more exacting teaching style and expectations students and the program's three other teachers had to get used to. "It's not easy to follow a legend," she says. The results are on display tonight in the youth orchestra's final concert of the season at the Flagler Auditorium (7 p.m., for just $6 for adults, with $1 of that going to the auditorium's Arts in Education fund.)
All five orchestras will be on stage, from Umbarger's and teacher Jack Jeffe's beginners to Paul Leiner's and Justin McCulloch's intermediate players to the more accomplished upper orchestra players, under Umbarger's direction. "We have old music by Handel, we have contemporary music by Barber," Umbarger says, "we have, as usual, a Bach piece, a great collaboration with FPC band kids for the Brahms First Symphony, the fourth movement." And that's just one of the ensembles.
The students' voices will be all music tonight. But their other voices say plenty about their involvement in the youth orchestra.
Jeremy Bartlett, 14, has been playing the bass for the past four years. He also plays the electric guitar, which he'll be playing tonight for the Led Zeppelin piece. But the bass is his thing, dating back to a strange vehicular revelation: "One day I was in the car and I decided I wanted to play bass," Jeremy says. "Just like that. I know that's pretty lame. And somehow we came across this program. Most people have inspiration like, this musician is so great, I want to be like him. No, I was just sitting in the car." Jeremy is asked who his bass would be, if it were an actor. He thinks for just a few seconds, then says: James Earl Jones.
Tonight's will be his 12th concert before a large audience at the Flagler Auditorium. He's past getting nervous, past even remembering previous concerts. "I do remember my first concert, vaguely," he says. "I only remember one song we played—minuet from the Royal Fireworks," by Handel, "a really dumbed down simplified version because we were all first-year students, I think. I was at least."
Brooklynn is the oldest of seven children (she's 10, her youngest brother, at 5 months, has always been consoled by the violin, his mother says). Two years ago before moving to Palm Coast Brooklynn told her mother she wanted to play the violin. "We didn't have any resources. And so when we moved to Palm Coast and found out about the strings program, we were super excited," Mindy Hoffman, Brooklynn's mother, says. Last year, she played and practiced but wasn't entirely committed. This year she's become so passionate about it that she's started writing her own music—themes to books she reads, among other works ("The 39 Clues" series in particular). Her 9-year-old sister Chloe is also in her class, with teacher Paul Leiner. The pair recently performed in a talent show at their church. "I like it because it's like another language," Brooklynn says, "and I'm really good at it. I really focus on the things I can do. I like to be the best in the class. I don't know if I am."
Exzia Witherspoon, a 9-year-old gifted third-grader at Bunnell Elementary who has her eyes on becoming a surgeon, has been in the program as a violinist just eight months, of her own choice. She was convinced by the annual recruiting tour the orchestra's music and program director organize at the beginning of each year, with a chamber group performing in front of hundreds of students over two days, that it was something she had to be a part of. "I'd heard the violin before and it makes a really beautiful sound, so when they came to our school and told us we could do lessons to play the violin, I really wanted to try."
Eight months ago, Exzia couldn't play a note. Tonight, she's already the veteran of three concerts, with many more ahead.
Like many students in the program, Mary Thompson straddled the years from when Jonathan May was the artistic director to the now-full year that Umbarger has been the director—and detects the difference between the two styles. Umbarger is Mary's teacher. "She's picky about everything," Mary says, "I mean, if I'm doing something wrong, just a little bit, she really shows me what to look for, what I'm doing wrong, because when I came there I really didn't think she would change much, but there's really a lot of things, little. Tiny subtle things you don't realize you're doing wrong."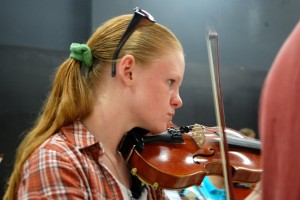 A fifth-year violinist, Mary plans on making a career of music—whether to teach, compose or perform, she's not yet sure. As part of her practice time, she finds videos on YouTube of violinists performing, the way athletes watch videos of other athletes, and practices along. Vibrato, for instance: she's just getting it down. "I really love to play music, and I want to become a better player. I really think it's an inspiring thing to do," Mary says. "It's very uplifting and puts me in a good mood." Even when she plays the Samuel Barber adagio for strings, a sorrowful—or soulful, depending on your perspective—piece that happens to be on the program tonight. Survivors of "Platoon," Oliver Stone's 1986 movie of Vietnam that gave Charlie Sheen post-traumatic stress disorder, will remember the adagio from that soundtrack.
Barber's isn't the only full-bodied piece on the upper orchestra's program tonight. Umbarger likes to choose colossal works to throw at her students—"Caren Colossal Umbarger: that's your new nickname," Program Director Cheryl Tristam tells her. Example: the final movement from Mendelssohn's Reformation Symphony (that was in the very first concert under her direction last May), a piece from Haydn's "Creation" oratorio last March, the Alborada from Rimsky-Korsakov's Capriccio Espagnol last December, not to mention the required dose of Bach at almost every concert. Tonight it's Brahms, the fourth movement from his first symphony, a gigantic work that opens with rumbles and tremors before the strings swoop in with one of the great, stately melodies of the 19th century (the theme alludes to the "Ode to Joy" in Beethoven's Ninth).
Members of the Flagler Palm Coast High School band, who have collaborated with the Flagler Youth Orchestra at every year's final concert for the past four years, will be joining the upper orchestra for Brahms and the final piece, which won't be a surprise this time, as a couple of previous arrangements by Paul Umbarger—Caren's husband, and a performer in these last numbers—have been: Led Zeppelin's "All My Love."
"What I do is I listen to the original recording and then I have to assign the various melody lines and the bass lines and the harmony lines to the various instruments," Paul says. "It's kind of a creative endeavor because you have to keep in mind what your group can do and you have to kind of make it so it's the appropriate level of difficulty, but still you want to make it rock. So I always try to stay as true to the original as possible, but make it accessible to kids. I do it because I think the kids really enjoy being a part of something that rocks."