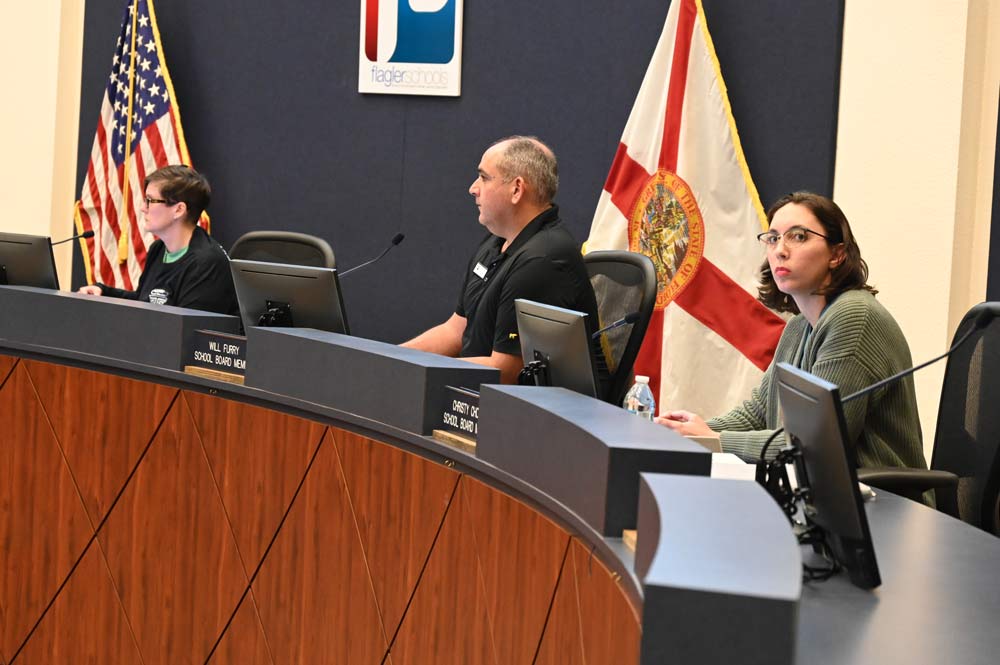 The value of Flagler County School Board Kristy Gavin's contract over the next 20 months is $327,807 in salary and benefits, according to an analysis by Patti Wormeck, the district's Chief Financial Officer.
The figure does not include additional money owed such as accrued and unused vacation and sick pay, which would be owed at retirement. Calculating that in brings the value closer to half a million dollars. That also leaves out the possible consequence of a firing on Gavin's pension under the Florida Retirement System. If she were to be fired, "the future pension payments would decrease by $836.54 monthly totaling an annual decrease of $10,038," Wormeck concluded in a memo to the board that was not made public.




Should Gavin litigate her firing and include the loss of potential retirement income, based on a 20-year retirement among damages she would seek to recover, that could add another $200,000.
But that's assuming she would litigate or would even prevail. Even then, the numbers would be in dispute.
The majority of the board that wants her fired thinks it will owe her at most 12 weeks' pay plus two weeks' sick leave. Its assessment "appears" backed up by a memo from the independent firm the board hired to analyze Gavin's contract. Appears, because the firm used that very word to reach its conclusion.
So the road ahead is more murky than certain, at a time when the board's finances are not solid, and when its teachers union is grumbling about the board's cavalier carelessness with money while claiming tight budgets and low reserves. (See: "Teachers Union Blisters School Board Over 'Fiscal Irresponsibility' and 'Unjust Actions' in Attorney's Pending Firing.")




"When I look at the figures that are possible here, it's astounding to me," Cheryl Massaro, board chair who asked Wormeck for the analysis, told her colleagues at the last board meeting, a special session on Oct. 26 where a majority of the board–Will Furry, Christy Chong, Sally Hunt–was ready to fire Gavin then and there. Though Wormeck had distributed the analysis at the meeting, it did not appear as if some of the board members had seen it.
"It scares me tremendously because of this financial situation we have here now in this district. Losing $700,000 doesn't help," Massaro continued, in reference to the $726,000 the district lost to a phishing scam when it paid the money to a fraudster, while thinking it was paying the contractor building the Matanzas High School addition. "Now, going into the possibility if you proceed with termination without cause, which it's going to end up that way, if we go that route, that can cost us easily additionally, $500,000."
"That's not true," Chong said. "Who advised you of that?" Furry asked. Massaro pointed to the memo in front of them. Massaro went through the analysis, which outlines Gavin's contract's cost over two years. Four months' costs from the current fiscal year are subtracted, having been incurred. The rest lists her base salary of $132,325 for this year, state pension costs, Social Security, Medicare, disability and so on, adding up to $128,465 for this year, $199,342 next year, assuming a 2 percent raise. Then comes vacation and sick time.




"And of course, Ms. Chong didn't believe me, 'No, that's not true.' Yes, it's very true," Massaro said in subsequent interview. "It's what the contract is worth. And then there's a disruption to her retirement. And then that's when you get into the the additional costs that are necessary for us paying her retirement until whatever."
The analysis by Shutts and Bowen, the independent law firm, restated various parts of Gavin's contract. It provided four methods of potential termination–mutual agreement, death or disability, which is not likely, voluntary resignation, which Gavin is not considering, and just cause.
A staff-level meeting is scheduled Monday between Superintendent LaShakia Moore, Gavin and Massaro on the possibility of transitioning Gavin to a staff attorney position, assuming Moore is agreeable to the arrangement and the board ratifies the new job description. Furry has spoken adamantly against keeping Gavin under any job title.
Otherwise, it leaves the board with just cause as its only option to fire Gavin. Just cause would have to entail dereliction of duty, misconduct in office or violation of law.
Hunt alone has claimed to have just cause, going as far as saying that she has had confirmation from three different attorneys that her causes are just. "I have been advised by counsel that I have just cause now," Hunt said.




"I spoke to counsel about your just cause and they say you're absolutely crazy," Massaro told Hunt.
Hunt has disclosed neither the identities of the attorneys nor the causes, only hinting here and there at mostly vague issues or personal slights that don't appear to rise to just cause.
If Gavin is fired for cause, she has the right to challenge the determination through an administrative hearing. The administrative hearing judge would rule on whether just cause exists or not. If the judge rules that just cause exists, Gavin is not entitled to any money.
If the judge rules that just cause does not exist, the judge would award Gavin 12 weeks of base pay, without benefits, and two weeks of sick pay. That's in line with state law, which limits all severance packages to a maximum of 20 weeks' pay, the memo notes.
The memo seems clear: "Thus, if the School Board is prepared to negotiate a resolution that does not exceed the 12 weeks of base salary, plus accrued sick and annual leave, then the negotiation of a mutually agreeable separation agreement, including a general release of claims, would appear to be the best option available to expeditiously resolve this matter and limit the District's financial exposure."




But just as clear is the potential for claims and subsequent, potential financial exposure should Gavin opt to take the route of litigation, bypassing administrative law judge–either through an Equal Employment Opportunity Employment claim, or through circuit court: contract law is not easily circumvented, once wrongful termination is invoked.
Conklin and Massaro had asked in writing for the independent law firm to answer specific questions about potential litigation: "how do we avoid a Wrongful Termination Lawsuit?" Massaro had asked. "Are we required to buy out Mrs. Gavin's contract? If so what's the entire cost?" Conklin asked. The questions were forwarded to Furry, who was the liaison with the independent law firm. There is still no indication that Furry forwarded the questions to the firm–he has made zero documents part of the record–and there are no answers to those questions from the law firm.
Even as the school board prepares yet again on Tuesday to have a discussion about Gavin's future–with a Schutts and Bowen attorney present, at over $500 an hour, at least by zoom–essential questions about her firing remain unanswered.

DOC110223 (2)