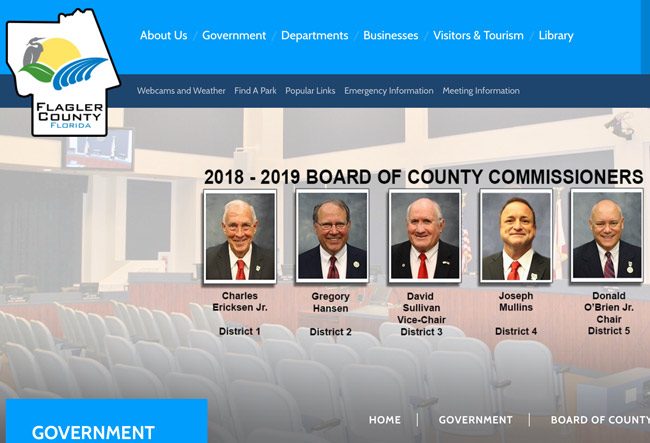 Flagler County government will pay $15,700 to settle a Napoleon-quoting federal lawsuit filed by a legally blind Daytona Beach man who charged that Flagler was violating the Americans With Disabilities Act by making some of the documents posted to its website inaccessible to the blind, because computer software can't read the pdf's.
The County Commission Monday approved the settlement. But it's on the first step in what will be a lengthy and potentially very expensive road to compliance. The settlement terms give Flagler a year to come into compliance. Over the next few months, the county may be hiring additional staff and buying new, expensive software to meet that burden.
It is only the latest in a series of measures Bunnell, Flagler Beach, Flagler County and innumerable other local governments and even businesses across the state have been taking as they've settled similar lawsuits, in many cases reducing or eliminating website access to meeting videos or government documents out of fear that keeping them up would incur more legal trouble than taking them down. No government in Flagler County has gone that far, except temporarily in Flagler Beach as that government sought to add close-captioning to its meeting videos.
"The biggest thing here is we're not going to stop the process, we're not going to stop putting stuff up on any one of our websites," said Jarrod Shupe, Flagler's innovation technology director, who's in charge of compliance. "What this basically means is, we're just going to put in more or less a gatekeeper, a gateway for information to be sent through, make sure that it meets the ADA requirement, and post it out. So to all the public, we're not going to change the way that it looks, we're not going to change the way that it operates."
But that's the expensive part.
"We're going to hire and designate an employee as the website accessibility coordinator who answers to myself," Shupe told commissioners. That's just one employee. There could be more. "We're going to hire the appropriate staff members needed. We're not going to make a quick rush to judgment here on how many staff or what we need to do, we're going to take the time, look at the process, look at the plan and look at what needs to be done and try and come back to you within the next month as to what we need to be able to do, because there's some budget constraints we need to work with as well as we move through this, but we want to make sure we do this right. We're going to attempt not to restrict any of our data."
On top of that, Shupe said he will seek to hire a third-party consultant to evaluate the county's websites annually, "to make sure that what's being done in house is being checked annually to prevent this from happening again." It's not just the commission's website: there's also the tourism website and the economic development website, at a time when website costs have become a substantial cost of doing business–$1 million since 2010 for Flagler County.
That's without figuring in the cost of ADA compliance.
Congress passed the American With Disabilities Act in 1990. Governments and businesses complied, making parking lots, buildings, pools, parks and many other places used b y the public accessible to the disabled. At the time, the Internet was still mostly an academic venture, known by few and used by fewer. But as the web grew, particularly in the last few years, and more especially in Florida, legalist crusaders have used the ADA's language to apply it to websites' accessibility to the blind or the deaf. County Attorney bAl Hadeed said only a handful of individuals are filing the serial lawsuits against local and state governments in Florida. Daytona  Beach resident Joel Price, who filed the suit against Flagler, is one of them. Miami resident Juan Carlos Gil is another.
"It's a very hot topic among local governments, so local governments are beginning to have those suits and begin resolving those cases, and moving to adapt their equipment," Hadeed said. "We were sued as were many local governments, cities and counties, and we were able to procure a settlement offer which gives us a year to adapt our current websites to enable wider access by people who suffer from various disabilities."
The settlement "is in line and consistent with what other local governments are doing in terms of resolving these suits," Hadeed said.
"I would like to point out to the public that this is needed, we have to comply with the ADA," Commissioner Greg Hansen said. "But in fact this is a scam that is being done throughout the state. Of the $17,700 that we're going to pay, the law firm gets $16,000, and that's true in every case throughout the state. The gentleman who's bringing all these suits, he gets $1,700 every time he files one of these suits. So this law firm is getting rich off of the back of the Florida taxpayers."
According to the county's documentation of the case, Price is getting $1,200, the Law Offices of Scott R. Dinin of Miami, $14,500. For reasons that are not readily apparent, the lawyer begins his lawsuit with a truncated, mistranslated and apparently misused quote by Napoleon in the original French, with a footnoted translation: "There are only two powers in the world, the sword and the spirit: in the long run, the sword is always defeated by the spirit." The quote skips over the definition of "spirit," the quote's key, which has nothing to do with intelligence, character or resolve, as may be implied, but, as Napoleon himself defined in the line deleted from the quote, "by which I mean civil and religious institutions." This civil institution, of course, had to bow to the third power in the world: lawyers.
Commission Chairman Donald O'Brien said the trend is affecting private businesses as well. The Orlando Sentinel last month reported that Winn-Dixie was the target of a lawsuit, while "At least three Central Florida cities — Lake Mary, Longwood and Oviedo — have temporarily removed many public documents from their websites to protect themselves from lawsuits alleging a violation of the Americans with Disability Act. The public now has to either call or visit those city halls to obtain the documents."
Hansen blamed Congress for not acting to to clarify the ADA to prevent such serial lawsuits. "They could stop this. Our Congress could stop this if they would just clarify the rules, and they haven't done that yet." Hansen said.
"On that point," Hadeed said, "the Department of Justice is the rulemaking agency for ADA, and it had promulgated draft regulations which would identify the standards for local government, but they withdrew those regulations and their most latest pronouncement is that they were not going to take them up and be reviewed or implemented again, which leaves local governments kind of in a bit of a void, although what the local governments are doing statewide–I'm not speaking for all of them, the ones I'm familiar with–they're adopting the more current standards that are out there in the industry to achieve the accessibility."