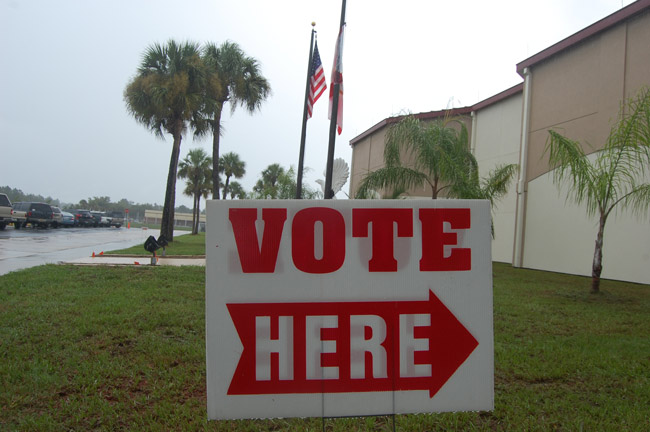 In what could save some $312,000 in new voting equipment, Flagler County Supervisor of Elections Kimberle Weeks submitted a plan that would almost cut in half the number of polling locations around the county—from 38 locations during the 2012 election to 22 locations for the coming August primary and November general. Locations had already been reduced by four since 2008.
The Flagler County Commission unanimously approved the plan, including an additional $35,000 outlay to send every one of the county's 67,000 registered voter a new voter information card detailing the changes. The drastic reduction in voting locations and precincts is the result of a combination of factors: early voting and voting by mail and absentee ballots is increasingly popular, reducing the need for as many voting locations, and government budgets remain strained, increasing the need for leaner operations.
The changes pleased commissioners, with some reservations, particularly regarding the supervisor's finances and the closure of the Beverly Beach voting location. Weeks explained that that location was being consolidated into the location at the Flagler Beach City Hall because Beverly Beach's numbers did not warrant a precinct of its own anymore, and that Beverly Beach residents were often in Flagler Beach, shopping and getting their mail at the post office there.
"I just find it ironical that this is older Americans month," Beverly Beach City Commissioner Nancy Walsh told the commission, "and with the new proposal, it's the very people that are going to be suffering this. Beverly Beach is primarily made up of the 55 and over community. Many of them are in their 70s. And this closing of the polling place will present a hardship on many of them. We don't go to Flagler Beach for our mail. It's delivered. So many don't get into town. They have to depend on rides or some neighbors do their shopping, so at this time what I'd like to ask is that the commission reconsider or commissioner of elections reconsider—if not at the surfside clubhouse, I'm sure the Town Hall would open up for the voting."
Walsh also suggested an early voting location on the beach side, an idea that Commission Chairman Barbara Revels wanted explored. The rtwop early voting locations will remain the county public library on Belle Terre Parkway and the Supervisor of Elections' office at the Government Services Building on State Road 100. Early voting locations have to be a city hall, a supervisor of elections office or a public library. "We can't just pick our own location," Weeks said. "Even with having it in Flagler Beach, where it's more populated, the numbers just weren't there."
Kimble Medley, an ex-supervisor of elections employee and a fierce critic of Weeks—Medley is one of four Republicans vying for the chance to challenge Weeks in November—also addressed commissioners (identifying herself as a Palm Coast registered voter rather than a candidate for the supervisor's job): "I understand the logic behind all this and I think it's a good idea," Medley said. "I just want to make sure that what happened with the Palm Coast municipal elections—I understand it's a city election and the turnout wasn't expected to be that great—but there was confusion even with the six polling locations."
Palm Coast  set out the parameters of its own election, reducing voting locations to six. Turnout was the lowest in the city's history, though cause-and-effect between voting locations and turnout is a theory, not a demonstrated fact. "So the education with regards to all these changes is going to be crucial," Medley continued, stressing early voting education.
The Florida Legislature reduced early voting days from 12 in 2008 to eight in 2012, but early voting hours will be extended from eight hours to 10 each of those weekdays (from 9 a.m. to 7 p.m.), and early voting locations will remain open on Saturday and Sunday, from 9 to 5.
"So by starting out early voting a little later, being open later, we're hoping we'll get voters after work that maybe normally wouldn't be able to vote if we closed at 4:30, so we're hoping that will help, too," Weeks said. "The more voters that we have that vote by mail and that vote early, the less voters we'll have at the precincts."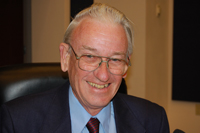 Commissioner Alan Peterson was concerned about the much larger size of some precincts as a result of the consolidation, such as the Veterans of Foreign Wars post on Old Kings Road, where Peterson calculated that an average of three voters would be voting every minute on Election Day, likely causing traffic issues. Weeks said community policing members might help with that, as they have in the past.
No Weeks appearance before the commission is complete without questions about the supervisor's finances. While Weeks was asking for only a $35,000 supplement to her current budget, Revels raised issue with the amount, both because Weeks had last summer submitted her current-year budget based on all the costs to be incurred by the August and November elections, and because Revels wondered what would happen if she were to be under-budget. The money would essentially pay printing and mailing charges for the new voter information cards.
"You're asking this as a change in your budget," Revels said, "as a request for funding for this. Is it the amount that you're asking for to be the amount of actual cost of doing that later, or is it, you just are projecting this much?"
"That's the estimated cost. It's kind of in the middle of the estimated cost that we were provided," Weeks said.
"So if it ends up costing $22,000 instead of thirty-something thousand—" Revels began.
"I don't think they would have been that far off on their estimate," Weeks said.
"But my point is that if there is savings to be found, if it does not cost that much, it would be reflected back in your budget?"
"Yes, you would get any unspent funds back," Weeks said.
Commissioner Milissa Holland suggested that the supervisor partner with other governments, including uti8lity departments, the tax collector's office and the property appraiser's office, to use their mailings as an additional means of disseminating information. Weeks herself has been holding a series of meetings at schools with administrative staff and faculty to spread the word about the changes, and spoke of doing extensive voter-education advertising—including, at the moment, on restaurant menus.