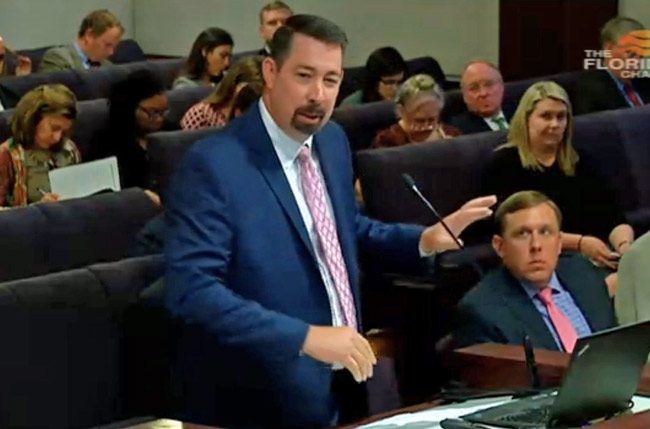 It's the bad penny of legislative issues: short-term vacation rentals. And it's back for another featured spot amid Flagler County's legislative priorities, as it has been since 2013, though for different reasons. This year, county government may take a different, riskier approach on the issue as it attempts yet again to preserve local authority to regulate the industry in Flagler.
Commissioners have agreed not to send their county attorney or county administrator to Tallahassee to appear before legislative panels, as they have previously, even though Al Hadeed, the attorney, is–like a solicitor appearing before judges–most experienced in framing issues in terms legislators can understand, and with background enough not to be snowed by lawmakers' often inaccurate but rhetorically potent retorts.
Instead, commissioners are volunteering to do the job themselves. They're not without experience doing so, but it's been slight. They want to free the administration to focus on a number of other time-consuming issues locally.
They may also take a different approach altogether: if their approach fails, they'll ask lawmakers to "carve out" Flagler County from the rest of the state's vacation-rental bill, should that bill scale back local control, thus preserving Flagler's existing regulations and removing Flagler, a recurring thorn in legislators' sides since 2013, from the matter in Tallahassee.
Either approach, however, is indicative of a local effort losing steam against what may be inevitable: a state-mandated return to light or no regulation of the vacation-rental industry, as its proponents have been seeking since 2014.
Short-term rentals are dwellings rented to vacationers for terms less than six months, and generally for terms much shorter than that. In 2011, the Legislature forbade local regulation of short rentals. The measure was intended less as a boon to the vacation-rental industry than it was as a salve to home-owners who found their mortgages upside down after the housing bubble. Rather than lose their property, homeo-owners turned to renting them out to vacationers.
Many did so in the Hammock. But that brought in an influx of vacationing revelers in residential areas. Neighbors got upset and complained of the noise and the effect on their neighborhood's character. Starting in 2012 and picking up momentum through 2014, they lobbied Flagler County's legislative delegation to change the law and give back to the county some powers to regulate rentals. In 2014, it worked. A new law passed doing just that, and Flagler accordingly wrote a regulatory ordinance–and was promptly sued by a vacation-rental firm.
That's been resolved–in part to the government's advantage, in part to the vacation renters'–but ever since, the vacation rental industry has been pressuring lawmakers through bill after bill to go back to the 2011 standard. It almost succeeded in the past two years, with such bills making it through most House and Senate committees until the effort would falter at the end. The industry will almost certainly try again when the Legislature convenes in March.
Meanwhile, Flagler officials have developed a reputation for being pests to lawmakers in that regard.
That's what's prompting the different strategy this time around.
"We've all had fun on short-term vacation rentals," County Administrator Craig Coffey said wryly to commissioners in a workshop earlier this week, recalling the efforts of the past few years, "and this has led to some of the animosity with our elected officials, our delegation." He doesn't want to lose recent gains.
He proposed an alternative. "Maybe for not seeing our faces up there on that issue, and I'm talking collectively, Mr. Hadeed, myself, all of you, is that they do a carve-out for Flagler County and exclude us from that." Coffey said for the short-term rental industry, the biggest threat is not Flagler County but existing regulations that ban them outright in certain places (Flagler Beach has just such an ordinance in place. Palm Coast does not). With that in mind, maybe Flagler can win an argument that would essentially grandfather it out of the statewide take-back of local regulation.
"We don't want to be the tip of the spear, and you guys have asked us not to be the tip of the spear if at all possible," Coffey said.
"We'll do the heavy lifting if we have to," Commission Chairman Don O'Brien said. "Let us take the heat this year." That would not amount to removing Flagler officials from in front of lawmakers as changing cast.
There's also risk in hoping to keep Flagler out of a new statewide law. "The problem with a carve-out, it works until the 11th hour when it's on the floor," Coffey said, "sometimes those get stripped" or amended, unless Sen. Travis Hutson and Rep. Paul Renner, Flagler's lawmakers, can pull strings and ensure that the county's interests are protected. They can do so, but only up to a point.
"We'll just see how things progress, and monitor it," O'Brien said in a subsequent interview, suggesting that the primary approach will be to defend the law as it stands now, and the secondary approach, if that fails, to try to get a carve-out for Flagler. "I would say we all have relationships with our legislators and we plan to use those as we have to."