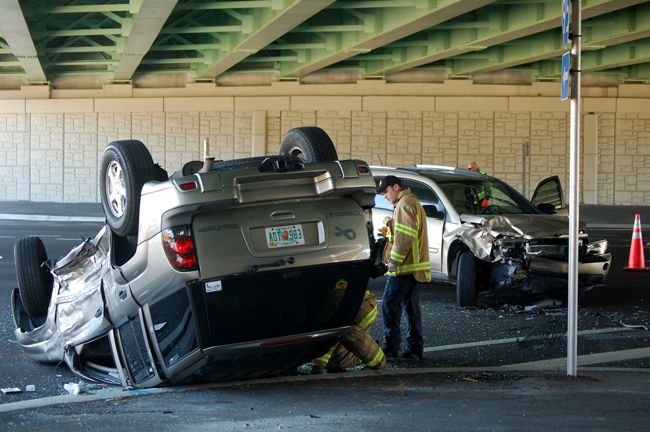 If November and December seemed like particularly lethal months on Flagler County roads, it's because they were: 10 people died in five separate wrecks, half of them in the single wreck on Dec. 6 that also sent four children to the hospital. The four children survived.
The two-month surge at the end of the year almost doubled the number of road fatalities up to that point, with a preliminary total of 23 deaths on Flagler roads for 2010. It's more than the 16 deaths recorded in 2009 and 2007, but still below the 31 deaths recorded in 2008, and the 30 deaths recorded in 2006.
Across Florida, in fact, 2010 turned out to be the year with the lowest number of road fatalities since at least 1978, even as Florida's population doubled in those 32 years, and even though most drivers over the past 10 years have added an array of distractions to their driving habits, from cell phones to GPS devices to back-seat DVD players to texting and other such devices. The numbers may lessen the momentum in the Legislature to pass a ban on texting this year, as a majority of states already have.
In 2010, Florida recorded 2,430 traffic crash, a 5 percent decrease from the 2,563 fatalities in 2009, according to preliminary data from the Florida Department of Highway Safety and Motor Vehicles.
The declining number of fatalities doesn't necessarily mean that what the department calls "distracted driving" isn't dangerous, or causing its share of fatalities. An analysis of the numbers could reveal, for example, that more restrictions on distracted driving would yield even lower road fatalities. The reason for declining fatalities overall are numerous: state and federal regulations require car makers to build safer vehicles, seatbelt use has gradually increased, crackdowns on drunken driving have legitimized the idea of designated drivers, and so on. Higher gas prices decreased the number of miles traveled on American roads in 2009, and in 2010, Florida's population may have declined slightly.
"It is encouraging to see the number of traffic fatalities continue to drop, and the department will continue our efforts to educate motorists and aggressively enforce the traffic laws to create the safest possible driving environment," said DHSMV Executive Director Julie L. Jones. "Unfortunately, we know all too well the devastating impact that even a single fatality resulting from a careless, inattentive or impaired driver can have on a family and community."
The final count for 2010 will be made available later this year when the department publishes its annual Traffic Crash Statistics Report 2010. The report for 2009 is available here.
"The Florida Highway Patrol is committed to patrolling Florida's highways around the clock, every day of the year, to safeguard motorists and stop dangerous drivers," said FHP Director, Colonel John Czernis. "Our law enforcement partners and public safety stakeholders also deserve credit for their efforts to keep our streets safe. Motorists can do their
part when they buckle up every ride, every time."
Motor vehicle crashes are the #1 killer of people between the ages of 5 – 34, according to the Centers for Disease Control and Prevention. The CDC reports, "seat belt use is the single most effective way to save lives and reduce injuries in crashes" and "using seat belts reduces serious injuries and deaths in crashes by about 50 percent."
The November-December surge of traffic fatalities on Flagler roads consisted of the following wrecks:
Vernay Darby, 53, and 83-year-old Shirley Kent, were killed in a head-on collision early the morning of Nov. 3 on Colbert Lane, when Darby's 2004 Nissan SUV crossed the median and struck Kent's Honda SUV.
On Nov. 21, Josh Crews, the popular bartender at Woody's, the restaurant he had also partly owned several years ago, was killed when his car overturned on U.S. Route 1
On Nov. 26, Terry Kilcoyne, a 71-year-old wrecker, was killed on I-95 as he was returning from a trip in Maryland.
On Dec. 6, five adults were killed on I-95, two miles north of Palm Coast, when their SUV veered into the treeline and flipped. The deceased were Fidel Salgado, 36; Ana Lilia Figueroa-Garcia, 34; Maria Mercedez Corona-Leon, 28; and Maria Celia Leon de Corona, 48.
And Robert Hodoba, 85, died subsequent to a Dec. 12 wreck under the I-95 overpass at S.R. 100.