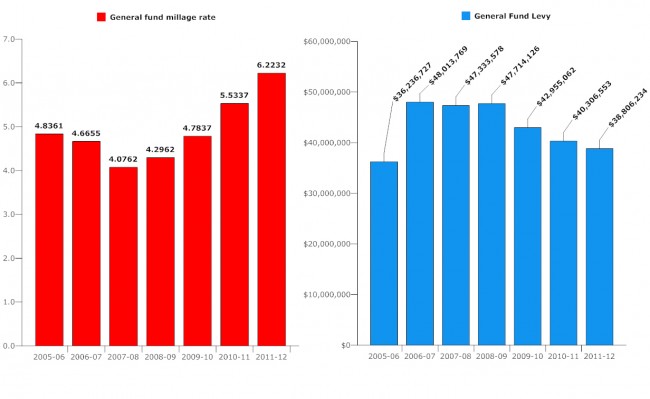 The Flagler County Commission today agreed to adopt a 2012 tax rate that would increase by about 12 percent over last year's, but before you clear your throat to howl, you may want to take out your calculator instead.
It'll most likely show that your tax bill overall will decrease for at least three reasons: Your school and water management property taxes are going down significantly; and the county tax rate, while higher than last year's, remains lower than the break-even rate if the county were to bring in the same amount of revenue next year as it did this year. In other words, the average value of properties in Flagler County has fallen by 14.4 percent. The tax rate is going up by 12 percent–not enough to match the fall in valuation.
Take the typical $150,000 house. This year, if that house were in the county, it would have paid county, school, water management district, mosquito control and Florida Inland Navigation District taxes for a combined tax rate of $14.7221 per $1,000 in taxable value. With a $50,000 homestead exemption (but just $25,000 for school taxes), that house would have paid $1,672.54.
The tax rate on that house is rising to $15.69225, so you'd assume that the tax bill, in turn, will rise to $1,770.
Not likely.
If that house has followed the local trend and lost 14 percent of its value, it's no longer a $150,000 house, but a $129,000 house. So its tax bill will be $1,440.50, which represents a $232 tax cut. Homeowners who are still "giving back" the savings that they accrued in previous years, thanks to the 3 percent cap on year-over-year increases in their assessments, may see smaller benefits from the drop in valuations. Some will see higher tax bills. But the net effect of this year's tax rates will be a general decline, particularly due to the school board holding the line on taxes. The school board represents the largest chunk of any local property tax bill.
For all that, county officials still expect to hear complaints from property owners who equate a rise in the tax rate with an automatic tax increase.
"We're taking in less money every year. That's the best way we can explain it," County Administrator Craig Coffey said.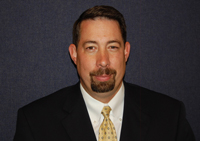 The county's budgeted general fund revenue, which pays for police, fire, parks, libraries, county administration and other basic services, will fall to $38.8 million, down from this year's $40.3 million. Revenue has dropped almost $10 million from its 2006 peak, when it was $48 million.
The county tax rate may yet change very modestly by next week, when the county commission will set its so-called "trim" rate officially. That's the rate that will go to property owners as the proposed tax rate for next year. When commissioners set the actual tax rate in September, they may lower it from the trim rate, They may not raise it. In the end, County Commission Chairman Alan Peterson said, the final tax rate is likely to be very close to the one the commission agreed to earlier today.
Two areas of the budget the county has yet to settle: the budget of Supervisor of Elections Kimberle Weeks, an the budget of Enterprise Flagler, the public-private economic development partnership that, for now, is embattled at best. The county has earmarked $120,000 for it for next year, close to the amount it budgeted this year, and close to the amount Palm Coast has been budgeting annually. But Palm Coast may no longer be interested in being part of the organization. The Palm Coast City Council is discussing its budget Tuesday, and may decide its role in Enterprise Flagler then.
Consolidation of fire services between Palm Coast and the county has also been discussed in both county and city governments. But only cursively. It it were to happen, it won;t happen this year, Peterson said.
"If you consolidate," Peterson said, "it would mean that Palm Coast would have to provide the county with some money to essentially hire as many firefighters as the consiolidation made sense, so I would say no, it's not something that could happen prior to the beginning of the next fiscal year, because we have to send our trim notices next Monday."
Peterson, at any rate–like Mayor Jon Netts–has more questions than answers on consolidation, and both cast doubt on the notion that there is much duplication of services despite the two departments' existence. "Other than an attempt to save some potential loss of jobs, and perhaps a better benefit package for the Palm Coast firefighters if it was consolidated with the county, I'm not sure I see anything beyond what's being proposed," Peterson said. Nevertheless, he stressed that he would want to consider the idea, but more at length–and not during this summer's budget season.
Today's more substantial discussion for the commission centered on the county's reserves. Coffey proposed raising the level of reserves by $162,000 to bring the total closer in line with a county mandate, which calls for keeping reserves as close to 15 percent of the budget as possible. The reserves are well below that at the moment. Peterson was opposed to raising the reserves this year. He was outnumbered by the rest of the commission, which endorsed Coffey's proposal. The budgeted reserves would rise to $6.8 million.
The administrator also proposed increasing the reserves for the county's Fire Flight helicopter by $125,000. That's the fund that will eventually be used to replace the helicopter. But commissioners were opposed to that increase.
Savings this year were accomplished mostl–but not entirely–without lay-offs, Coffey said, though some positions were vacated and left unfilled. The library lost a half-time employee. Carver Gym lost an employee, and another was transferred to the school board. There may be a few more job shuffles or layoffs in late fall.
And for the third year in a row, county employees will have no raises.