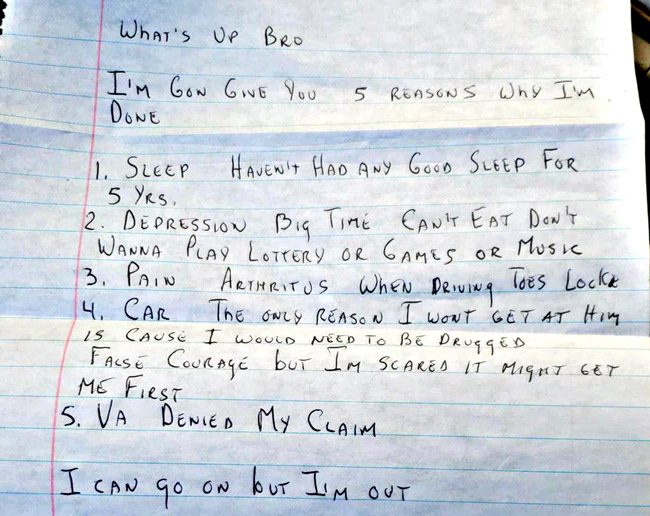 Tyrone Hartley's letter was undated, handwritten in capital letters on standard-ruled paper and addressed to a friend in Michigan with the opening line, "What's up bro." Hartley, a resident of Bunker Knolls in Palm Coast, was a veteran and a few weeks from his 59th birthday. He was writing his friend a suicide note explaining "5 reasons why I'm done."
He listed them: Bad sleep. Depression. Pain. Something cryptic about false courage and being "scared it might get me first." The Veterans Administration denying his claim.
Hartley was found dead of a gunshot wound at his home on June 11, after his friend contacted local law enforcement to report receiving the letter. Hartley is one of 16 Flagler  residents so far this year whose death was ruled a suicide
There were 31 suicides in Flagler County in 2017. It is the highest rate recorded in the county since the Department of Health has been keeping records, going back to 1970.
At 28.8 per 100,000 population, Flagler's is also the highest rate recorded in the state. Suwanee is second at 28.7, Taylor third at 25.4. The rate is accentuated in counties with smaller populations. One-year spikes are not  usually indicative of a trend. But averaging rates over the past decade, Flagler ranks 14th out of 67 counties, with a rate of 18.1 (Flagler is tied with Dixie and Highlands counties). Monroe has the highest suicide rate during that span, at 24.1.
Florida's rate is 14.1 per 100,000 population, placing it above the national average of 13.5. Fourteen states have a suicide rate higher than Flagler's, with Montana, Alaska and Wyoming topping the list with rates exceeding 25 per 100,000.
The numbers can be dramatic, but the smaller a county's population, the more prone its rate to fluctuations and outlying spikes. A difference of two fewer suicides would not change the rate in, say, Duval, Broward or Miami Dade. But it would lower Flagler's below that of Suwanee. Still, Flagler's numbers are coinciding with an effort in the past two years by the School Board and social service agencies to bring more awareness to the trend and change the conversation about suicide–starting with having one: suicide, often the culmination of a mental health crisis,  has been in the shadows, a subject more prone to taboos than discussions as with, say, diabetes or heart failure: few media outlets even report on suicides, though that's changing.
"We're really working to try to change the community's perspective about mental health," says Colleen Conklin, the school board member who's taken a lead role for several years in suicide awareness issues and through Flagler Cares, the coalition of social, health and financial services that seeks to knot together a stronger safety net for those who need it. Conklin and  Carrie Baird, Flagler Cares' director, appeared before every local government board earlier this year to seek the governments' cooperation and launch Flagler Lifeline, an initiative and website designed specifically to address suicide and help those thinking about it.
In light of the new suicide numbers, Conklin this week said she wants people to "think of the brain for what it is, as an organ just like a kidney, like a heart," she said in an interview. "If you had a kidney stone, heart failure, you'd seek out a doctor to address the issue and get well, so the hope is that the message can become very clear that people who are depressed or anxious, that they feel comfortable seeking care. It's not a sign of weakness, it's not different than if you had a health issue that was impacting your kidney or heart."
The groups, Conklin said, are drafting mental health professionals and clinicians to conduct depression screenings at various events like First Friday in Flagler Beach and other special events "similar to the way you see hospitals go out to provide blood pressure screenings."
There is no official analysis of the stated reasons behind each suicide. The information is largely anecdotal, the result of law enforcement reports that seek to gather as much readily available information as possible. Depression and illness are among the frequently reported issues.
"Individuals who are lonely, who are detached from their community, family, friends, isolation, I would suspect is a root cause," Conklin said. "I would also suspect the possibility of substance abuse of some sort and the lack of resources available. The bottom line is we need more local resources. When people do seek care it needs to be accessible and it needs to be effective. We don't have the local resources we need. Flagler County is still being treated as though it had a population of 60,000 which simply is not the fact." (The estimated population at the end of 2017 varies depending on the source: the Health Department's estimate is 106,000, the Census Bureau's is 110,500.)
People choosing to end their life in Flagler are older rather than younger, in part a reflection of the county's older demographics: the median age is 50 in a state where the median age is 43 (the national median age is 37). One person 19 or younger died by suicide in Flagler last year (a 17-year-old student), nine were 44 or younger. But in the 45 to 54 age bracket alone, 10 people took their own life. Eleven were 55 or older, including two who were older than 74.
Those who die by suicide are overwhelmingly white. In 2017, one person was Latino, two were black. Seven were women. Ten of the 31 suicides were by gunshot (32 percent), a lower proportion than in the state. In Florida as a whole, 54 percent of last year's 3,187 suicides were by gunshot.
Eight people 19 or younger have taken their own life in the past 10 years in Flagler. In schools, this year will mark the first time that the district will have one psychologist at each of its schools (three such positions are currently posted).
The need for mental health services across the county is not speculative. Baker Acts have been spiking in the county. The Baker Act is invoked when a person is found to be a danger to self or others. Law enforcement then has the authority to take the person against his or her will if necessary to a locked-up mental health facility in Daytona Beach for up to 72 hours of evaluation (few people are held that long). Three years ago the Sheriff's Office got grant funding to open the Crisis Triage and Treatment Unit at the Vince Carter Sanctuary, the Stewart-Marchman treatment campus, enabling deputies to take Baker Act patients there, in Bunnell, rather than have to drive them to Halifax's psychiatric unit in Daytona Beach. CTTU personnel then decides whether the patient needs to be transported to Daytona. But Flagler still does not have its own treatment facility, nor is it likely to get one soon.
There were 434 Baker Acts in 2013-14, and 552 in 2015-16, a 27 percent increase at a time when population is increasing 1 to 2 percent a year. The numbers have been increasing further, with some sheriff's shifts in the last few weeks seeing four, five, six Baker Acts–numbers unheard of even three years ago.
On Wednesday, Stewart Marchman-Act Behavioral Center announced it was awarded a five-year, $2 million federal grant to provide suicide intervention in local jails and through Veterans Administration services in Flagler, Putnam, St. Johns and Volusia Counties. (Flagler inmates and deputies in February prevented an inmate from hanging himself.) The grant is in direct recognition of the higher suicide rates in the region. (Putnam's and Volusia's are also above the state average.)
"Our local jails have increasingly become de facto treatment centers for individuals with substance dependence disorders and severe mental illness,"  Stewart Marchman's Rhonda Harvey said. "Our goal is to focus new effort toward intervening in that dynamic, as well as targeting those veterans who are not eligible for VA benefits and are treated and released at a VA clinic after experiencing suicidal ideation."
Flagler County Sheriff Rick Staly has been  dealing with the mental health crisis directly.
"I'm not a psychiatrist or an expert in this field although I grew up around it–my mother implemented the Baker Act in Orange County when the law was first passed," Staly said. "We have an older community than the state average. I have not done an analysis on what the causes are for suicides in Flagler County, but from looking at it without a statistical analysis, as a community gets older, you have health issues that individuals don't want to deal with or live that way. That certainly is part of it. We have addiction and alcohol issues that can also trigger those kinds of responses. This community has gone through the Great Recession which causes a lot of stress on families and individuals, so I'm sure that's a piece of it, and just the general social pressures that occur. It certainly indicates we have a long ways to go to provide the appropriate mental health care as a community."
Staly said the CTTU in Bunnell has also expanded operations thanks to an enhanced grant.
In effect, the responsive infrastructure is in place to deal with a crisis: cops are doing it all the time, the CTTU is in place, Stewart-Marchman's facilities in Daytona Beach collect those in crisis. Schools aside, what's not as evident is the preventive infrastructure–the places where individuals can go in Flagler to seek help beyond crisis phone lines (which are available). Absent the permanent infrastructure, efforts are evident to develop it.
The School Board in September is getting a presentation from Sandy Hook Promise, the non-profit crisis-intervention group formed in the aftermath of the Sandy Hook school massacre. The group has developed various means to improve the climate around schools for students who may feel alienated or near a crisis point.
The next meeting is Flagler Cares, on Aug. 13, at 3 p.m. at Florida Hospital Flagler's Classrooms A and B, will be discussing some of the events the group is planning in observance of World Suicide Prevention Day on Sept. 10.
"It's sad to begin with," Staly said of suicide, but to those who take their own life "at that moment in their lives believe that's the only way out of their life situation, and they leave behind many other victims, children, parents, the spouse, brothers and sisters, that then have to cope with having lost a loved one to suicide." A life is ended, innumerable lives are up-ended, with survivors close to the person who died then at a higher risk of suicide themselves, studies show. They, too, become victims of suicides even as they continue to live. "What ifs and self-blame," Staly said, "impacts their lives forever."