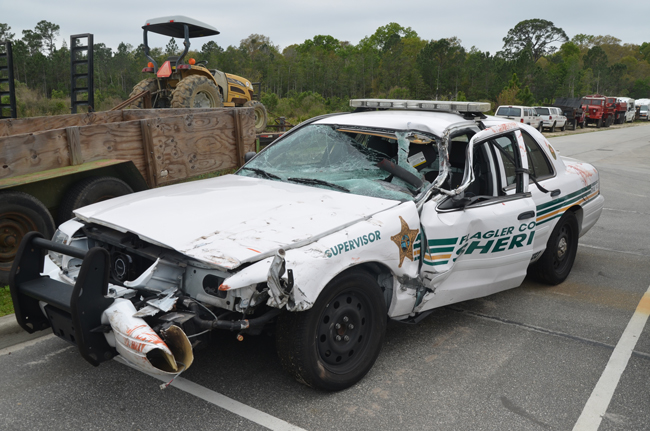 Last Updated: 4:19 p.m.
For the second time in five days, a Flagler County Sheriff's deputy was involved in a serious vehicle crash resulting in injuries. But the Sheriff's Office has not released the incident report on Monday's crash, and says it may not do so for another "couple of days."
A sheriff's spokesman says the report is not being delayed. "Our agency policy says that all crash reports will be submitted to Records within four days."
Monday's crash took place at 7 a.m. at the intersection of U.S. 1 and Grand Reserve, within the city limits of Bunnell, where a sheriff's deputy rear-ended another motorist.
But the crash was not investigated by Bunnell police, as is customary when crashes occur within the city limits. Nor was it investigated by the Florida Highway Patrol, as is customary when the crash involves an officer or a deputy from a local law enforcement agency. It was investigated by the Flagler County Sheriff's Office. There have been instances when FHP has not investigated such cases when it is determined that the law enforcement officer is not at fault. In this case, the Sheriff's Office made the determination about its own deputy.
Two requests were placed for the report starting at 12:49 p.m. Monday, and a third request was placed today. Absent the report, that was followed by a series of questions about to crash to Bob Weber, the Sheriff's Office's chief spokesman.
Weber said the deputy at the wheel of the cruiser was Sgt. John Bray, a 12-year veteran of the agency. "He was injured in the accident and was taken to Halifax hospital," Weber said. "He underwent surgery yesterday and remains hospitalized." Only serious and critical crash victims are taken to Halifax. Less serious cases are transported to Florida Hospital Flagler. Bray's cruiser, which was towed to Flagler County Fleet Services, was severely damaged and smeared in blood in at least two places.
A man was driving the other vehicle, but neither the man's identity nor his vehicle's make or condition were released, "since the report has not yet been submitted," Weber said.
"I have a call into Sgt. Van Buren regarding who was at fault and whether any citations were issued," Weber added.
Though the Sheriff's Office is not yet confirming it, the driver of the vehicle the deputy struck was reportedly cited.
Just before 3 p.m. Monday, Weber emailed the citation issued to the driver, who is identified in the citation as Colby Nicholas Mikloiche (the last name is not clearly legible on the citation, and may not be correctly transcribed here), a resident of Grand Reserve who was cited for failure to yield from a stop sign.
On March 20, Jeremy Chambers, a 10-year veteran of the agency, was at the wheel of a cruiser that broke the right-of-way of motorcyclist Selbert Mills, 54, on Seminole Woods Boulevard, causing Mills to crash into the cruiser. Mills was hospitalized. The Florida Highway Patrol investigated that crash and found Chambers to be at fault.